NEWS
SAMURAI BLUE hold training session behind closed doors ahead of match against Spain
30 November 2022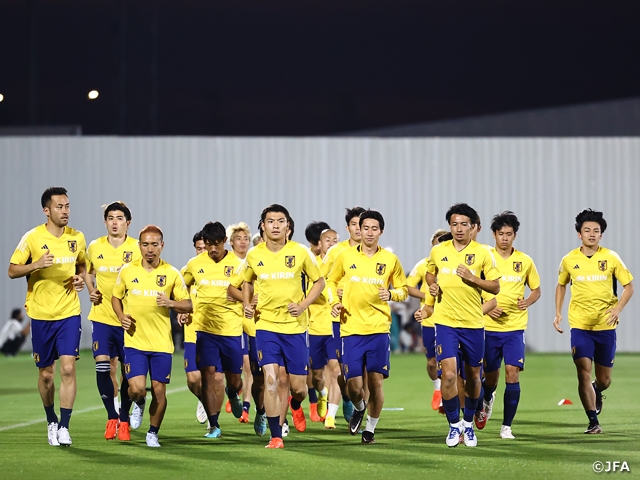 On Tuesday 29 November, two days ahead of their third group stage match against the Spain National Team at the FIFA World Cup Qatar 2022™, the SAMURAI BLUE (Japan National Team) held a closed training session at their base camp in Doha.
TOMIYASU Takehiro (Arsenal), who had been working separately from the team until the previous day, joined the training session which started in the evening. During the first 15 minutes, which the session was open to the media, Tomiyasu went through a series of running and agility drills, before engaging in a passing drill with his teammates.
However, ENDO Wataru (VfB Stuttgart), who suffered a knee injury against Costa Rica, and SAKAI Hiroki (Urawa Red Diamonds), who felt discomfort in his leg against Germany, were on separate menus for the day. Endo worked out indoors by pedalling a stationary bike, while Sakai carefully stretched his body on the pitch.
The session went behind closed doors soon afterwards, as the team went over their tactics ahead of their match against Spain, finishing the day's training in just over an hour.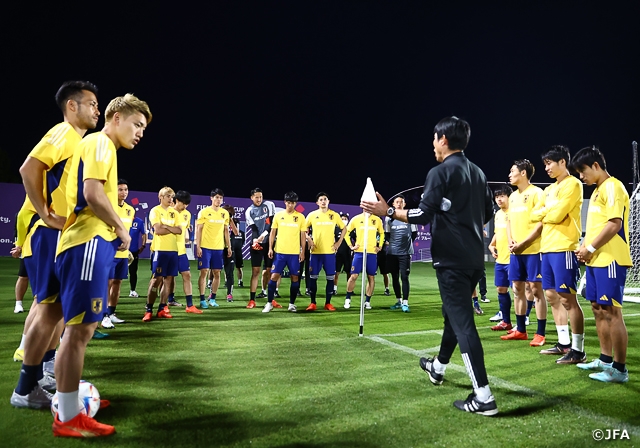 After playing two matches, Japan are in second place of Group E with three points from one win and one loss. Costa Rica, who beat Japan in the second match, are level on points but trail Japan on goal difference. Japan's next opponents, Spain, are at the top of the group with four points from one win and one draw. Germany, who drew with Spain after losing to Japan, are fourth with one point. With the top two teams advancing to the next round, all four teams in Group E have a chance of making it through.
Japan, who are looking to advance to the round of 16 for the second consecutive tournament, can advance to the knockout stages unconditionally if they beat Spain in the final group stage match on Thursday 1 December, but will be eliminated if they lose. In case of a draw, their fate will depend on the result between Costa Rica and Germany, which will be played at the same time.
"We want to take advantage of the fact that we are in a position where we can control our own destiny," said KAMADA Daichi (Eintracht Frankfurt).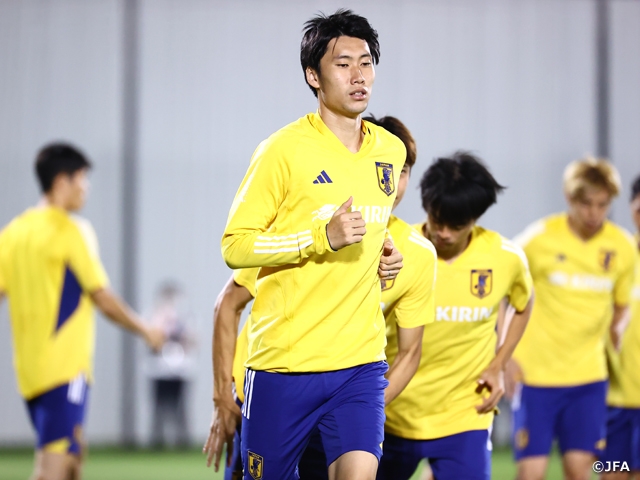 Spain, ranked seventh in the FIFA rankings, and Japan, ranked 24th, have met once before, in an international friendly held in Cordoba in April 2001, which Japan lost 0-1 at the time.
Led by coach MORIYASU Hajime, the U-24 Japan National Team have played Spain twice. They played to a 1-1 draw at the KIRIN CHALLENGE CUP in Kobe on 17 July, just before last year's Tokyo Olympics, and met in the semi-finals of the Olympics on 3 August, losing 0-1.
DOAN Ritsu (SC Freiburg), who also played in the Tokyo Olympics, shared his desire to make the most of his experience he gained at the summer Olympics, "We haven't lost the confidence we gained from beating Germany and we have played Spain at the Olympics, so we know what we need to do to a certain extent. The young players should speak up."
YAMANE Miki (Kawasaki Frontale) pointed out that one of the key points in attacking Spain was to take advantage of the opportunities during their transitions between defence and offence. As the side-back mentioned, "In football, it is impossible for one side to be on the attack for the whole 90 minutes. At some point, there will be times when we are on the attack. It is important that we anticipate and capitalise on those opportunities."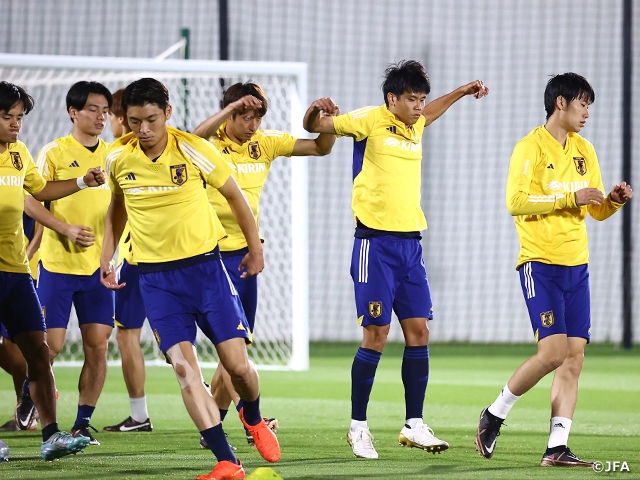 The team will hold one last training session on Wednesday 30 November ahead of the match, which will kick-off at 22:00 local time (28:00 Japan time) on Thursday 1 December at Khalifa International Stadium.
FIFA World Cup Qatar 2022™
Tournament Dates: Sun. 20 November - Sun. 18 December 2022
[Group Stage]
1st Match: Wed. 23 November 16:00 [Local Time] vs Germany National Team
2nd Match: Sun. 27 November 13:00 [Local Time] vs Costa Rica National Team
3rd Match: Thu. 1 December 22:00 [Local Time] vs Spain National Team