NEWS
Halilhodzic expects new stars to emerge – EAFF E-1 Football Championship 2017 Final Squad Announcement
30 November 2017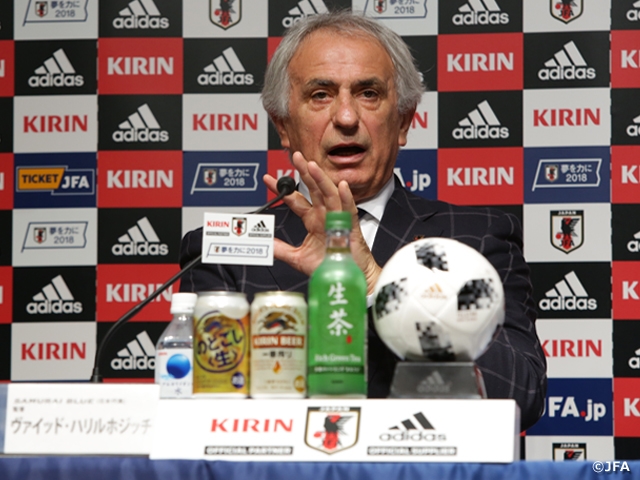 On Wednesday 29 November, Vahid HALILHODZIC, coach of SAMURAI BLUE (Japan National Team), announced the 23 players who will participate in the EAFF E-1 Football Championship 2017 Final, which starts from 9 December. The coach spoke of his team including five first-timers, 'This is a part of our preparation for the World Cup as well as being a final test. I am hoping to see that the players come forward and grab a spot in the SAMURAI BLUE (squad).'
The players who are invited to the team for the first time are midfielder MISAO Kento (Kashima Antlers), defender YAMAMOTO Shuto (Kashima), forward ABE Hiroyuki (Kawasaki Frontale), forward ITO Junya (Kashiwa Reysol) and 20-year-old defender HATSUSE Ryo (Gamba Osaka).
There are also several players who will be returning to the national team after a notable length of absence: midfielder KONNO Yasuyuki (Gamba Osaka) since June this year, midfielder KIYOTAKE Hiroshi (Cerezo Osaka) since the World Cup Asian qualifying matches this March, and forward KANAZAKI Mu (Kashima) since May last year. While Konno has made a return having the most international caps (90), forward KOBAYASHI Yu (Kawasaki) comes back to the squad with an excellent season in the J.League, scoring 20 goals and tying for second place in the scoring ranking.
Midfielder IDEGUCHI Yosuke (G Osaka), defender SHOJI Gen (Kashima) and forward SUGIMOTO Kenyu (C Osaka) are reselected following their stints for the Europe tour a few weeks ago, while the players based overseas are not invited because the tournament is held outside of the FIFA's international matchday period. In addition, the call-ups to the national team from Urawa Red Diamonds, who are scheduled to play in the FIFA Club World Cup in December as the champions of Asia, and injured midfielder YAMAGUCHI Hotaru (Cerezo Osaka) had been called off.
In regards to the final selection for the 2018 FIFA World Cup starting next June, Halilhodzic expects new stars to emerge and comments, 'This is the final test for the thoroughbreds just before they go into the home stretch. It is a great chance for the players to showcase themselves and make a run for the SAMURAI BLUE. I am hoping that they will come forward and grab a spot in the final squad.'
This championship is played by four countries in a round-robin format. Japan are set to play against DPR Korea (9 Dec.), China (12 Dec.) and Korea Republic on the final day of the competition (16 Dec.) at Ajinomoto Stadium in Tokyo. The last time this competition was held in China, Japan finished last with one loss and two draws.
'I am considering testing different systems and game plans,' added the Japan's manager. 'We will play at home and thus aim at the championship. We must compete with determination and decisiveness and come out with a great success.'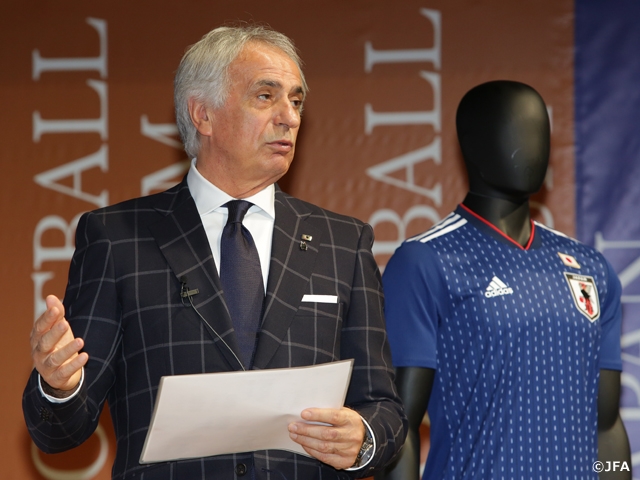 Coach's Comment
Vahid HALILHODZIC, Coach of SAMURAI BLUE (Japan National Team)
We must not forget that everything we do is a part of our preparation for the World Cup, the most prestigious global competition in football that takes place next year. This is the final test for the thoroughbreds just before they go into the home stretch. When I selected this squad, I invited both the players with plenty of international experience and those having less. There are quite a few debutants to the team as well. It's a pity that we cannot call up the players of Urawa Red Diamonds as well as injured Yamaguchi. I would like to congratulate Urawa on their great achievement of winning the ACL and give high praise for clinching the Asian title as a team from Japan for the first time in nine years. However, I must say that we have the best squad excluding those players. Furthermore, I made my selection considering what was required and lacking in the current national team. We gained a lot of feedbacks from the recent matches against Brazil and Belgium. Just to mention a few, aggressiveness, better communication and mental strength are some of the areas that each player needs to work on and improve further.
In this tournament, we will play three matches in eight days. Despite the tight schedule, I expect the best out of our players and will strive to win every one of them. I will further try to gather as much information needed to strengthen the team from these matches as well. We are always looking to maintain the "for the team" mentality, as we continue to improve our team. In the previous EAFF competition, the Japanese national team could not attain the desired results. This time, I beleive that our players will compete with determination and decisiveness. It's a championship during the preparation period for the World Cup, and it will be wonderful if we can finish it with a great success.
Schedule
Mon. 4 December
PM
Training
Tue. 5 December
AM
Training
Wed. 6 December
PM
Training
Thu. 7 December
PM
Training
Fri. 8 December
TBC
Official Training
EAFF E-1 Football Championship 2017 Final Japan
Sat. 9 December
19:15
1st Match vs DPR Korea
Tokyo / Ajinomoto Stadium
Sun. 10 December
AM
Training
Mon. 11 December
PM
Training
Tue. 12 December
19:15
2nd Match vs China PR
Tokyo / Ajinomoto Stadium
Wed. 13 December
AM
Training
Thu. 14 December
PM
Training
Fri. 15 December
PM
Training
Sat. 16 December
19:15
3rd Match vs Korea Rep.
Tokyo / Ajinomoto Stadium
*The schedule is subject to change due to the team condition, the weather, etc.
JFA-TV (Japanese version only)
EAFF E-1 Football Championship 2017 Final Japan
Tournament Period: 8 December 2017 - 16 December 2017
Men's Fixtures: Ajinomoto Stadium (Tokyo)
More Information