NEWS
Halilhodzic on EAFF E-1 Championship 2017: 'We will make attempts to win'
08 December 2017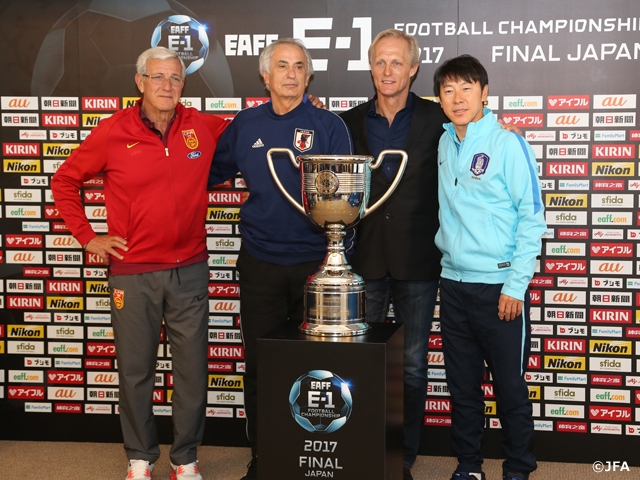 On Thursday 7 December, Vahid HALILHODZIC, coach of SAMURAI BLUE (Japan National Team) made his appearance at the official press conference held in Tokyo for the EAFF E-1 Football Championship 2017 Final to kick off in two days. Before the team practice held later in the evening, Japan's bench boss said, "Although we have many obstacles, we have to make attempts to win the matches."
This tournament is played once in two years with four Eastern Asian countries. Japan are scheduled to face DPR Korea on Saturday 9, China on Tuesday 12 and Korea Republic on Saturday 16. Every team plays against each other in the round-robin format, and the team with the most points will be crowned with the title.
With eye on finalizing the roster for the 2018 FIFA World Cup Russia, Japan intend to strengthen the players pool through this tournament where they battle through only with the players who play in their domestic J.League. However, there are many who are unable to take the invitation due to injuries and their own club duties. Forward SUGIMOTO Kenyu (Cerezo Osaka) also had to give up playing after participating in the training camp from 4 December due to his own injury.
In addition, KIYOTAKE Hiroshi (Cerezo Osaka) left the squad due to the concussion he suffered in the practice on the previous day.
Halilhodzic says on such withdrawals, "We had to do a little tweak to our members. It's very unfortunate because they had been going through very productive practices," and additionally brought in DOI Shoma (Kashima Antlers).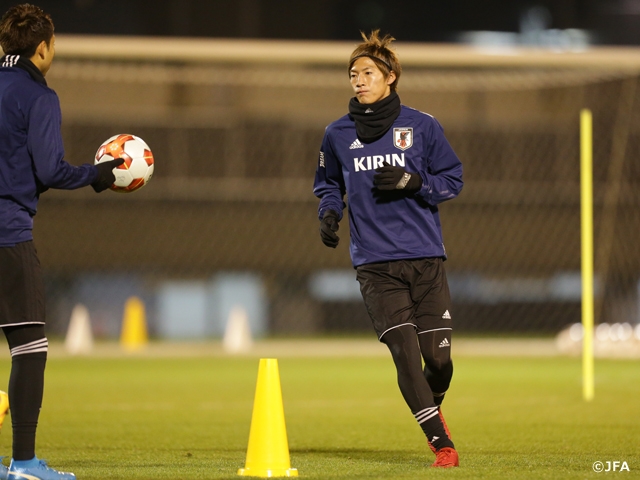 Japan's three opponents are China coached by Marcello LIPPI who led Italy to the World Cup title, defending champions and next World Cup participants Korea Republic and DPR Korea whose coach is former Norwegian international forward Jørn ANDERSEN. While the last tournament finished with Korea Republic enjoying the championship, China as the runners up, DPR Korea at third and Japan at fourth, all the countries are looking at their own target this year.
"We have many obstacles, and every team is a great team and comes out for this tournament very seriously. We have to make attempts to win the matches," added Japan's bench boss.
Japan had another workout session in the evening on that day in Tokyo where, just like the previous day's, the doors were closed except for the first 15 minutes of the two-hour session to review tactics.
Doi suddenly joining the national team actually does so for the first time in his career. After the season finale of J.League on 2 December, he says he had started his off-season. "There are many great players. I want to learn a lot and take this opportunity for my future football career. They just added me in the last minute, but now what I am here with the team, I want to leave something positive here."
MISAO Kento who is Doi's teammate with Kashima was also called up to the top national team for the first time, although he played in the 2013 FIFA U-17 World Cup and the AFC U-23 Championship last year. The 21-year-old midfielder spoke quietly but enthusiastically, "The World Cup has been always one of my goals. Finally, I am getting closer to it, but I am still on the start line. Everything is up to what I do from now on."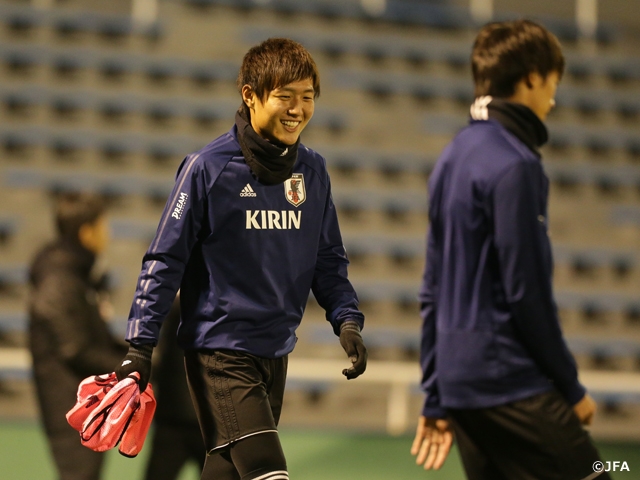 The team will have another official workout on Friday 8 before the first contest on Saturday 9.
All of men's fixtures of the EAFF E-1 Football Championship Japan Final are played at Ajinomoto Stadium in Tokyo.
Coaches' and Players' Comments
Vahid HALILHODZIC, Coach (Japan National Team)
I would like to thank Coach Lippi of China National Team, who's been a good friend of mine for years, Coach Andersen of DPR Korea National Team and Coach Shin of Korea Republic National Team for coming to Japan. Japan serves as the host country in this tournament and I hope all visiting teams enjoy Japan and this tournament will be a good tournament. Every team is a great team and comes out for this tournament very seriously. Although we have many obstacles, we have to make attempts to win the matches.
DF #5 KURUMAYA Shintaro (Kawasaki Frontale)
This time we have many players on this squad who I regularly play with or against, so we talk a lot and there has been a good amount of communication. We have only the players who are playing in the J.League, but what we try to do is the quick vertical attack. Now the competition has started among those players for the member spots, but as far as we are on the same team, we get united and try to win the championship in the East Asia.
MF #2 IDEGUCHI Yosuke (Gamba Osaka)
It seems that other teams play aggressively on the ball altogether. I always try to outplay and outhustle my opponents in every match, so if I get to play against DPR Korea, I will try not to get beat. Last time we finished at last place, so this time our goal is to win the title. Me personally, I will try to perform in the way my coach expects, and try to show everything I am good at in every match.
MF #8 TAKAHAGI Yojiro (F.C. Tokyo)
I think all the players on the squad are closer to each other because we all play in J.League. We can't survive through the roster spot competition unless we showcase ourselves in every play including duels. Whichever position I play, behind the striker or as a defensive midfielder, I have to just position myself well and try to push it up even on defence. We want to create quick attacks starting from good defence.
MF #16 MISAO Kento (Kashima Antlers)
We have many Kashima players here, so I don't get nervous and I can play as I usually play. My playstyle is rather helping my teammates play better than creating something on my own. So as long as I keep doing what I usually do, automatically it will be good for the team.
FW #13 DOI Shoma (Kashima Antlers)
I was just going into my off season, so I packed it up all of a sudden and got prepared. But it's not that it's been long (since the end of the J.League season). I want to get my condition up first. What I do for Kashima as foundation, I need to show something more. As an offensive player, I want to create some kind of an accent in our attacking pace.
MARCELLO LIPPI, Coach (China PR National Team)
This time our team are centered around the players of 19 and 20 years of age. The results are important, but there is also an aspect that I will watch how new players play. I believe they will improve including the mental side of the game through this tournament and that will raise the level of this entire team. The opponents of the first match are Korea Republic and they are one of the elite teams in Asia like Japan. But China have been getting better, so we want to do our best.
JORN ANDERSEN, Coach (DPR Korea National Team)
We are happy to be in this final tournament. The three teams that we face are very tough opponents, as Japan have already clinched a spot in the World Cup. The match against Japan will definitely be very tough, but we have had time to prepare. We may not be the title contenders, but we will do our best.
SHIN TAEYONG, Coach (Korea Rep. National Team)
We have won this tournament three times, and have a chance to win it two straight times which no country has ever achieved. All the opponents are good teams, and it will never be easy. But we will challenge aggressively and do everything we can do to win the championship. We also want to win against Japan in the last match.
Schedule
Mon. 4 December
PM
Training
Tue. 5 December
AM
Training
Wed. 6 December
PM
Training
Thu. 7 December
PM
Training
Fri. 8 December
TBC
Official Training
EAFF E-1 Football Championship 2017 Final Japan
Sat. 9 December
19:15
1st Match vs DPR Korea
Tokyo / Ajinomoto Stadium
Sun. 10 December
AM
Training
Mon. 11 December
PM
Training
Tue. 12 December
19:15
2nd Match vs China PR
Tokyo / Ajinomoto Stadium
Wed. 13 December
AM
Training
Thu. 14 December
PM
Training
Fri. 15 December
PM
Training
Sat. 16 December
19:15
3rd Match vs Korea Rep.
Tokyo / Ajinomoto Stadium
*The schedule is subject to change due to the team condition, the weather, etc.
JFA-TV (Japanese version only)
IDEGUCHI Yosuke (Gamba Osaka) Interview

MISAO Kento (Kashima Antlers) Interview

DOI Shoma (Kashima Antlers) Interview
Instagram Photo Report
EAFF E-1 Football Championship 2017 Final Japan
Tournament Period: 8 December 2017 - 16 December 2017
Men's Fixtures: Ajinomoto Stadium (Tokyo)
More Information