NEWS
【Reflecting on the AFC Asian Qualifiers】Interview with Mr. TANAKA Marcus Tulio "Don't look ahead, cherish each match"
06 October 2021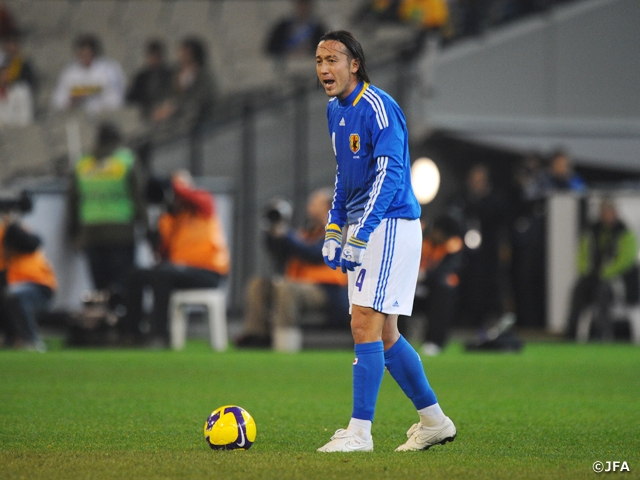 In this interview series "Reflecting on the AFC Asian Qualifiers," we talked to players who played in the final round of the FIFA World Cup Asian qualifiers as a member of the SAMURAI BLUE (Japan National Team). To start off the series, we will share the interview conducted with Mr. Tanaka Marcus Tulio, who led the team with his courageous playing style.
*This interview was conducted online on 28 September 2021.
――How do you feel about the difficulty of winning through the final round of the FIFA World Cup Asian qualifiers?
TULIO In the recent years, fans and supporters may have taken it for granted that we would be participating in the World Cup. However, there are only strong teams left in the final round, and we must also factor in the difficulty of playing away from home. Japan is always in a difficult group, so I expect this final round to be tough as well.
――Japan got off to a rocky start after losing to Oman in the first match of this final round. What do you think Japan must do in order to win the upcoming matches?
TULIO The final round is a marathon, but the players need to compete one match at a time without looking ahead. The most important thing is to earn points at home where they have the advantage. In that sense, they need to reflect on the loss against Oman, but I think they got back even by winning against China in an away match.
――This October's matches against Saudi Arabia and Australia are going to be the first turning point for Japan.
TULIO Based on the pairings of the groups, I predicted that Japan, Australia, China, and Saudi Arabia would be competing for the two spots in Group B. Saudi Arabia is the toughest opponent among the four countries, so the head-to-head matches against them are extremely important for Japan. They are a difficult opponent for Japan, and it will be even more difficult facing them at their home. With that in mind, this upcoming match is going to have a great significance, and a win will be worth more than three points.
――You have played against Saudi Arabia twice in the AFC Asian Cup 2007 qualifiers. You also scored your first goal for the national team against Saudi Arabia.
TULIO I also missed a PK against Saudi Arabia. They have attackers with excellent individual skills, sharp counter attacks, and players with great creativity. They are really difficult to play against. When things went our way, we would win the match without any issues, but we didn't know what to expect until we entered the match. There were times when we didn't have any information about our opponent, and we struggled in many ways.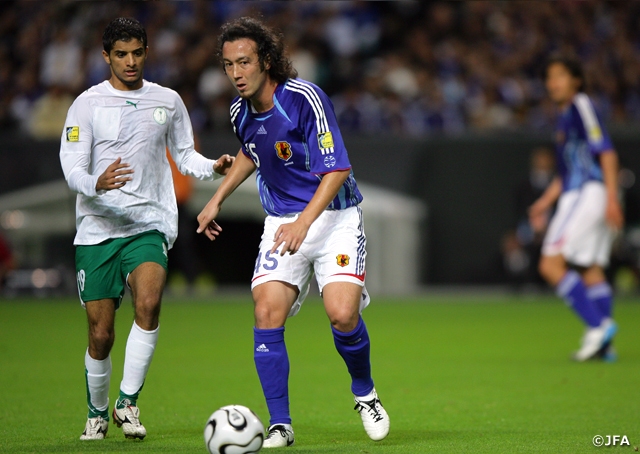 ――Australia, on the other hand, is a powerhouse that has stood in the way of Japan in every FIFA World Cup qualifiers in recent years.
TULIO I feel that the current Australia team has a slightly different style of play from the time I played against them. They used to construct their attacks from the flanks and took advantage of the height of their attackers. But recently, they are trying to break away from that style. They are shifting towards a football style where they emphasise passing and ball possession, but they are still in the process of making the shift, so I feel that there are many holes Japan can exploit.
――It was exciting watching you matchup against opponents like Tim CAHILL and Joshua KENNEDY.
TULIO They were strikers who were capable of capitalising in any given moment, so there was always pressure not to make a mistake. In 2009, when we were competing for the World Cup in South Africa, we allowed Cahill to score two goals in the end, despite grabbing the early lead. It was very difficult facing opponents who consist of players who can make the most of any given opportunity. It is very discouraging when your opponent scores a goal even when you have done everything you could to defend against them. The current Australian side may not have a player who can single-handedly decide the game, but they are a regular contender of the World Cup, so Japan cannot afford to lose a head-to-head match against them.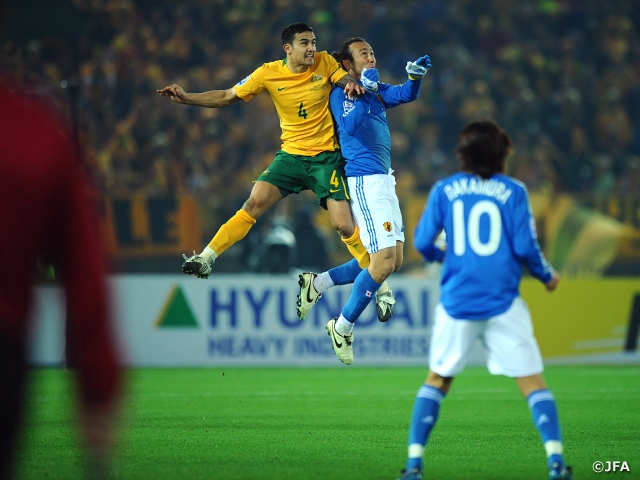 ――Lastly, please give some words of encouragement to the younger members of the Japan National Team.
TULIO The Japan National Team has grown to the point where people are expecting them to at least reach the knockout stage of the World Cup. As a player who experienced the grind, I understand how tough the final round is, but as a football fan, I am hoping that the players will work together to advance through the Asian qualifiers and thrive at the world stage.