NEWS
Tachikawa-Fuchu and Osaka among teams advancing to the quarterfinals! - JFA 27th Japan Futsal Championship
14 March 2022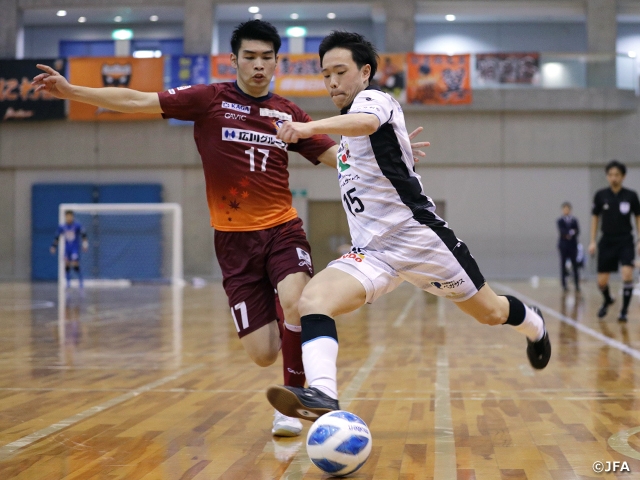 The second round of the JFA 27th Japan Futsal Championship took place at three venues around the nation on Sunday 13 March.
At Kishiwada City Gymnasium (Osaka), Shonan Bellmare (F1/Kanagawa) and Tachikawa-Fuchu Athletic FC (F1/Tokyo) were featured in the first match. Shonan broke the deadlock in this closely contested match when YAMASAKI Ayumu found the back of the net in the 17th minute. Tachikawa-Fuchu responded with the equaliser scored by ARAI Yusei in the 30th minute, followed by DAITOKU Masahiro's go-ahead goal in the 37th minute. With time running out, Shonan managed to level the match in the 39th minute, with the goal scored by HONDA Marcos from a power-play, sending the match into overtime.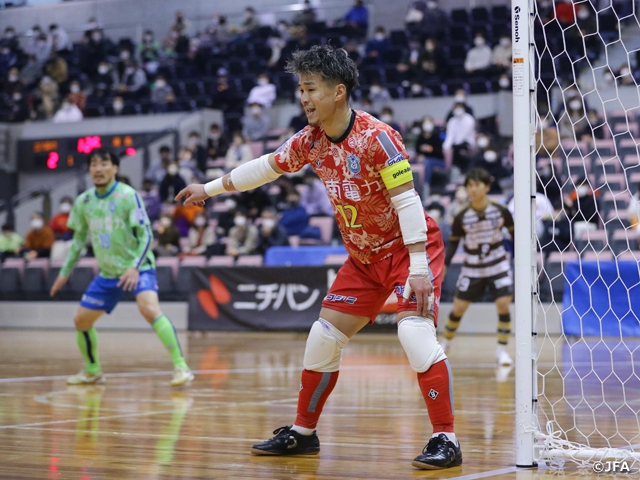 In the first minute of overtime, the shot taken by UCHIMURA Shunta was blocked by Tachikawa-Fuchu's goalkeeper KUROMOTO Guilherme, but Honda was there to convert the deflection, putting Shonan ahead. However, with less than a minute left to play in the second half of overtime, this time, Tachikawa-Fuchu scored the equaliser from their own power-play to send the match into penalty shootout. With momentum on their side, it was the Tokyo side who earned their ticket to the quarterfinals, edging Shonan 3-2 in a hard-fought battle between two F1 sides.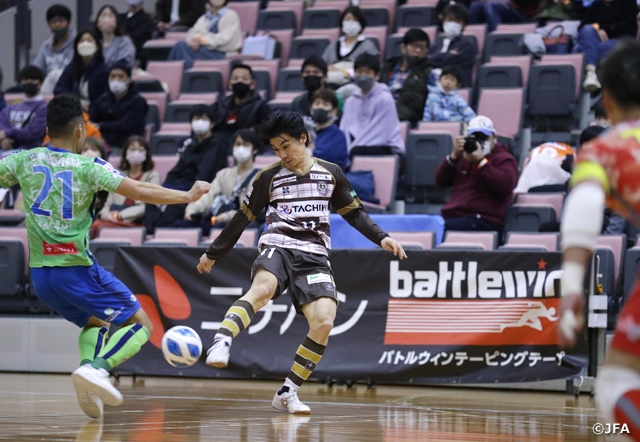 The second match played in Osaka was between Hiroshima F-DO (F2/Hiroshima) and Shriker Osaka (F1/Osaka). Playing in their hometown, it was Shriker Osaka who scored the opener, as KATO Tsubasa capitalised on a set-piece in the first minute. Kato scored another goal in the 11th minute to double the Osaka lead. Despite giving up the initiative to Osaka in the early going, Hiroshima responded with a goal scored by NII Takahito, who announced his retirement at the age of 25, as he capitalised on a mistake made his former club.
However, as Nii recalled, "The opponents were really good all round, and we couldn't find ways to attack them," Hiroshima were unable to take control throughout the match. After KAZUMORI Ryota added two more goals to their tally, Shriker Osaka walked away with a 4-1 victory. After the match, the players from Osaka and Hiroshima created a warm atmosphere in the arena as they gathered to lift up members of Hiroshima who had announced their retirement at the end of the season, including coach MURAKAMI Tetsuya, Nii, TOMIHIRO Yohei, MISHIMA Kotaro, and TSUDA Suguru.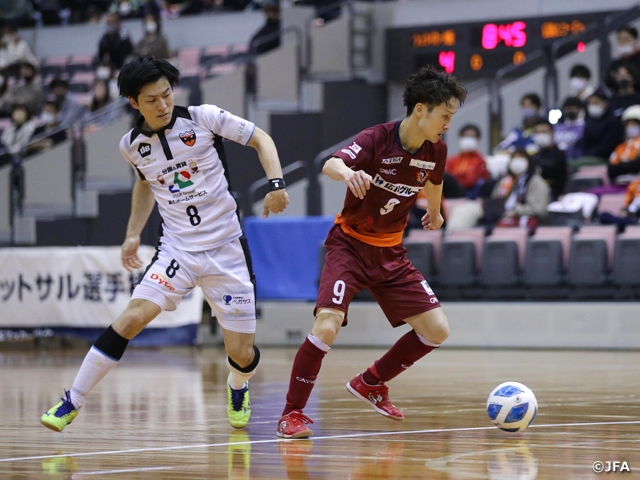 At other venues, defending champions Shinagawa City (F2/Tokyo) were beaten 4-7 by Nagoya Oceans (F1/Aichi), the reigning F1 champions for the fifth year running, leaving a line-up of seven F1 clubs and F2 side Deucao Kobe (F2/Hyogo) in the quarterfinals.
From the quarterfinals on Saturday 19 March onwards, the battle will take place at Komazawa Olympic Park (Tokyo). Which team will be crowned champions this year?
Coach and Players' Comments
GK #12 UEHARA Takuya (Shonan Bellmare)
Although it was great to see our side score the opener in the first period, our opponent adjusted well against our strategy and took control of the game in the second period. Even so, we managed to equalise and take the lead, but our opponent showcased great persistence to catch us up. I really wanted to help the team win the shootout, so this is a very disappointing result. I'm leaving Shonan at the end of this season, but I love this team and I hope to become a better player so that Shonan offers me a chance to play for them again.
FP #11 DAITOKU Masahiro (Tachikawa-Fuchu Athletic FC)
We really wanted to win this match as a team, especially after Akira MINAMOTO reminded us before the match, "This will be the last time we will play with this emblem (due to the change in the team structure at the end of this season). There are people who want to see us wearing this emblem. Let's give our best efforts to win the match so that people could see this emblem as long as possible." It was a very difficult match, but we are happy to have won and we will do our best to be ready for next week.
MURAKAMI Tetsuya, Coach (Hiroshima F-DO)
We came prepared to face Osaka, who plays their goalkeeper as their fifth field player, but that early goal really hurt us. The fact that we failed to double down after making it 1-3 also contributed to this result. Although we lacked quality to score goals, the players really demonstrated what we had worked on all year, in terms of how we applied pressure and how we played the power-plays. I'm leaving the team this year, but I plan to spend some time reassessing what futsal means to me.
FP #15 KAZUMORI Ryota (Shriker Osaka)
After showing a poor performance yesterday, I feel like we were able to demonstrate a solid defensive performance, which is our strength. The fact that we were able to take the lead in the early minutes also helped us. We have always struggled to score goals, but we were able to score two today. We are just taking it one match at a time, so we will now turn our focus to our next match on Saturday.
JFA 27th Japan Futsal Championship
Tournament dates: Sat. 12 - Mon. 21 March
Tournament venue: Kishiwada City Gymnasium (Osaka), Green Arena Kobe (Hyogo), Hamamatsu Arena (Shizuoka), Komazawa Olympic Park (Tokyo)