NEWS
Tachikawa-Fuchu claim first title in their third final of the JFA 27th Japan Futsal Championship
22 March 2022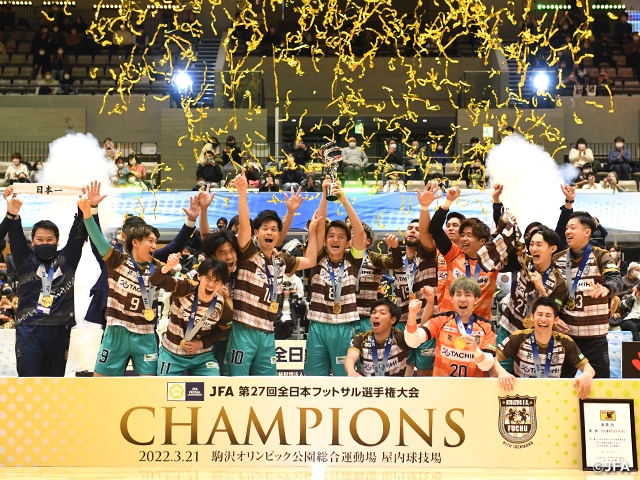 On Monday 21 March, the JFA 27th Japan Futsal Championship final between Nagoya Oceans (F1/Aichi) and Tachikawa-Fuchu Athletic FC (F1/Tokyo) took place at Komazawa Olympic Park (Tokyo).
The final featured the same card from the final three years ago, in which Nagoya thrashed Tachikawa-Fuchu 6-0. This year, Nagoya racked up 30 goals in four matches and started off the final by applying aggressive pressure from the frontline to take the initiative. In the fourth minute, Nagoya forced a turnover in the opposing end, setting up a one-on-one situation for NISHITANI Ryosuke, but Tachikawa-Fuchu's goalkeeper KUROMOTO Guilherme was there to make the save.
Although Tachikawa-Fuchu struggled to deal with Nagoya's intense pressure in the early minutes, the Tokyo side managed to score the opener in the fourth minute, when MINAMOTO Akira drove in a cross from a kick-in. The ball delivered in front of the goal deflected off Nagoya's OLIVEIRA Arthur, through the legs of their goalkeeper SHINODA Ryuma, and into the net.
After conceding the opener, Nagoya collected the ball to HOSHI Shota, who announced his retirement at the end of this season, to create chances. However, with Kuromoto putting up a superb performance in front of the goal, the F.League champions couldn't find ways to put the ball into the net. Despite seeing chances created by Minamoto, SAKAI Ryotaro, and UEMURA Atsuya, Tachikawa-Fuchu also fell short from scoring their second goal, as the match entered halftime with the Tokyo side leading 1-0.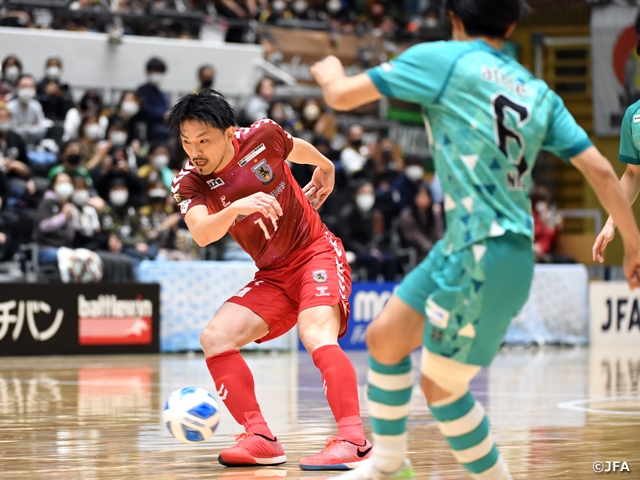 As coach Fuentes mentioned, "We were not able to add layers to our offence in the first period, but 0-1 is a vulnerable lead in futsal. We managed to keep our cool and make the necessary adjustments during halftime," Nagoya opened the second period with even more intensity to threaten the Tachikawa-Fuchu goal.
While enduring the fierce attacks of Nagoya, a golden opportunity arrived for Tachikawa-Fuchu in the 33rd minute, when Kuromoto initiated a counterattack after catching the shot of HOSHI Ryuta. With three players making the run into the opposing end, Kuromoto's throw reached ARAI Yusei who tried to square a pass to KANAZAWA Sora on the other side. However, as Arai later commented, "I had a hard time controlling the ball, hesitated either I should take the shot myself, and felt fatigued," the final pass did not have the accuracy to reach Kanazawa and trickled out of bounds.
In efforts to equalise the match, Nagoya deployed their power-play in the closing minutes, which saw great success in the league competition this season. However, with the players of Tachikawa-Fuchu showcasing tremendous tenacity to defend their goal, the match remained 1-0, despite Nagoya firing 48 shots, almost five times as many as their opponents. With the final buzzer, Tachikawa-Fuchu claimed their first Japan Futsal Championship title after reaching the final three times.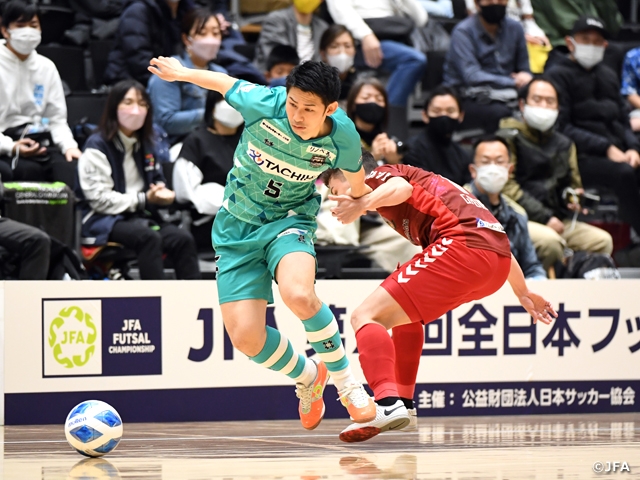 Coach and Players' Comments
FP #5 HOSHI Ryuta (Nagoya Oceans)
We knew before entering the final that this would be a very difficult match. Our opponents were very organised and fully prepared to play against us. In this closely contested match between two teams who had great success in set-pieces, it was Tachikawa-Fuchu who capitalised on their set-piece. On the other hand, we struggled to score a goal, and that one goal proved to be the decisive goal. I was really hoping to finish things off on a high note, but this is the reality. I was once the captain that allowed the league title slip away, so ending my time with Nagoya in this fashion kind of suits me well, I guess.
HIGA Ricardo, Coach (Tachikawa-Fuchu Athletic FC)
We were in the defensive end for 70, 80% of the time and Nagoya played with tremendous intensity, so it was a very tough match. Even when we were trying to defend, we couldn't get in position on time because our opponents were so quick, and there were many occasions where we nearly conceded. It was also mentally a challenging match. Nagoya have always scored goals from set-pieces against us, but we were able to turn the tables today. This is my first title as a coach, so I am very happy.
FP #5 MINAMOTO Akira (Tachikawa-Fuchu Athletic FC)
Looking back on this match, this was a very tough match. Although we are aware that our pursuit to win the F.League title is an uphill battle, today we were presented with an opportunity to win a title against Nagoya in a single match, and I am glad that we were able to showcase a performance that showed our true colour. Despite facing a stronger opponent, we were able to demonstrate our tenacity to defend our one goal lead until the end. We weren't elegant, nor were we entertaining. Our team colour is said to be the colour of a horse, but we consider it as the colour of mud, so we have an edge in a mud-slinging contest. In that sense, this is an ending that suits us perfectly.
FP #14 ARAI Yusei (Tachikawa-Fuchu Athletic FC)
I was feeling a lot of emotions when I heard the final whistle. I never got to play during primary and junior high school, and I was a substitute in high school. My football career may not have been particularly good, but I am very happy to see all my efforts finally getting paid off. Since returning to this team from the F.League select team, I was feeling that I was not doing any help for the team. This is the team that has taken me under their wing since my first year in junior high school and gave me the courage to have a dream again after I failed in football, so I really wanted to give something back before the team changed its name. I am very happy that we were able to win the title.

JFA 27th Japan Futsal Championship
Tournament dates: Sat. 12 - Mon. 21 March
Tournament venue: Kishiwada City Gymnasium (Osaka), Green Arena Kobe (Hyogo), Hamamatsu Arena (Shizuoka), Komazawa Olympic Park (Tokyo)