NEWS
Nagoya and Tachikawa-Fuchu to face each other in the final for the second time in three tournaments - JFA 27th Japan Futsal Championship
21 March 2022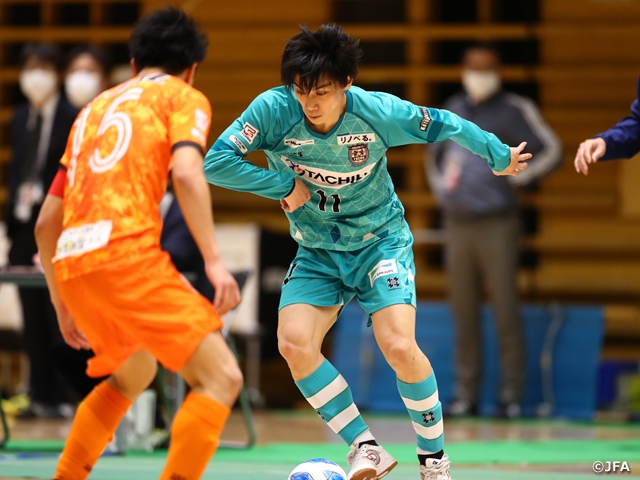 The semi-finals of the JFA 27th Japan Futsal Championship took place at Komazawa Olympic Park (Tokyo) on Sunday 20 March.
The first fixture between Bardral Urayasu (F1/Chiba) and Nagoya Oceans (F1/Aichi) saw Nagoya dominate the ball possession to threaten the Urayasu goal from the early minutes. Urayasu responded by showing tenacious defence and initiating quick counterattacks but couldn't capitalise on their opportunities.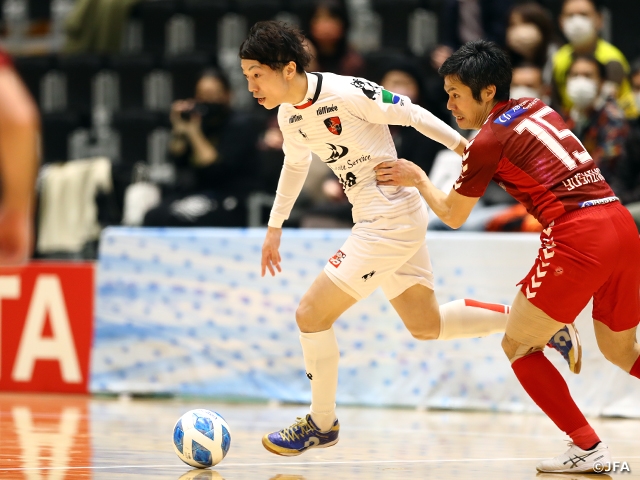 With Nagoya taking control, Urayasu committed their sixth foul in the 13th minute, giving up a spot kick from the second penalty mark. Although FUJIWARA Jun, Urayasu's goalkeeper who is set to retire at the end of this season, made the save to deny the shot taken by OLIVEIRA Arthur, Nagoya scored the opening goal in the 16th minute, when YAGI Kiyoto assisted the goal of HOSHI Ryuta, to give the Oceans a 1-0 lead at halftime.
In the second period, Urayasu's TAKITA Manabu was sent off after receiving his second caution of the match in the 30th minute. Nagoya pounced on this situation, as Gabriel PENEZIO converted the cut back from NISHITANI Ryosuke to double their lead. In efforts to rally back, Urayasu deployed their power-play by pushing up Fujiwara to play as the fifth field-player, but conversely allowed Penezio to score his second goal after turning over the ball in the opposing end. Despite their late surge, Urayasu could not find ways to crawl out of their deficit, as HOSHI Shota, who is set to retire after this season, scored a goal against his former club to give Nagoya a 4-0 victory.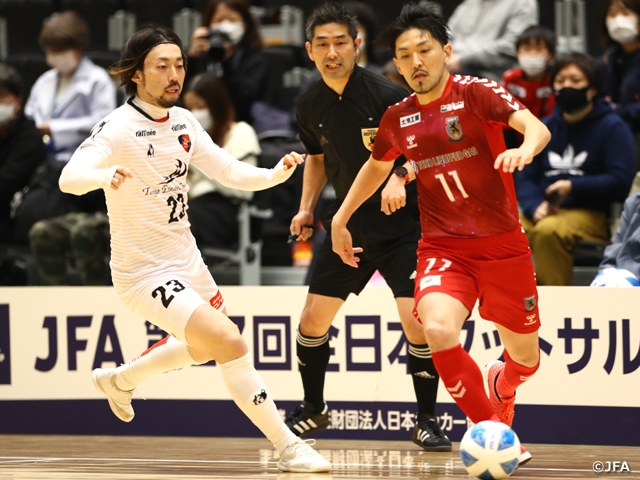 The match between Tachikawa-Fuchu Athletic FC (F1/Tokyo) and Vasagey Oita (F1/Oita) saw early action, as Tachikawa-Fuchu's SEKI Naoto scored the opening goal in the first minute, which was followed by MINAMOTO Akira in the third minute to give the Tokyo side an early two goal lead.
Oita, who had been plagued with injuries and entered the match with just eight field-players, responded with the goal of PACATO in the 17th minute, but conceded another goal to Tachikawa-Fuchu just a minute later, when KANYAMA Tetsuichi converted a shot following a corner kick.
Led by MORIMURA Takashi, Oita started to rally back in the second period. In the 27th minute, NOGUCHI Kayato converted the deflection of the shot taken by Pacato to close down the gap. However, as the match intensified, Pacato was sent off after receiving his second yellow card in the 30th minute, giving Tachikawa-Fuchu a numerical advantage on the pitch. The Tokyo side did not miss this opportunity, as they extended their lead back to two goals with the goal scored by KANAZAWA Sora in the 31st minute and closed out the match 4-2 to reach the final for the second time in three tournaments.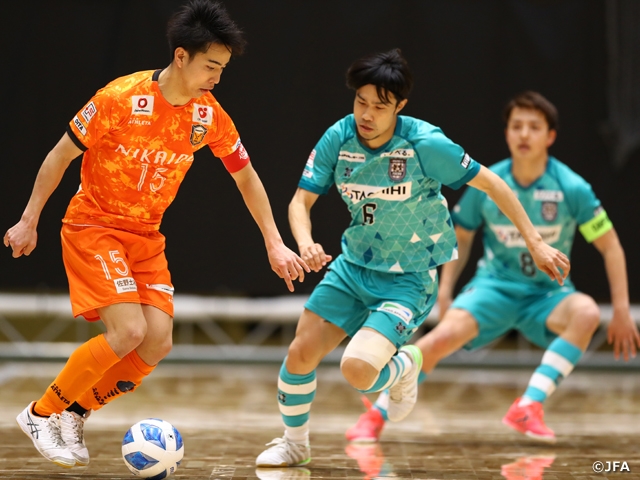 Coach and Players' Comments
FP #11 HOSHI Shota (Nagoya Oceans)
It was very emotional for me to play against my old team at a time like this. I had decided to retire after this season, so I entered the match with a very special feeling, knowing that this could be my final match if we didn't win. Urayasu had fought to extra time yesterday with a limited number of players, so I thought we had the advantage, and I think it showed in the final score. With the absence of the foreign players who had been helping us in the league competition, we had to work even harder as a team, but it felt like we were doing a good job allowing our opponent to hold the ball and taking the initiative through our defence. Tomorrow will be my last match, so I will cherish every moment I can with this team.
KOMIYAMA Yusuke, Coach (Bardral Urayasu)
We challenged Nagoya head-on, and the players worked very hard. I feel that we fought better than we have against Nagoya in the past. We still need to work on winning the ball and scoring goals, but the players worked extremely hard right to the end, despite having two players sent off, which is not an easy situation to be in. The difference between us and Nagoya was in the ability to score and defend goals when it matters, and this match really reminded us that we need to work a lot harder to make up for that. However, I am not so pessimistic about our overall performance. We will try to make the most of this disappointment and prepare ourselves ahead of next season.
FP #10 KANYAMA Tetsuichi (Tachikawa-Fuchu Athletic FC)
Since the end of the league, I have been intensively working on my shooting during the month leading up to this tournament, and I feel like my efforts have been getting paid off in the past two matches. We lost to Nagoya 0-6 in the final three years ago. We are expecting another tough match, but we will try to upset the champions. Even without PEPITA, they are capable of using their pivot to initiate quick attacks with great precision. Nagoya is a team with very few flaws, but we will try to find a hole and exploit them the best we can. Tomorrow will be our last match wearing this emblem. I promise to fight proudly for this emblem, and I have a feeling that this emblem will protect us if we do so.
FP #5 MINAMOTO Akira (Tachikawa-Fuchu Athletic FC)
Tomorrow will be our last match playing with "Fuchu" in our team name. Reaching the final was very important for us, so I am relieved that we won today. We will fight on behalf of those who have built and supported this club for 22 years and win our first Japan Futsal Championship title in our third final. Personally, I have a burning desire inside of me to play against Nagoya at the end of a season which took place during the year of the World Cup. We need to give everything we've got to win tomorrow, so that is what we are going to do, both as a team and as individuals.
JFA 27th Japan Futsal Championship
Tournament dates: Sat. 12 - Mon. 21 March
Tournament venue: Kishiwada City Gymnasium (Osaka), Green Arena Kobe (Hyogo), Hamamatsu Arena (Shizuoka), Komazawa Olympic Park (Tokyo)