NEWS
Kawasaki claim group lead with 5-0 victory, while Yokohama FM and Kobe also make forward progress to advance through group stage
26 April 2022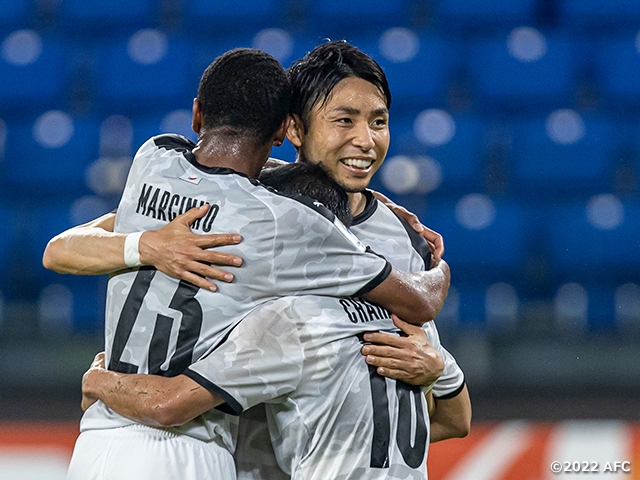 The fourth fixtures of the AFC Champions League (ACL) 2022 East group stage took place on Sunday 24 and Monday 25 April. At Johor Bahru, Malaysia, Kawasaki Frontale scored five goals against the local side Johor Darul Ta'zim (JDT) to claim the lead in Group I. Yokohama F. Marinos defeated Sydney FC (Australia) 3-0, while Vissel Kobe and Urawa Red Diamonds each added a point with a scoreless draw against Chiangrai United FC (Thailand) and Daegu FC (Republic of Korea) respectively.
Kawasaki had struggled with the hot and humid weather of Malaysia and the short turnaround between matches, as they started the group stage with a win and two draws through three matches. However, their fast-paced attack and scoring ability returned in the fourth match, as they dominated JDT, an opponent they had tied 0-0 just three days earlier, to add three points to their tally and take the group lead.
To advance to the knockout stages, teams must either finish first in their respective groups or finish as the three best runners-up from the five groups in the East. In addition, since Group J only has three teams remaining, the results against fourth-placed teams will be omitted in this ranking, setting up an even stricter condition for the runners-up. In Group I, Kawasaki, JDT, and Ulsan Hyundai FC (Republic of Korea) are in close contention for the top spot, making this a must win match for the J.League champions.
After testing the waters in the early minutes of the match, Kawasaki scored the opening goal in the 14th minute, when WAKIZAKA Yasuto converted a direct free kick that was won by KOBAYASHI Yu.
With momentum on their side, IENAGA Akihiro, Wakizaka, and YAMANE Miki showcased a splendid pass work to break down the right side, before setting up the goal of Kobayashi in the 31st minute. Kobayashi went onto score another goal in the 43rd minute, when he converted the cross delivered by Yamane to make it 3-0 at halftime.
Seeking for their first ever appearance in the ACL knockout stage, JDT made five changes to their line-up since their previous match, taking out the likes of Natxo INSA and BERGSON out of their squad. With the local crowd supporting their back, the team made swift changes to their formation in efforts to create chances against Kawasaki.
However, Kawasaki maintained their composure throughout the match, sending out MARCINHO and CHINEN Kei in the 59th minute, followed by KOZUKA Kazuki and TSUKAGAWA Koki in the 77th minute, before having YAMAMURA Kazuya close out the match in the final minutes.
In the 81st minute, Thai international CHANATHIP carry the ball up deep before setting up the goal of Marcinho. Seven minutes later, this time Chanathip capitalised on the deflection caused by the shot taken by Marcinho to make it 5-0.
As a result, Kawasaki have now taken the group lead with eight points, with JDT trailing in second place with seven points. After defeating Guangzhou FC (China PR) 5-0, Ulsan have also accumulated seven points, but JDT hold the advantage with their head-to-head record. Kawasaki will now play their second leg against Ulso, who they drew 1-1 in the first leg, on Wednesday 27.
"We are only thinking about winning the remaining two matches. We will compete to win the group," said Kawasaki's coach ONIKI Toru. Wakizaka also commented after the match, "We will reset our minds and try to prepare ourselves in the best way possible ahead of our next match."
Yokohama FM claim group lead with 3-0 victory
In Group H, Yokohama FM played Sydney FC at Ho Chi Minh City, Vietnam on Monday 25. After taking an early 2-0 lead, Yokohama marked their third win despite seeing one of their players ejected in the second half.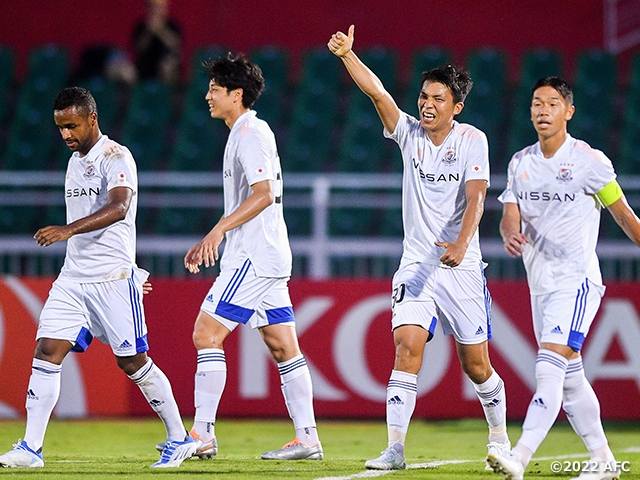 The opening goal came in the sixth minute, when SANETO Yuki made a diving effort to convert the cross sent by MIZUNUMA Kota. Just five minutes later, NISHIMURA Takuma controlled the cross delivered by
MATSUBARA Ken before firing a left footed shot into the Sydney goal.
Sydney rallied back in the second half, creating number of opportunities to threaten the Yokohama goal. In the 63rd minute, TSUNODA Ryotaro was shown a red card for a foul he committed, giving Sydney a numerical advantage for the remainder of the match, but with the likes of FUJITA Joel Chima coming off the bench to revitalise the team, Yokohama continued to showcase their aggression, which led to the goal scored by Anderson LOPES in the 87th minute to win the match 3-0.
Following the match, Yokohama FM's coach Kevin MUSCAT praised his players, "I am very satisfied with this result. The team showcased their mental toughness by keeping their aggression even after taking a two-goal lead and after being down a man."
With Jeonbuk Hyundai Motors FC (Republic of Korea) drawing 1-1 with Hoang Anh Gia Lai (Vietnam) on this day, Yokohama FM are now in first place with nine points. Yokohama is now set play Hoang Anh on Thursday 28, while Jeonbuk, who trail Yokohama by a point, will face Sydney.
Kobe gets one step closer to Round of 16
In Group J, Kobe faced Chiangrai at Buriram, Thailand. With their opponent changing their system from a three-back to a four-back formation, Kobe struggled to find ways to score a goal, as the match ended in a scoreless draw.
Following their 6-0 victory over the same opponent three day ago, Kobe rotated eight players from their line-up. Despite the chances created by BOJAN Krkic and GOKE Yuta, and the late efforts made by second half substitutes YURUKI Koya and HIDAKA Mitsuki, Kobe fell short from scoring a goal this day.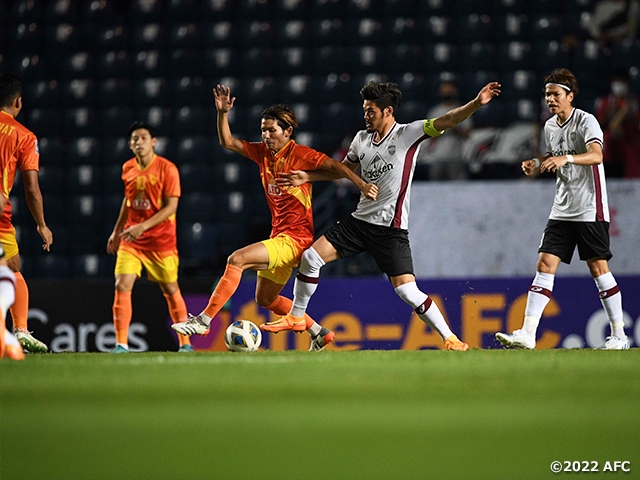 However, with the team accumulating seven points from two wins and a draw, Kobe currently have a four-point lead over second place Kitchee SC (Hong Kong), which means that they can clinch the group lead with a draw or better in their next match against Kitchee on Sunday 1 May.
Kobe's coach Miguel Angel LOTINA reflected after the match, "We were not critical enough in the final third," while INOUE Shion, who started for the second match in a row, shared his take, "We need to broaden our options for these kinds of matches where our opponents are dropping deep in their territory."
Urawa fail to capitalise early chance
In Group F, Urawa faced Daegu in Buriram, Thailand. Urawa showcased great aggression against the Korean side, who they lost 0-1 in the first leg, but failed to convert their early chances to finish the match in a scoreless draw.
The match started with Urawa threatening the Daegu goal with chances created by David MOBERG and Alex SCHALK but couldn't find ways to get the ball passed the opposing goalkeeper. Urawa continued to be the aggressor in the second half, as ESAKA Ataru and SHIBATO Kai initiated the attacks to set up the shots of Alexander SCHOLZ and AKIMOTO Takahiro. However, despite firing 16 shots, quadrupling the amount of shots taken by their opponent, Urawa failed to convert their opportunities throughout this match.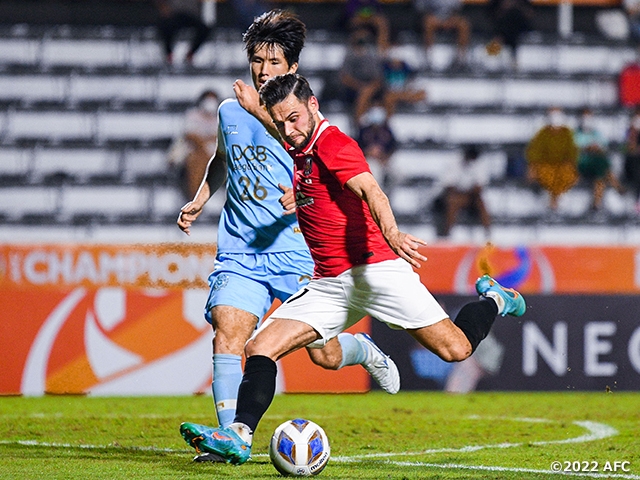 "The players showcased great fighting spirit and could have won 2-0, 3-0, but we just couldn't score today," said coach Ricardo RODRIGUEZ, as the Swiss coach continued to share his aspiration for the remaining two matches, "We will continue to build on the positives and strive to advance through the group stage."
With this draw, Urawa, Daegu and Lion City Sailors FC (Singapore), who defeated Shandong Taishan FC (China PR) 3-2 on this day, are now tied in points with seven. The Reds are now scheduled to face Lion City on Wednesday 27.
In Group G, where no Japanese clubs play, BG Pathum United FC (Thailand) won over United City FC (Philippines) 3-1 to register their third consecutive victory. With Melbourne City FC (Australia) drawing 1-1 against Jeonnam Dragons (Republic of Korea), Pathum now have a two-point lead over second place Melbourne. Pathum can clinch their spot into the round of 16 with a win over Melbourne on Wednesday 27.