NEWS
Yokohama FM edge Sydney FC with TSUNODA's late goal while Urawa suffer first loss in ACL
23 April 2022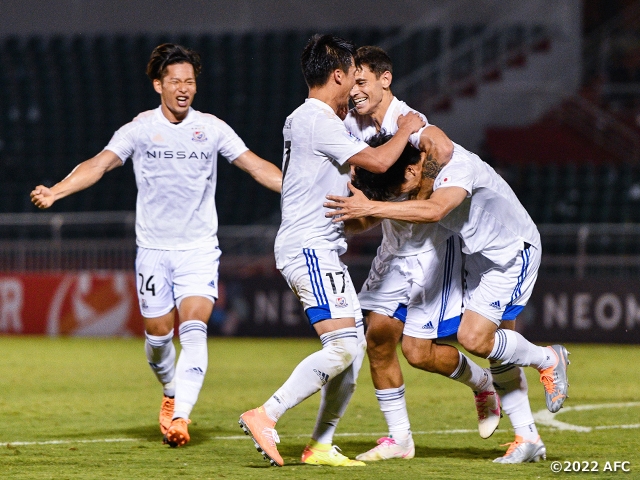 The third fixtures of the AFC Champions League (ACL) 2022 East group stage took place on Thursday 21 and Friday 22 April. Yokohama F. Marinos defeated Sydney FC (Australia) 1-0, thanks to the late heroics of TSUNODA Ryotaro, to earn their second win, along with Vissel Kobe, who won over Chiangrai United FC (Thailand) 6-0 to mark their second win in this group stage. Meanwhile, Kawasaki Frontale drew with Johor Darul Ta'zim (Malaysia) 0-0, and Urawa Red Diamonds suffered their first loss against Daegu FC (Republic of Korea) 0-1. Each team will play the same opponents again in three days.
In Group H, Yokohama FM struggled dearly in the match held at Ho Chi Minh City, Vietnam, but managed to earn their second win, thanks to their second half substitutes.
Playing their third match in a week, Yokohama FM rotated nine starters since their second match, but started the match struggling to find their rhythm against the Sydney side who dropped deep in their territory.
Despite the team's slow start, Leo CEARA, Marcos JUNIOR, and KOIKE Ryuta showcased great aggression to create chances, while NAGATO Katsuya struck a shot in the 17th minute to threaten the opposing goal.
In order to break the stalemate, Yokohama FM brought in NISHIMURA Takuma and Tsunoda in the 62nd minute, followed by the introduction of MIZUNUMA Kota and IWATA Tomoki in the 69th minute.
A close opportunity was created in the 70th minute, when the ball crossed from the left side found Mizunuma, who delivered a pass to Tsunoda, but the shot taken by the defender went just wide of the target.
The deadlock was broken just 10 minutes later, when Nishimura and Leo Ceara struck back-to-back shots following a corner kick from the left. Although their efforts were blocked by the Sydney defence, Tsunoda responded to the deflection to slot the ball into the net, as he later reflected, "After missing out on my first opportunity, I knew I had to redeem myself."
With the team holding onto the one goal lead to win the match 1-0, Yokohama FM's coach Kevin MUSCAT praised his players' hard work, "They did a fine job. I am proud of them."
As a result, Yokohama have extended their tally to six, just one point behind the group leaders Jeonbuk Hyundai Motors FC (Republic of Korea), who also won their match against Hoang Anh Gia Lai (Vietnam) 1-0. Still without a win, Sydney and Hoang Anh remain in third and fourth place with two and one point respectively.
Urawa handed their first loss by Daegu
In Group F, Urawa faced Daegu at Buriram, Thailand on 21 Thursday. Facing an opponent who reached the round of 16 last year, the team conceded the decisive goal in the second half to suffer their first loss in this ACL.
Urawa had the upper-hand in ball possession but struggled to break down the five-man defence line deployed by Daegu. Conversely, the Korean side created number of close opportunities from their counterattacks, forcing the Urawa goalkeeper SUZUKI Zion to make numerous big saves to keep the match scoreless at halftime.
However, the opening goal was scored by Daegu in the early minutes of the second half, when ZECA converted the cross sent by SUZUKI Keita in the 53rd minute.
In efforts to rally back, Urawa made four changes to bring in David MOBERG, SEKINE Takahiro, AKIMOTO Takahiro, and SHIBATO Kai onto the pitch. The substitutes revitalised their offence, as SAKAI Hiroki and ESAKA Ataru were more involved in the attacks. Despite the late chances created by Kasper JUNKER and Alexander SCHOLZ, Urawa fell short from equalising the match, losing the match 0-1.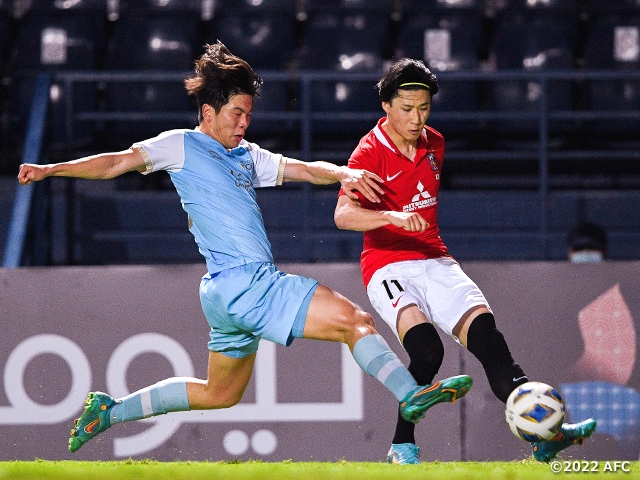 As a result, Urawa and Daegu are now tied with six points, with the Korean side having the advantage in head-to-head record. In order to advance through the group stage, Urawa must now find their way to retake the group lead, or to finish within the top three teams among the second-place teams in the East division.
After the match, Urawa's coach Ricardo RODRIGUEZ mentioned, "The situation is up to us," while Sakai commented, "We had to be more critical in the final third. Our opponents kept their plays simple and were more eager to win the match, which can be the difference in these international matches. In order to win at this level, we need to overwhelm our opponents in all aspects."
Lion City Sailors FC (Singapore) and Shandong Taishan FC (China PR) remained third and fourth place respectively after drawing 0-0.
YURUKI involved in three goals to propel Kobe to victory
Kobe faced Chiangrai on a rainy day in Buriram, Thailand, where they scored four goals in the first half, including a brace and an assist by YURUKI Koya, to dominate the local side.
With Group J being played by three teams, this was Chiangrai's second match since their 0-1 defeat to Kitchee SC (Hong Kong) on the 16th, while Kobe entered with just a two-day rest following their match against Kitchee on the 19th.
Despite the quick turnaround, Kobe made only four changes to their line-up, and showed great aggression from the early minutes. OSAKO Yuya started the action by converting the deflection caused by Yuruki in the sixth minute, followed by Yuruki's goal in the 25th minute. SAKAI Gotoku assisted the goal of GOKE Yuta in the 32nd minute, before Yuruki scored his second goal in the 38th minute with INOUE Shion delivering the final pass.
Kobe remained in the driver's seat in the second half, as LINCOLN came off the bench the score the team's fifth goal in the 58th minute, before OSAKI Leo converted the pass of Bojan KRKIC to make it 6-0 in the 74th minute.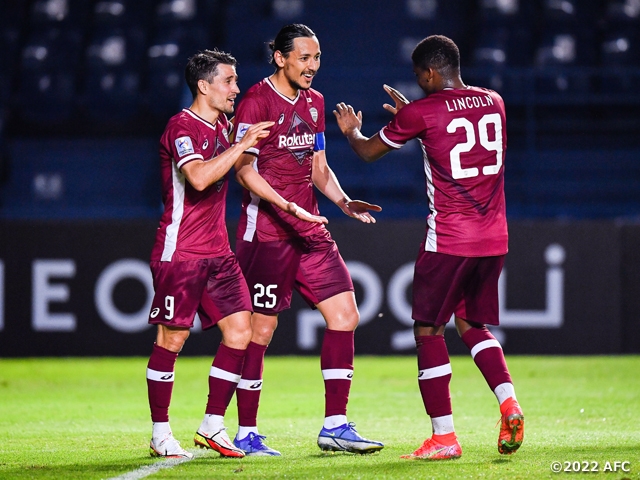 "I am not satisfied with my performance. I need to play with a higher intensity level," said Yuruki, but praised his team, "Despite only having two days to prepare, the team managed to demonstrate what we had worked on."
Following the match, Kobe's coach Miguel Angel LOTINA commented, "We played very well from the start. These goals will give us confidence moving forward. It is very important that we are winning, so we hope to keep this momentum going."
After playing two matches, Kobe are in the lead with two consecutive wins, with Kitchee and Chiangrai trailing second and third respectively.
Scoreless draw for Kawasaki
In Group I, Kawasaki faced the local side Johor Darul Ta'zim (JDT) at Johor Bahru, Malaysia. Despite playing under a completely away atmosphere, the team showcased great tenacity to walk away with a valuable point.
Entering the match with a completely new look to their line-up, Kawasaki started the match by creating numerous opportunities, as MARCINHO linked up with Leandro DAMIAO and TONO Daiya to penetrate the left flank. SASAKI Asahi also came close to scoring a goal when he responded to a through ball sent by SCHMIDT mid-way into the first half.
Seeing the way Kawasaki attacked in the early minutes, JDT were quick to make a change to their formation, which led to the opportunities created by La'Vere CORBIN-ONG and BERGSON late in the first half.
In efforts to earn their second win of the group stage, Kawasaki brought in KURUMAYA Shintaro, Wakizaka Yasuto, MIYAGI Ten, and KOBAYASHI Yu in the second half, but fell short from scoring a goal, as the match ended in a scoreless draw.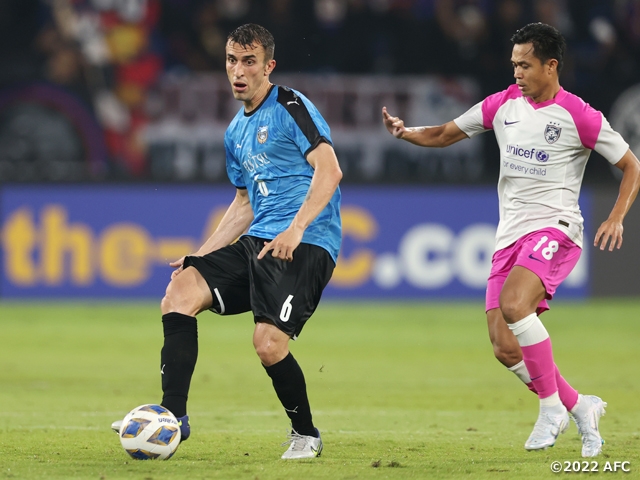 As a result, Kawasaki remain in second place with five points, while JDT lead with seven. Ulsan Hyundai FC (Republic of Korea) defeated Guangzhou FC (China PR) 3-0 to close down the gap between Kawasaki, as they sit in third place with four points.
"We wanted three points, but we hadn't played in a completely away atmosphere like this in a while, so this gave us an extraordinary experience as well as a valuable point," said Kawasaki's coach ONIKI Toru. The coach also shared his take on the match, "This outcome would have been different if we had capitalised on our opportunities in the first half. We also had to be more aggressive to take the initiative in the second half. We will make adjustments in order to win three points in our next fixture."
In Group G, where no Japanese clubs play, Melbourne City FC (Australia) defeated Jeonnam Dragons (Republic of Korea) 2-1, in a match that was officiated by a trio of Japanese female referees, YAMASHITA Yoshimi, BOZONO Makoto, and TESHIROGI Naomi. It marked the first time in ACL history that a match was officiated by a female referee, as well as a crew of female referees.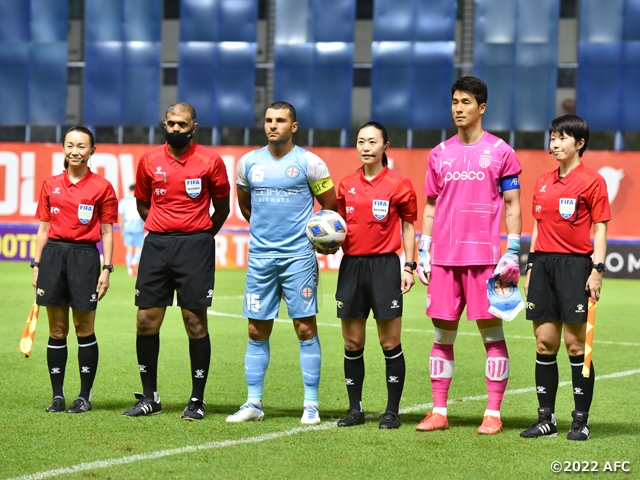 Led by coach TEGURAMORI Makoto, former coach of the U-23 Japan National Team and Vegalta Sendai, BG Pathum United FC (Thailand) took the lead in Group G with their 5-0 victory over United City FC (Philippines), as they hold the advantage in goal difference over Melbourne, who share the same point tally with seven points.
Coach and Player's Comments
Kevin MUSCAT, Coach (Yokohama F. Marinos)
The players worked extremely hard, and I am very happy with this result. This was physically a very challenging match for us, but the players showcased lots of energy and I am proud of their performance. With the matches being played in such a short period of time, we tried keeping our players fresh by rotating our line-up, but it was evident that both sides were having a difficult time. However, the team is getting better each match, both in terms of performance and condition. I am always thinking of ways to utilise our substitutes to change the team's tempo and condition, regardless of who steps on the pitch. Tsunoda did a fine job playing in the left side to score the decisive goal. The team has shown one of the directions we are heading towards.
DF TSUNODA Ryotaro (Yokohama F. Marinos)
The goal came from a play I am always anticipating from a corner kick. I have always scored from that kind of play, but I was especially eager to redeem myself after missing an opportunity early on. I wasn't really prepared to play as a left fullback, but I was able to play the position without much issue because the entire team had a mutual understanding of what the team was aiming for. It proved that this team is on the same page.