NEWS
Futsal Class 1 referees and F league referees' training sessions
04 June 2014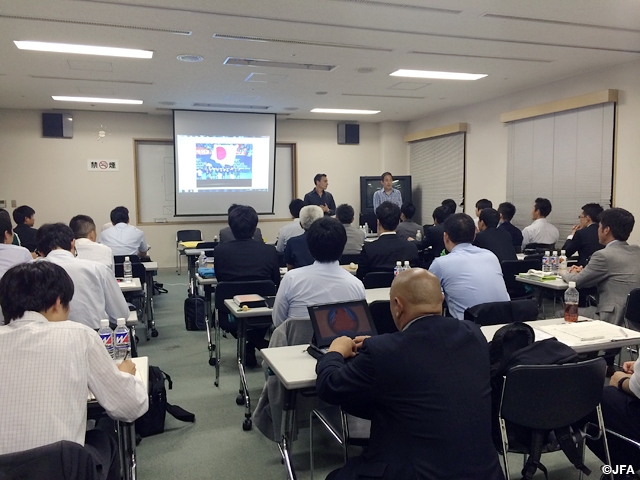 The futsal referee training for class 1 referees was held on Saturday 24 May and Sunday 25 May at Odawara Arena in Kanagawa.
In the sessions, referees were told about this year's F league standard and then they did some physical training.
The referees had a very fulfilling time, listening to the lecture given by Miguel Rodrigo, the head coach of the Futsal Japan National Team, on the evening of the first day.
Instructor Comment
TAKEUCHI Motohito Futsal Class 1 Instructor
This futsal class 1 referees training had three aims:
- To let the players play safely
- To let the players perform at their best
- To let everyone connected to football, including the supporters, enjoy the match to the fullest and feel refreshed
Our learning task for today was "controlling the game through appropriate refereeing skill and player management".
We also discussed how to understand more about 'having strength and faith in your own call' and 'game control, taking into considering the level of tension in the game'.
On top of that, we also had 'practical training' and 'visual game analysis'. In 'the practical training', we reviewed signals and cooperation among the four officials (for securing good line-of-sight and sharing responsibility), in order to judge the difficult line decisions and fouls. We also learned how to react to objections about referee decisions.
In 'the visual game analysis', each referee tried to find ways to make calls clearly and be easily understood by the players and the spectators. They also looked at how to confront the players with judgments, taking into considering the atmosphere of the match. The referees tried to find ways to be forceful, but not too impersonal.
Miguel Rodrigo, the head coach of the Futsal Japan National Team, gave a presentation about his experiences in international matches. He led the team to back-to-back championships, winning over the very competitive Iran on penalties in the final of the 2014 AFC Futsal Championship.
I expect this training will boost the level of Japanese futsal refereeing and secure our good position in Asia, and that many referees will officiate in the international matches.
Participant Comment
MINAMI Shuichi Futsal Class 1 Referee
It was a very productive training session, with lots of serious information and a bit of humour. In one of the lectures, four referees teamed up as a group, where I found the importance of sharing tasks, cooperation and finding ways to communicate with players. In the physical training I realised the necessity of the stepping practice. In the communication session I had a face-to-face conversation with other referees, who are more experienced than me, and learned a lot about how to communicate well.
I will not only master what I learned here, but also pass this knowledge to regional referees in order to raise the level of refereeing.