NEWS
Futsal Japan National Team rejuvenated for Uzbekistan National Team
03 May 2014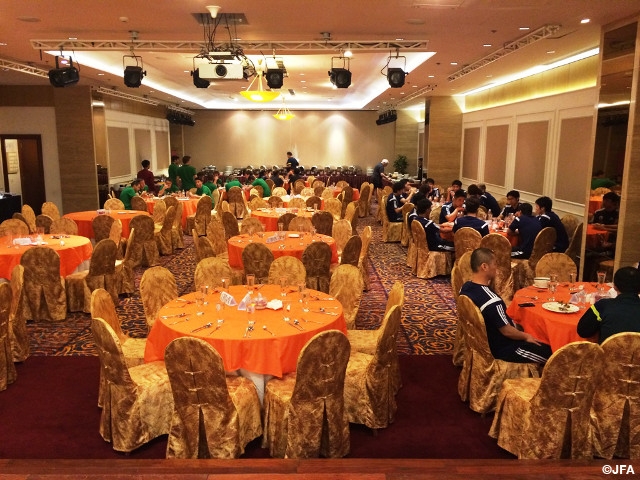 In the morning, the team took a walk around the hotel and did stretching to recover from yesterday's match against Korea Republic National Team.
Taking quality sleep and light exercise as well as eating well-balanced meals are necessary to recover from fatigue and also good ways to remove stress. Here in Vietnam, a local noodle menu called "Pho" has been served every now and then and it has been a pleasant meal for noodle-loving Japanese players.
Although each nation has its own section but all teams share the same dining room. Looking at variety of faces sharing the same off-the-pitch experience surely tells us how big Asia really is.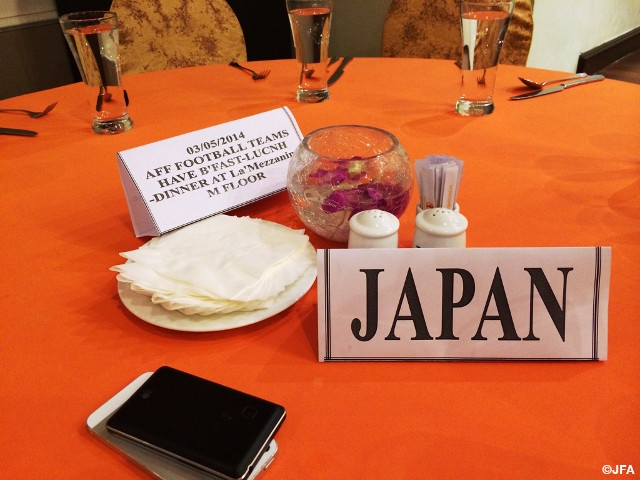 The floor Japan National Team are staying on has a lounge where players can relax. They all are doing their own style to rest themselves to get ready for tomorrow's match against Uzbekistan.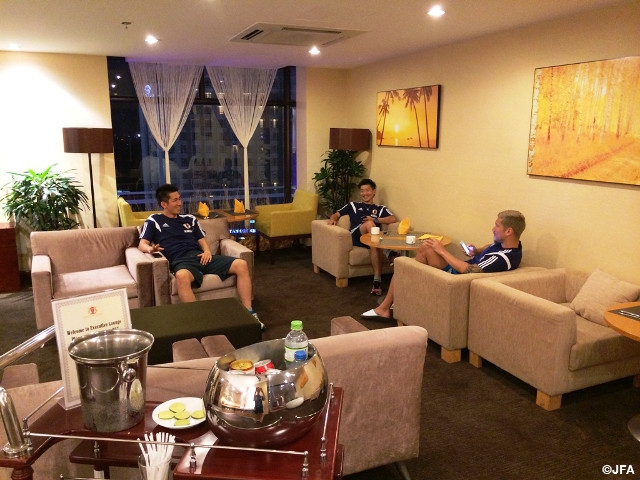 Comments From Players
KAWAHARA Hisamitsu(Agleymina Hamamatsu)
The first match is always difficult in any tournament, but we won the first match by scoring so many goals. So it was good for us. We haven't played our best futsal yet, but the mood among the team has been very good. We want to keep this going to the end. Tomorrow we will do our best and win again.
UCHIMURA Shunta(Shonan Bellmare Sports Club)
We could win the important first match. The first match tends to be difficult, but we held them scoreless and played our good tempo. I personally could score a goal, so that was good. But I am kind of a player who creates chances myself, so I think I should have played more aggressively. We still have five more matches. Each one of us has prepared for it very well. We will be united and keep winning one match at a time.
NIBUYA Kazuhiro(Vasagey Oita)
We could have a good focus, score a lot and win the first match of the AFC Championship. We still have things to improve to win the championship. We will play as one united team and always have fun doing it. Tomorrow I will eat Pho again and do my best.
Schedule
AFC Futsal Championship Vietnam 2014
Thu. 1 May
12 - 0
Group Stage 1st leg
vs. Korea National Futsal Team
(Ton Duc Thang University Stadium)
LIVE
NHK BS1 Thu. 1 May 17:40 - 17:49
NHK BS1(Sub ch102) Thu. 1 May 17:49 - 20:00

Video Recording
TV Asahi Channel 2 Fri. 2 May 21:00 - 23:00
TV Asahi Channel 2 Tue. 13 May 17:00 - 19:00
Sat. 3 May
18:30
Group Stage
vs. Uzbekistan National Futsal Team
(Phu Tho Stadium)
Video Recording
NHK BS1 Sun. 4 May 08:00 - 09:50
TV Asahi Channel 2 Sun. 4 May 20:30 - 22:30
TV Asahi Channel 2 Wed. 14 May 17:00 - 19:00
Mon. 5 May
18:30
Group Stage
vs. Kirghiz National Futsal Team
(Phu Tho Stadium
LIVE
NHK BS1 Mon 5 May 20:15 - 21:49
NHK BS1(Sub ch102) 5/5(月) 21:49 - 22:30

Video Recording
TV Asahi Channel 2 Tue. 6 May 21:00 - 23:00
TV Asahi Channel 2 Thu. 15 May 17:00 - 19:0
Wed. 7 May
15:30
18:30
Quarter Final
(Ton Duc Thang University Stadium)
 
Thu. 8 May
15:30
18:30
Semifinal
(Phu Tho Stadium)
 
Sat. 10 May
16:00
Third/Fourth-Place Match
(Phu Tho Stadium)
 
19:00
Final
(Phu Tho Stadium)
 
※All match time is local time.
※The time for TV broadcasting is Japan time。