NEWS
Retirement press conference full of respect - Always have respect Vol.104
26 January 2022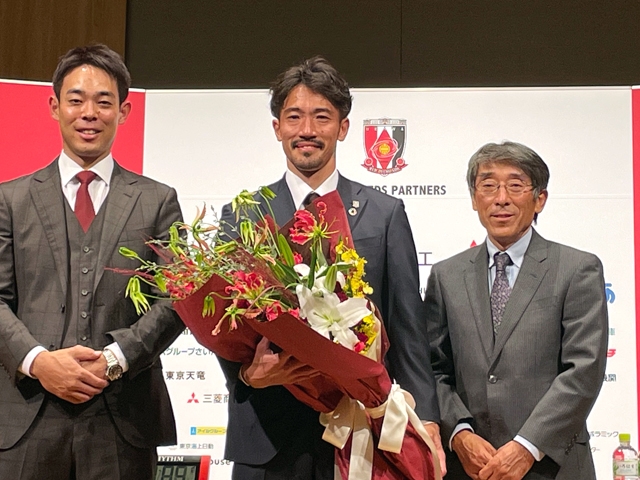 As the season draws to a close, there is a lot of talk about the movements of players, who are leaving their clubs or retiring or.... It is a very big moment for a player to leave the club where he has played for so many years and to start a new chapter in his life. Everyone of these players speak of their gratitude upon their departure.
When he looks back, he should notice how many people have helped and supported him so that he could concentrate on football―― The things he doesn't think about when he is in the thick of it become apparent when he stops or changes directions. What makes the speeches of players who are retiring or leaving a club so beautiful is that they are filled with words of gratitude.
Last year, I was particularly moved by the press conference of Urawa Red Diamonds' ABE Yuki, who announced his retirement on 14th of November 2021.
Born on 6th of September 1981, Abe, 40 years old, made his J. League debut with JEF United Ichihara (currently JEF United Ichihara Chiba) during his second year of high school and became a first-string player next year. He has played 24 seasons at the professional level, making nearly 900 official match appearances, including 53 caps for the Japan National Team.
Urawa Red Diamonds prepared a special "stage" for the announcement of Abe's retirement, who has played 14 seasons for the club since his joining in 2007, except a year and a half stint in England, and helped the club to win two AFC Champions League (ACL) titles in 2007 and 2017. Rather than holding an "online press conference," which had been the norm since March 2020, the club arranged a press conference at a hotel in Saitama in the presence of dozens of journalists.
Dressed in a suit, Abe took the podium to thank JEF United Ichihara Chiba, who took him under their wing when he was a junior high school student and paved the way for him to become a professional player, and Urawa Red Diamonds, who have supported him after 2007. In particular, he thanked Urawa Red Diamonds' team staff Mr. MIZUKAMI Hirofumi, who had helped him both in his personal and professional life, saying in a choked voice, "I would not have made it this far without Mizukami-san."
Above all, he thanked coach Ivica OSIM, who selected him as the team captain of JEF United Ichihara when he was only 21 years old, and "gave me the opportunity to think about what I lacked as a player," and coach Mihailo PETROVIC, who "showed me how fun and interesting football can be" during his time with the Reds. "It is my goal to become a coach like these two coaches. If I don't become a coach, it would be disrespectful to the many coaches who have guided me throughout my career," said Abe and I thought that was just like him.
However, what impressed me the most was the "surprise" prepared by the club, which came after Abe had gone well over the scheduled time to give sincere answers to all the questions from journalists.
To everyone's surprise, AKIYAMA Shogo (former player of Saitama Seibu Lions and a friend of Abe), who plays for the Cincinnati Reds in Major League Baseball, appeared on stage with a bouquet of flowers in his arms. Following the tall major leaguer was a short and modest gentleman who also carried a bouquet.
The gentleman was Mr. OKI Makoto, Abe's coach when he joined the junior youth team of JEF United Ichihara. He was one of the key members of the club's youth development team, which produced a string of good players and was considered as one of the best in the J. League at the time.
Because the conference was hosted by Urawa Red Diamonds, I was concerned that it might be aimed solely towards the Reds and their supporters. But that concern went out the window when I saw Mr. Oki. Urawa Red Diamonds did not forget to respect JEF United Ichihara, the club that helped develop Abe.
Mr. Oki's appearance at the end drastically changed the atmosphere of the conference. Abe's gratitude was highlighted even more, and people in various positions shared a sense of respect. I am sure it gave everyone a warm feeling, whether they were attending the conference or watching it online.
Written by OSUMI Yoshiyuki (Football Journalist)
*This article was originally posted on the Japan Football Association Newsletter, "JFAnews," December 2021 edition.
Japan Football Association Newsletter "JFAnews"
The Japan Football Association Newsletter "JFAnews" contains all the information on the Japan National Team, and all the events hosted by the JFA. Tournament results and team information throughout the nation are also available. The official monthly magazine is a must read for coaches, referees, and all members of the football family.
For information on the newest edition (Japanese website)