NEWS
Striving to create an environment where children can grow up naturally - Elimination of Violence in Football Vol.106
20 January 2022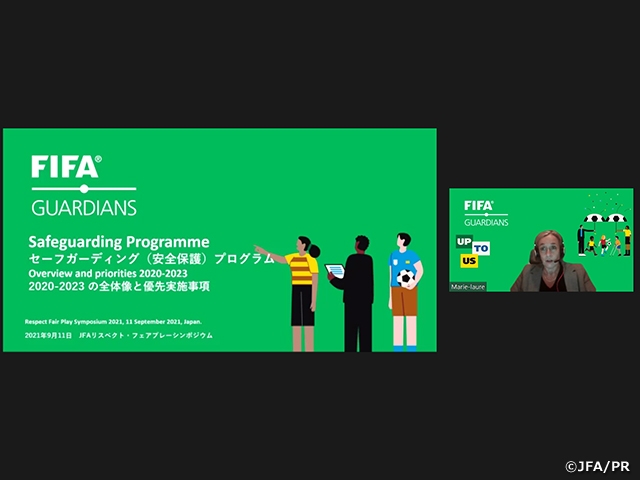 Every year Japan Football Association (JFA) organises the "JFA Respect Fair-play Days," and in 2021, "JFA Respect Fair-play Days 2021" was held for 10 days from 10 to 19 September. During this period, the J.League, various federations, regional and prefectural football associations cooperated with JFA to promote the spirit of respect (to take care of others) and fair play by making the "Respect and Fair Play Declaration" and displaying banners to demonstrate their firm opposition towards discrimination and violence in sports.
Also during this period, we were able to hear declarations of respect from the players at Nadeshiko League and WE League matches. Even while playing with great intensity, we saw the players treat injured opponents with respect, showing gratitude to the ball person by thanking them when receiving the ball. Their behaviour seemed very natural, and it was clear to me that they acted in this way on a daily basis. I am sure that the children who were watching the game were not only impressed by the great performances of the players they admire, but also by the positive example they set on and off the pitch.
Both of the team benches behaved fairly, and the supporters were giving heartfelt applause throughout the match. Their behaviour felt natural because that's how they behave on a daily basis, so natural that it might be overlooked if one is not paying attention. I was reminded of the value of this simple but wonderful practice, and I wanted to work together with everyone to make it even more valuable.
The "JFA Respect Symposium 2021" was held on 11 September. As in 2020, the symposium was held online, with approximately 400 participants. Apart from not being able to meet everyone in person, I was once again reminded of the benefits of having so many participants from all over the country.
This year's theme was "For the bright future of our children." The first half of the symposium started with keynote speeches given by JFA President TASHIMA Kohzo and FIFA Safeguarding Manager Ms. Marie-Laure LEMINEUR. In addition, the current status of the JFA Violence Eradication Consultation Service, the JFA Safeguarding Policy, which is currently being drafted, and a case study of the JFA Safeguarding Workshop which will be held at this year's Welfare-Officer Training Course were also presented.
A panel discussion was held in the second half of the symposium, featuring Ms. LEMINEUR, former member of the Japan National Team and current JFA Role Model coach Mr. NAKAMURA Kengo, and JFA instructor and member of the JFA Respect and Fairplay Committee, Mr. SHINDO Kunihiko. They exchanged their opinions on how to protect the children in football and in everyday life, and how to develop their potential for the future.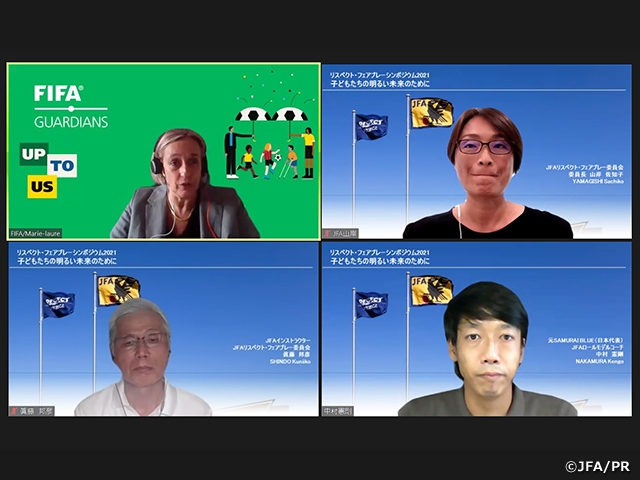 In order to ensure a bright future for the children, we as adults need to create an environment where children can develop both mentally and physically through football. Are we providing a safe environment where children can challenge themselves, are we being patient and trusting of their potential even when we feel like interfering, are we overlooking any problems that may be occurring, and are we reporting problems appropriately when we see them? The main focus should be on the players, the children are the ones who should be shining. The players are not tools for the coaches to make a name for themselves. The words that came from the experienced panellists were very powerful in its own right.
When we are overly passionate about our children, our intention can sometimes become an issue. This is why it is important to have opportunities to be aware of our actions. The workshops presented at this symposium will be deployed with the help of FA coaches and welfare-officers in the future. It will not be a formal event, but rather a platform where people can engage in conversations with their peers and learn from each other.
We are a "JFA football family," connected through football. Let's work together as a family, not as an individual, to create an environment in which children can grow up freely!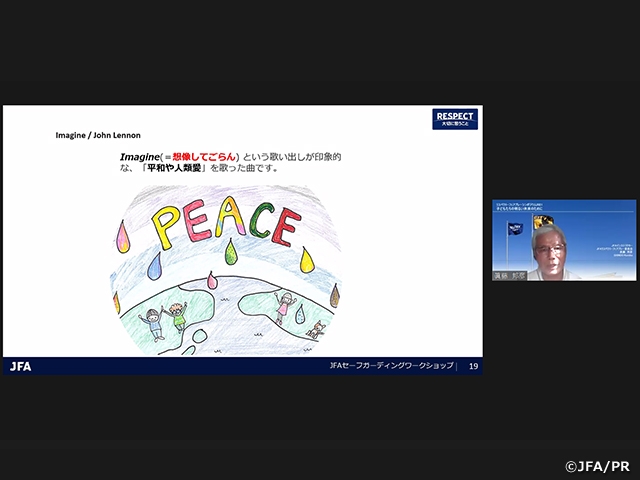 【Reporter】YAMAGISHI Sachiko (Chair of JFA Respect/Fair play Committee)
*This article was originally posted on Japan Football Association "Technical News," November 2021 edition.