NEWS
【Interview with SAMURAI BLUE's TANAKA Ao】Continue to grow and deliver results - KIRIN CHALLENGE CUP 2022
31 May 2022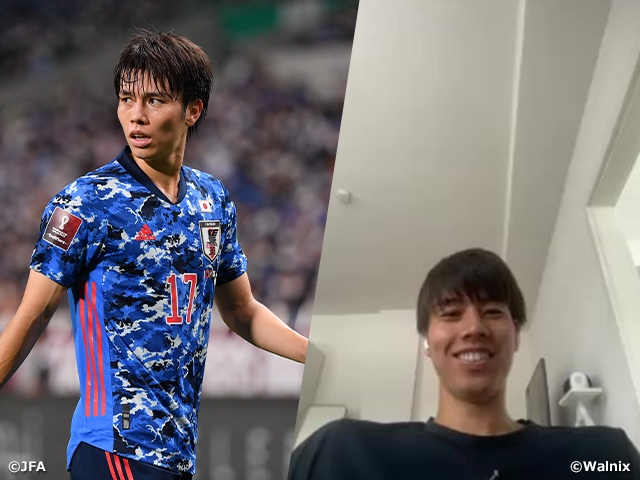 Here we interviewed TANAKA Ao, who has grown into an integral part of the SAMURAI BLUE (Japan National Team) midfield, about the AFC Asian Qualifiers (Road to Qatar) and his aspirations for the KIRIN CHALLENGE CUP 2022.
○This interview was conducted online on 1 May 2022.
――Despite their struggles at the AFC Asian Qualifiers (Road to Qatar), SAMURAI BLUE managed to qualify for the FIFA World Cup Qatar 2022™ in March this year.
TANAKA We faced a series of difficult matches, but considering the way we finished the qualifiers, I think we have become stronger through the final round of the Asian Qualifiers. Of course, there is still a lot of work to be done, but I am honestly happy for the fact that we were able to advance through the final round of the Asian Qualifiers as a result of our hard work.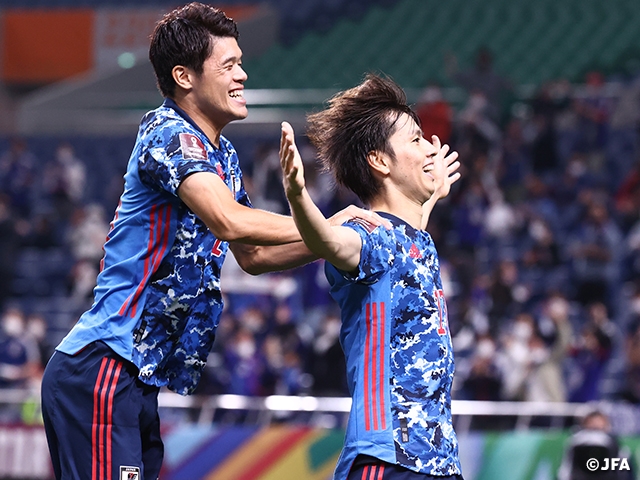 ――You have gained more playing time since the match against Australia in Matchday-four. You must have felt a lot of pressure playing in matches you couldn't afford to lose.
TANAKA I remember the two consecutive away matches played in November last year (against Vietnam and Oman) were particularly difficult, because I had never experienced it before. As for Oman, they were the team we lost to in the first match of the final round, and because it was a match we had to win, it was really hard to play them. In my debut match as a member of the national team (EAFF E-1 Football Championship 2019 Final against Hong Kong on 4 December 2019), I was too busy focusing on my own tasks, but this time, after experiencing that series of away matches, I came to realise, for the first time, how difficult it is to compete in Asia.
――What were the "difficulties" you felt?
TANAKA The fact that we were in a situation where we had to win. The more our opponents played defensively, the harder it got to score a goal, and the more impatient we became. Even when you know in your head that you have to keep your cool, you still make mistakes because you are in a hurry. The mental mistakes and the impact they had on the game were completely different and more severe than anything I had experienced before.
――You may have also felt the weight of a single goal.
TANAKA I believe that a goal can change everything in football. No matter how well you play, it doesn't count if you don't score, and on the other hand, if you are too concerned about protecting the lead after scoring, you may lose momentum. Those were the things that I felt were very difficult.
――The group stage pairings for the FIFA World Cup Qatar 2022™ have been set.
TANAKA To be honest, I don't have enough time to think about the World Cup right now. I need to keep improving myself every day, that's all. I am aware of the differences between myself and the players I play against at the international level. How I can close that gap before the World Cup is what matters the most to me. I don't even know if I will be selected for the World Cup squad, so it is imperative that I continue to develop now. And then there are the national team fixtures. If I can make the squad for the matches in June and September, that's where I need to deliver results.
――Japan will play Germany and Spain in the World Cup.
TANAKA When pot-2 was filled, I was thinking, "that is a hell of a group." But all jokes aside, opportunities to play serious matches with these two powerhouses are hard to come by. Germany and Spain are packed with world-class players, and if I am given the chance to play, I am looking forward to seeing what I can do as an individual against those teams. We will strive for good results and prepare ourselves to win as a team.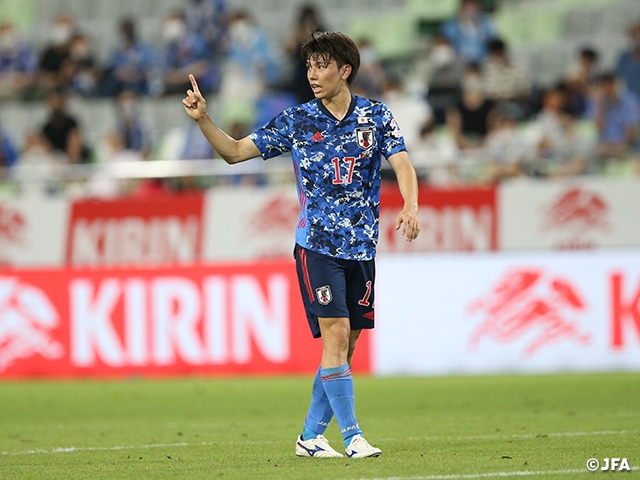 ――What is your take on the upcoming KIRIN CHALLENGE CUP 2022?
TANAKA It's an opportunity to improve the maturity of the team but the players, myself included, will be looking to deliver results in order to make a case for themselves to play in the World Cup. We will be tested on what we can do against strong teams and how well we can play for the national team. It is important to show what we have to offer, and more importantly, deliver results.
※The full interview is featured in the official tournament programme available for purchase at the match venues.