NEWS
SAMURAI BLUE's coach MORIYASU "Fully prepared" ahead of away match against Saudi Arabia
07 October 2021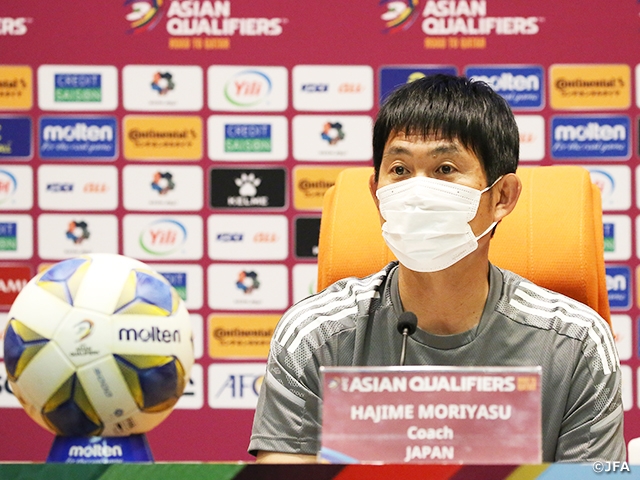 On Wednesday 6 October, coach MORIYASU Hajime of the SAMURAI BLUE (Japan National Team) appeared in the official press conference held ahead of the team's third match of the final round of the FIFA World Cup Qatar 2022™ Asian qualifiers (Road to Qatar) against Saudi Arabia National Team, where the coach shared his enthusiasm by mentioning, "We are mentally prepared to compete through a tough and difficult battle."
In Group B of the final qualification round, which began in September, Japan lost their first match to Oman, but defeated China PR to put themselves in fourth place. Coming off back to back wins, Australia and Saudi Arabia currently occupy the top two spots with Australia having the edge in goal difference. In order to move up to the top two spots in their group, which would automatically qualify them into the World Cup, Japan is eying to earn three points in this direct confrontation with Saudi Arabia.
Japan holds a total record of nine wins, one draw, and four losses against Saudi Arabia. The two sides will meet for the first time since the round of 16 at the AFC Asian Cup UAE 2019, in which Japan won 1-0 thanks to a goal scored by TOMIYASU Takehiro (Arsenal).
However, in the AFC Asian Qualifiers (Road to Russia), Saudi Arabia won the final match in Jeddah to qualify for the World Cup after Japan had already made it through.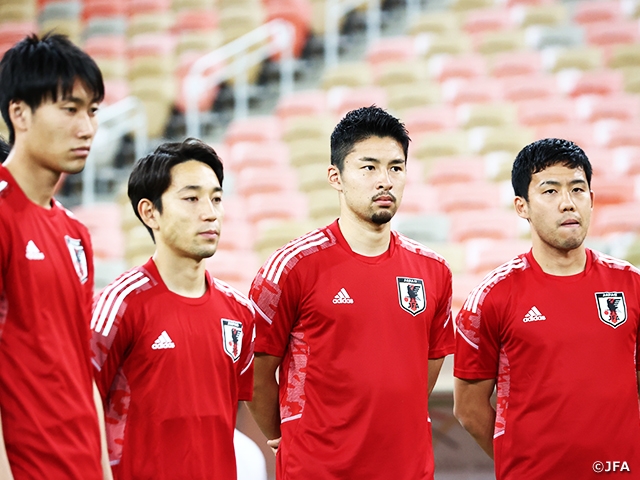 Following the 2018 FIFA World Cup Russia™, Saudi Arabia named coach Herve RENARD as their new coach. Under the leadership of the Frenchman with long history of coaching in Africa and led Morocco to the 2018 World Cup, the team has been refining its football style that emphasise ball possession, which they have shown in the Asian Cup. Although the team will be without some of their core players, they are expected to play at their home stadium with 60,000 supporters, as the admission limit has been lifted from the original 60% capacity to 100%.
"Saudia Arabia is a very aggressive team, so we were expecting a tough match even at 60% capacity," said coach Moriyasu, while expressing his trust towards his players, "We are mentally prepared to compete through a tough and difficult battle. We have plenty of talented players, so if we can prepare well and play with confidence, we should be able to showcase a strong performance. It is important that we fight hard to win the ball and make quick transitions between offence and defence."
The team started training in Jeddah on Monday the 4th, while OSAKO Yuya (Vissel Kobe) and the rest of the players from the J.League joined the team on Tuesday the 5th. Temperature was over 30 degrees Celsius, and the humidity was over 70% even at night-time, but coach Moriyasu said, "We have been training in a good atmosphere."
YOSHIDA Maya (UC Sampdoria) also pointed out, "There is a sense of urgency from the training sessions. It is great to see the team making changes," welcoming the change in attitude since their first match in September. In addition, the team captain said, "The Japan National Team often plays better when there is more mental load and pressure."
FURUHASHI Kyogo (Celtic FC), who returned from an injury he suffered during the series of matches held in September, shared his aspiration, "It is important that I focus on what I can do. I want to contribute for the team in both offence and defence, and make runs in the attacking third to create opportunities."
MINAMINO Takumi (Liverpool FC), who was also out injured in the two matches held in September, showed signs of recovery, saying, "We have to come home with three points no matter what." The striker also touched on their following match against Australia in Saitama on Tuesday 12, "We need to win both matches to improve our position, so we will give our best efforts in both matches," he said, showing a sense of urgency and a strong desire to win.
The match between the SAMURAI BLUE and Saudi Arabia is scheduled to kick off at 20:00 on Thursday 7 October (2:00 on Friday 8 October, Japan time).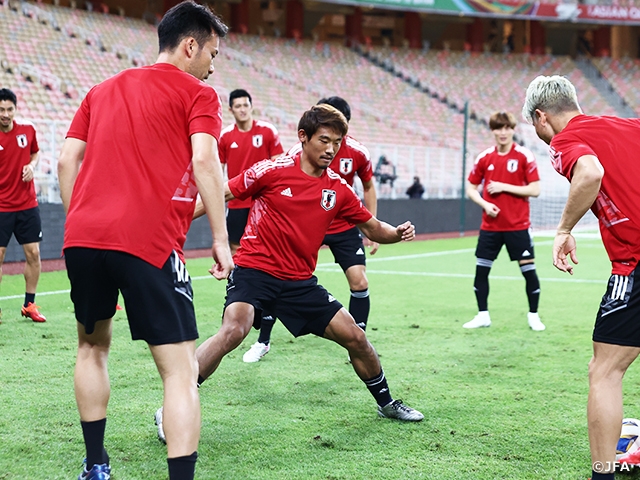 Coaches and Players' Comments
MORIYASU Hajime, Coach of SAMURAI BLUE (Japan National Team)
We have been training in a good atmosphere, with each player trying to improve their own form as well as the team's condition within the given time. With their full-backs pressing up, Saudi Arabia is capable of creating offence with multiple layers, while applying aggressive pressure to win the ball and making quick transitions between offence and defence. Every match is important, but this is a crucial match for us to qualify for the World Cup, and the players are preparing with that in mind. As long as our players can utilise their talent to help the team, we have a good chance of winning this match. I believe that the team with the stronger will power to qualify for the World Cup will be the one that wins the match.
DF YOSHIDA Maya (UC Sampdoria/Italy)
There is a sense of urgency from the training sessions, which is something we lacked in our first match in September. This had to be the standard to begin with, but at least the team is making changes for the good. The Japan National Team often plays better when there is more mental load and pressure, and I don't think that the pressure will have a negative effect on us. However, playing in an away match in the Middle East can bring many irregularities, such as questionable judgments, massive crowd, weather, and pitch condition, so I think we need to prepare ourselves knowing that anything could happen. It is always the substitutes that make the difference in difficult matches, so I hope the players who are playing in the final round for the first time are aware of this. From the opponents' point of view, they will be much closer to clinching the World Cup if they can beat Japan in these two matches, and I think they will be highly motivated because they think that we have lost momentum after losing our first match. That is why we need to enter the next two matches with strong determination to win each match.
MF SHIBASAKI Gaku (CD Leganes/Spain)
Despite some minor changes, Saudi Arabia will continue to play a similar style from the 2019 Asian Cup, in which they focus on possessing the ball and taking advantage of their athleticism, technique, and speed to create opportunities. I still have the impression that the team struggled dearly against them at the Asian Cup, so we must be thoroughly prepared before entering this match. Although this is an away match, we are here to earn three points. I think the key will be how well we can work on the small details as a team. However, I think there will be plenty of opportunities for us to capitalise, and whether or not we can score the first goal will be a key factor for us.
MF MINAMINO Takumi (Liverpool FC/England)
It was very frustrating not being able to help the team in the last two matches due to injury, so I have been focused on preparing my condition in the past month. I've prepared myself to be at 100%, so my condition is fine. From what I've seen at the 2019 Asian Cup, I think they will try to possess the ball in order to deploy their football style. That is why we need to be aggressive to win the ball and make quick transitions to initiate our attacks. I think the most important thing for me is to contribute to the team by scoring goals, but the top priority is the team's victory, not my own goals.
FW FURUHASHI Kyogo (Celtic FC/Scotland)
I feel that these two matches are really important, and it will make our future so much easier if we can win both matches. Personally, I want to enjoy playing under this kind of pressure. The only way I can contribute to the team is by playing my own game, and knowing that I have nothing to lose, I will do my best to help the team win, to make everyone smile, and to make people think that the Japan National Team is amazing. Based on the matches we played in September, we must do a better job moving the ball and applying more numbers in the attacking third. In terms of defence, we must play with a higher intensity level while maintaining our collective approach to apply pressure.
Herve RENARD, Coach of Saudi Arabia National Team
We will be playing in a very important match tomorrow. We are playing against the best team in Asia, which gives us great motivation. It is important to assess the past data, but the situation is vastly different from our last encounter against Japan at the final qualification round in 2018, in which we faced them in the final fixture. This time we are coming into the match with a perfect record and a squad full of talented players. I think tomorrow's match will be a very tactical and disciplined bout. We will need to play at the same level as Japan, but we must focus on executing our own game and try to showcase what we have been working on.
サウジアラビア戦の試合会場で前日練習を行った #SAMURAIBLUE %F0%9F%94%B7
重要な一戦に向けて調整に励みました%F0%9F%92%AA

NEXT%E2%8F%A9
%F0%9F%8F%86アジア最終予選(Road to Qatar)
%F0%9F%86%9Aサウジアラビア%F0%9F%87%B8%F0%9F%87%A6
%F0%9F%97%9310/7(木)%E2%8C%9A️26:00KO<日本時間>
%F0%9F%93%8DKing Abdullah Sports City
%F0%9F%94%97https://t.co/1ixonFyoex#jfa #daihyo #新しい景色を2022 pic.twitter.com/rrBSELa23i

— サッカー日本代表【vs%F0%9F%87%B8%F0%9F%87%A6】10.7@ジッダ/【vs%F0%9F%87%A6%F0%9F%87%BA】10.12@埼玉 (@jfa_samuraiblue) October 7, 2021
AFC Asian Qualifiers (Road to Qatar)
Thu. 7 October 2021 [20:00] (Fri. 8 October 2:00 Japan time)
SAMURAI BLUE vs Saudi Arabia National Team
Venue: King Abdullah Sports City (Jeddah, Saudi Arabia)