NEWS
【Match Report】SAMURAI BLUE fail to accumulate points after 0-1 loss to Saudi Arabia
08 October 2021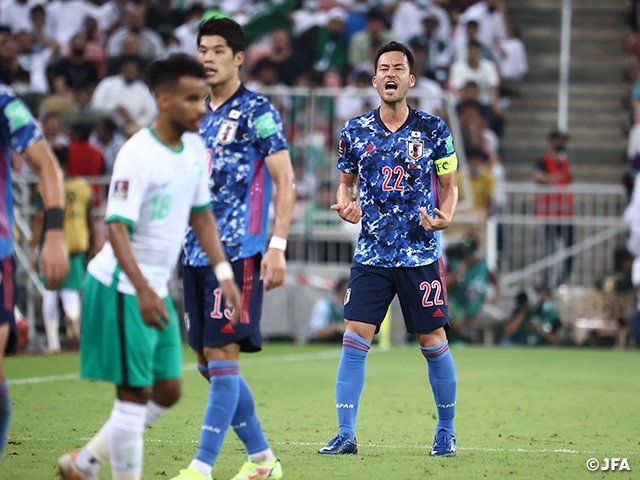 The SAMURAI BLUE (Japan National Team) suffered their second loss in the final round of the FIFA World Cup Qatar 2022™ Asian qualifiers (Road to Qatar) on Thursday 7 October, losing 0-1 to the Saudi Arabia National Team in Jeddah after conceding a goal midway into the second half. The team will now head back to Japan to face Australia, the leader of Group B, in Saitama on Tuesday 12th.
Entering the match in fourth place with one win and one loss, Japan desperately needed to accumulate points in order to move up to the top two spots to qualify for the World Cup. With the team facing the Saudi Arabian side who has won back to back matches to start the final round, coach MORIYASU Hajime made four changes to the starting line-up since their match against China PR in September.
With SAKAI Hiroki (Urawa Red Diamonds) returning to the line-up, MINAMINO Takumi (Liverpool FC), KAMADA Daichi (Eintracht Frankfurt), and ASANO Takuma (VfL Bochum 1848) were named in the midfield. For Minamino, this was his first start since the KIRIN CHALLENGE CUP 2021 fixture against Serbia in June, while Asano returned to the starting line-up since the second round fixture against Kyrgyz Republic in June.
ITO Junya (KRC Genk) was suspended for the match due to accumulation of cautions, and DOAN Ritsu (PSV Eindhoven) was withdrawn the day before the match due to injury.
Familiar faces filled the line-up, as OSAKO Yuya (Vissel Kobe) was named as the lone striker, with ENDO Wataru (VfB Stuttgart) and SHIBASAKI Gaku (CD Leganes) playing as the defensive midfielders. YOSHIDA Maya (UC Sampdoria), TOMIYASU Takehiro (Arsenal), and NAGATOMO Yuto (FC Tokyo) featured the defence line with GONDA Shuichi (Shimizu S-Pulse) in goal.
Saudi Arabia on the other hand, made one change from their starting line-up against Oman, as Abdulrahman GHAREEB was given the start to replace veteran midfielder Salem AL-DAWSARI.
While both teams played with a high level of tension, intensity, and defensive awareness, Japan showed great aggression from the early minutes, threatening the opponent's goal in the first half. Shibasaki struck a shot from distance in the seventh minute, followed by an opportunity created by Asano who responded to a long feed delivered by Tomiyasu to set up the header of Minamino, but both attempts were saved by the Saudi goalkeeper. In the 29th minute, Kamada delivered a spectacular through ball to set-up a one-on-one situation for Osako, but the striker's shot was once again denied by the opposing goalkeeper.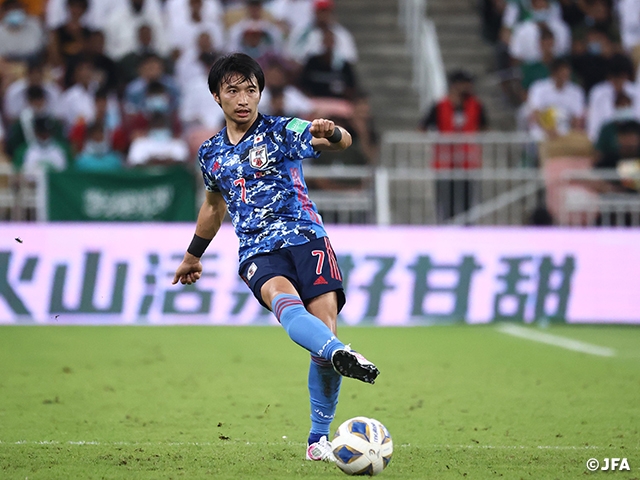 With a home crowd of 60,000 at King Abdullah Sports City Stadium cheering on, Saudi Arabia also had their moments in the first half. In the 12th minute, Abdullah MADU connected with a free kick to force the Japanese goalkeeper Gonda to make a save. Midway into the first half, both Fahad AL-MUWALLAD and Abdulelah AL-AMRI responded to a cross delivered into the Japanese penalty area but fell short from converting the opportunity. Despite the chances created by the two sides, the match remained scoreless at halftime.
The second half saw the home side gaining momentum, as Ghareeb and Salman AL-FARAJ each struck a shot in the 50th and 70th minute respectively to threaten the Japanese goal. The decisive moment came just a minute later, in the 71st minute. The Saudis, who had been anticipating to intercept the ball in midfield since the first half, applied pressure on Shibasaki, who was trying to possess the ball on the left side, and forced him to make a back pass. Firas AL-BURAIKAN, who had just come on as a substitute, intercepted the ball and carried the ball all the way inside the box before slotting a left footed shot into the Japanese goal.
Japan, who had already introduced FURUHASHI Kyogo (Celtic FC) and HARAGUCHI Genki (1.FC Union Berlin) in the 59th minute, made changes to bring in MORITA Hidemasa (CD Santa Clara) and ONAIWU Ado (Toulouse FC) in the 73rd minute in efforts to level the match. However, they struggled to evade the pressure applied by Saudi Arabia and couldn't find ways to score the equaliser.
Sakai and Furuhashi tested their luck in the 85th and 88th minute respectively, but both attempts were denied by the opposing goalkeeper. Onaiwu also connected with a cross delivered by Nagatomo in the 89th minute, only to see his effort being blocked by the Saudi defence.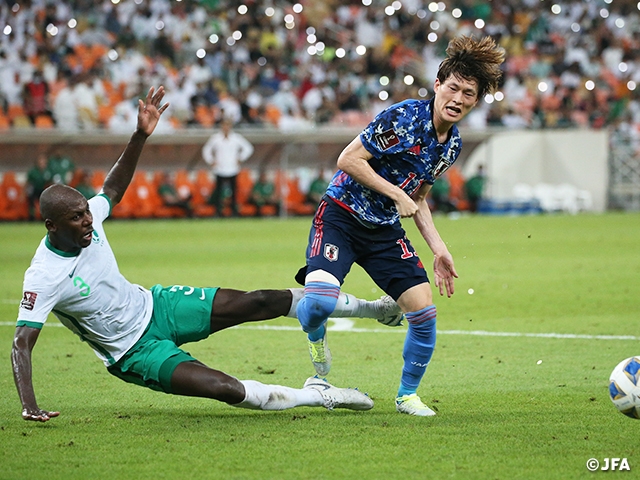 With Japan falling short from scoring a goal, the match ended 0-1. The team will now return to Japan to face Australia on Tuesday 12 October.
Australia maintained their top spot with a 3-1 victory over Oman in Doha, while Saudi Arabia, also with three straight wins, remained in second place on goal difference. China PR earned their first win by defeating Vietnam 3-2, and they are now tied with Japan and Oman with one win and two losses, but Japan has moved up to third place on goal difference. Oman is in fourth, China PR fifth, and Vietnam, which lost three matches in a row, sits in sixth place.
There are seven matches left in the final round of the Asian qualifiers. The top two teams in each group will automatically qualify, and the third-place teams will play a playoff, with the winner advancing to the intercontinental playoff.
In Group A, first place Iran won 1-0 in an away match against UAE to win their third straight match and increase their point total to nine, while second place Korea Republic won 2-1 at home against Syria to increase their point total to seven. Fourth placed Lebanon drew 0-0 with Iraq in Doha, moving Iraq up to fifth place, while Syria dropped to sixth place.
Coaches and Players' Comments
MORIYASU Hajime, Coach of SAMURAI BLUE (Japan National Team)
This is a very unfortunate result for us, but the players put up a great fight and worked well together as a team, both offensively and defensively. With hard work and tactics, I think we were able to showcase a strong performance, but we started to get a little tired and lost a goal from a passing error. In a tightly contested match like this, it was a question of who can take advantage the opponent's mistakes, and that was the difference in today's match. We created more opportunities in the first half, and I thought we would have our chance to score in the second half, but Saudi Arabia made the necessary adjustments in the second half. Although it was a tough match, we were able to create plenty of opportunities. I strongly believe that if we continue to challenge ourselves with the desire to go to the World Cup, we will definitely be able to earn our ticket to the tournament. The players showcased a performance that almost won us the match, so I think we are on the right track. If we continue to work hard, the results will follow. We just need to focus on the fundamentals and prepare ourselves for the next match in the best way possible.
DF YOSHIDA Maya (UC Sampdoria/Italy)
I think it was a match that tested our patience. The match could have gone either way, but I think Saudi Arabia deserved to win because they were able to capitalise on the few opportunities they had. Although we were able to end the first half in great shape, we struggled to create chances in the second half. We had plenty of input on our opponent, and were able to control them individually, but the way we lost possession of the ball was not ideal, not only when we lost that goal. We didn't seem to have any problem in the first half, but we started to make mistakes when we tried moving the ball side to side or towards the back. It is inevitable that mistakes happen. That's part of football. The fact that we couldn't score when it was 0-0 is the issue. However, the qualifier is not over yet. We need to reset our minds and recover our physical condition ahead of our next match against Australia. Including the travel, we will focus on preparing ourselves so that we can earn three points at home.
DF NAGATOMO Yuto (FC Tokyo)
We simply didn't have what it takes to win this match, and I feel responsible as one of the veterans on this team. Each one of us came to the match with a strong spirit, but we made too many mistakes in our attacks after playing good defence. Playing under this hot weather, we gave up the ball too much and allowed our opponent to take control of the ball possession. We need to reset our mind and recover ourselves ahead of the next match against Australia. However, I think we need to look at the issues that came up today and improve how we possess the ball after winning it and making more runs when the ball is connected to our forward.
MF ENDO Wataru (VfB Stuttgart/Germany)
This is a very disappointing result. We knew this was going to be a tough match, especially playing away from home, and we allowed our opponent to capitalise on their opportunity in this tight match. From how the match was being played, I though we would have more chances in the second half. Our opponent was starting to slow down, so I thought that if we could squeeze out a bit more energy to connect the ball in the midfield, we could take advantage of the gap. We cannot blame Shibasaki. I personally would have liked to have played a little more closely with him and supported him throughout the 90 minutes. Our opponent also had their midfielders tuck inside at the end of the match, and it felt like they were doing a better job in maintaining a good distance between each other. We cannot afford to lose anymore, so we must prepare ourselves in the best way possible, so that we can earn three points at home.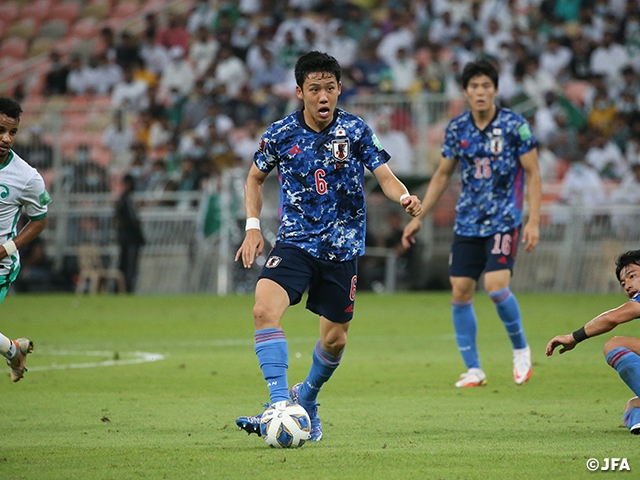 Herve RENARD, Coach of Saudi Arabia National Team
I would like to congratulate the players and staffs for their spectacular performance. In the first half, we struggled to execute our game plan and gave our opponent too much space to work with, but we managed to make the necessary adjustments in the second half and were able to trouble Japan by keeping ourselves more compact. Also, our goalkeeper made some great saves to keep us in the game. The players did a great job today. Now that we have nine points, our next match is going to be very important. We still have a long way to go to achieve our goal, as we still have seven matches to play. We will switch gears and prepare for our next match.

AFC Asian Qualifiers (Road to Qatar)
Thu. 7 October 2021 [20:00] (Fri. 8 October 2:00 Japan time)
SAMURAI BLUE vs Saudi Arabia National Team
Venue: King Abdullah Sports City (Jeddah, Saudi Arabia)