NEWS
【Match Report】SAMURAI BLUE draw against Vietnam to finish the AFC Asian Qualifiers (Road to Qatar) in second place
30 March 2022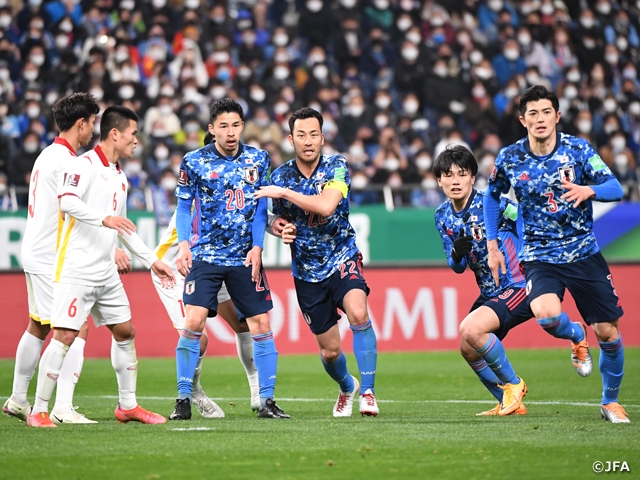 On Tuesday 29 March, the SAMURAI BLUE (Japan National Team), who had already clinched the FIFA World Cup Qatar 2022™, played their final match of the AFC Asian Qualifiers (Road to Qatar) against the Vietnam National Team at Saitama Stadium 2002, where they tied 1-1 to finish second in Group B. The draw for the group stage of the FIFA World Cup Qatar 2022™ will take place on Friday 1 April in Doha.
After securing their automatic qualification to the World Cup with their win over Australia on Thursday 24, coach MORIYASU Hajime rotated nine players for their final match played at home, where they could lock-up the group lead with a win. Veteran goalkeeper KAWASHIMA Eiji (RC Strasbourg) was given the start, with YAMANE Miki (Kawasaki Frontale), YOSHIDA Maya (UC Sampdoria), TANIGUCHI Shogo (Kawasaki Frontale), and NAKAYAMA Yuta (PEC Zwolle) forming the four-man defence line. SHIBASAKI Gaku (CD Leganes), HARAGUCHI Genki (1.FC Union Berlin), and HATATE Reo (Celtic FC) were named as the central midfielders, while KUBO Takefusa (RCD Mallorca) and MITOMA Kaoru (Royale Union Saint‑Gilloise) were placed in the flanks with UEDA Ayase (Kashima Antlers) playing as the lone striker.
Japan, who entered the match with a fresh-looking line-up in a 4-3-3 formation, looked as if they have started off on the wrong foot, as the players seemed overly determined to make the most of the opportunity. With the home side being out of sync with each other, Vietnam took advantage of the mistakes made by the Japanese players to initiate counterattacks.
While Japan struggled to find their rhythm, it was Vietnam who scored the opening goal. The goal came in the 19th minute, when NGUYEN Thanh Binh connected with the corner kick delivered by NGUYEN Cong Phuong to head the ball into the net.
In efforts to rally back, Japan created multiple chances with Mitoma and Kubo penetrating the flanks, while Hatate and Haraguchi made attempts from the centre. Kubo responded to a through ball sent by Mitoma to strike a left footed shot in the 40th minute and connected with a cross delivered by Nakayama in the closing minutes of the first half, but both attempts fell short from finding the back of the net.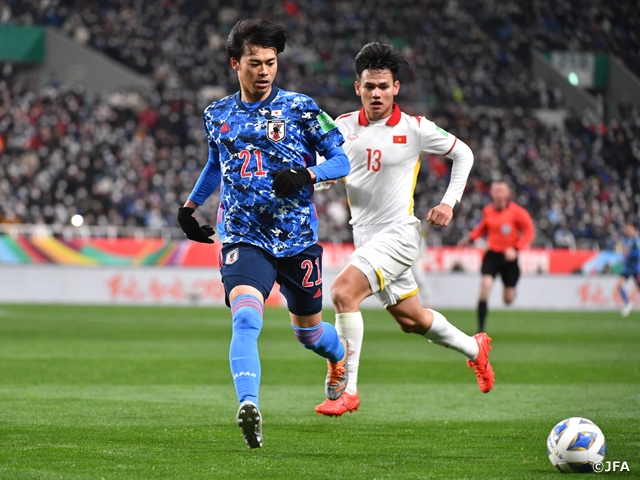 Trailing 0-1 at halftime, coach Moriyasu changed their system to 4-2-3-1 and brought in ITO Junya (KRC Genk) to start the second half, which vitalised the team.
Gradually picking up their pace, Japan managed to score the equaliser in the 54th minute, when Yoshida responded to a deflection caused by a shot taken by Haraguchi and converted the loose ball to bring the two sides back on equal terms.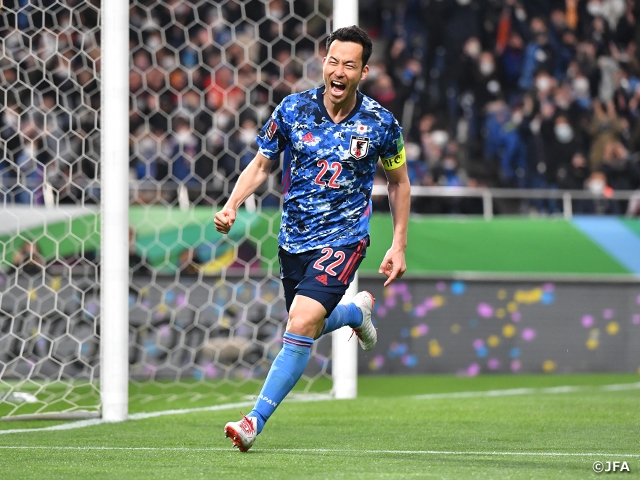 With momentum on their side, Japan made further changes to add layers to their offence, as MORITA Hidemasa (CD Santa Clara), TANAKA Ao (Fortuna Dusseldorf), and MINAMINO Takumi (Liverpool FC) were introduced in the 61st minute.
In the 70th minute, Tanaka responded to the pass of Ueda to score a goal, but the goal was disallowed after VAR ruled that there was a handball committed prior to the play. Ueda also found the back of the net in the 88th minute, but this time the play was called offside.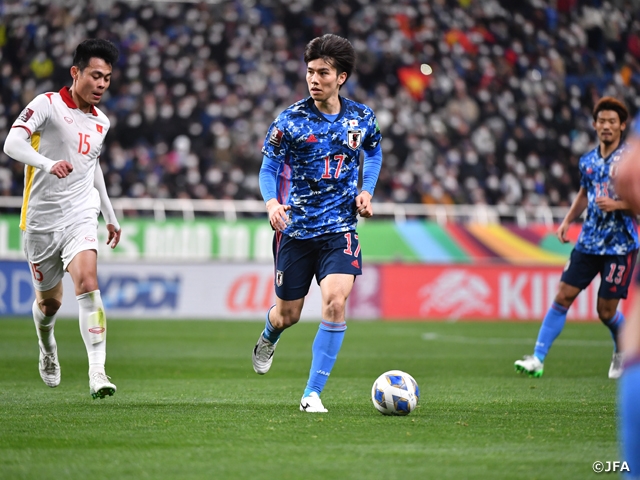 Despite coming close in several occasions, Japan failed to score the second goal, as the match ended in a 1-1 draw. With their winning streak ending at six, Japan finished the final round of the Asian qualifiers with 22 points from seven wins, one draw, and two losses.
Following the match, SAMURAI BLUE's World Cup qualification ceremony took place in front of the 44,600 fans and supporters who attended the stadium, as coach Moriyasu and team captain Yoshida each gave a speech.
The Japanese coach first shared his gratitude towards the fans before sharing his aspirations, "The fact that we couldn't win today means we still need to get better ahead of the World Cup. We want to deliver results that will make everyone happy."
Yoshida then followed by saying, "We are thrilled to finally be able to play in front of our fans. We will continue to strive for a higher level so that we can showcase a strong performance." The veteran defender received a round of applause when he added, "We sincerely hope that a day without war will come soon, and the Corona-pandemic will settle down so that everyone can have their normal life back."
Elsewhere, Saudi Arabia defeated Australia 1-0 at home to finish first in the group with seven wins, two draws, and one loss, taking their tally to 23 points, one point ahead of Japan.
Australia, who were already set to finish third in Group B, will now face UAE, the third-place team of Group A, in a play-off scheduled for 7 June. The winner of this match will play in the inter-continental play-off against the fifth-place finisher of the CONMEBOL South American qualifiers for the last slot into the World Cup.
Oman finished fourth in Group B after extending their tally to 14 points with a 2-0 win over China PR, while China PR finished fifth with six points and Vietnam in sixth place with four points.
In Group A, Iran defeated Lebanon 2-0 to claim the group lead with a record of eight wins, one draw, and one loss. Korea Republic lowered their rank to second after losing 0-1 to UAE, who finished in third-place. Iraq drew 1-1 with Syria to finish fourth with nine points, while Syria and Lebanon finished in fifth and sixth place respectively after both sides ended with six points.
The FIFA World Cup Qatar 2022™ is scheduled to kick-off on 21 November with the final scheduled on 18 December.
Coaches and Players' Comments
MORIYASU Hajime, Head Coach of SAMURAI BLUE (Japan National Team)
The players were highly motivated to prepare for this match and played positively, both in terms of showing their strengths and functioning as a team, but they had difficulties staying on the same page with each other. The players who have started and played a lot of minutes in the previous matches came in to make the difference in the second half. Reflecting on the goal we conceded, our opponents did a fine job to design a set-piece that made it difficult for us to defend. We must learn from this loss and try to make the most of this experience for the future. This match made me realise the need to broaden the player-pool, so that we can showcase solid performances regardless of who is on the pitch. Today's starters have also shown great patience and diligent work despite the lack of opportunities, but at the end of the day, it was difficult for them to function as a team. That's where the coaching staff, including myself, need to come in and help the players get on the same page, even within the limited time we have. We are scheduled to resume our activities in June, so we want to work on broadening the player-pool and raising the overall level of the team once again. All the teams competing in the World Cup are strong. In order to reach the quarterfinals and beyond, we must improve the team so that we can compete and win no matter who we face.
GK #1 KAWASHIMA Eiji (RC Strasbourg/France)
With the team entering the final qualification match after already qualifying for the World Cup and riding a winning streak, we really wanted to keep a clean sheet and deliver a win to our home crowd. (Reflecting on the conceded goal) Our opponent delivered a fine cross where we didn't have enough coverage. Although such mismatches are expected to happen when making significant changes to the line-up, it was unfortunate that it happened at this timing, when our opponent had created very few attacking threats. We must analyse what happened and make sure it never happens again. We knew how difficult it could be when playing in a new line-up, but I think we still had to make quicker adjustments to find our rhythm in the first half. Although we are through to the World Cup, we have no time to rest on our laurels. We have a limited number of matches left to play, so we must be more aware of what our plan is and what qualify we are striving for. That is something we must clarify within the time we have left before the World Cup.
DF #22 YOSHIDA Maya (UC Sampdoria/Italy)
We really wanted to finish the qualifiers with a win, but we didn't have what it takes to win today. It is very regretful that we couldn't live up to our promise to deliver a solid performance and a win to our fans. With a big change made to the line-up, we expected a certain amount of mistakes and lack of cohesion. Having said that, our performance in the first half was exceptionally bad, and it wasn't so much that we got better in the second half, but that the opponents fell away. I am disappointed that we broke our run of shutout victories, and that I myself could not capitalise on the second and third opportunities to score a goal. The goal came from a run of play where I intended to change the rhythm of our offence by making an overlapping run, and I knew the goalkeeper was going to deflect the ball. How we change the dynamics of a stagnant match is a challenge, and we were once again reminded of the significance of set-pieces, both in terms of defence and offence. Including myself, we need to be more eager to capitalise on our opportunities. June is going to be a survival race, so we hope to prepare ourselves in the best way we can.
MF/FW #17 TANAKA Ao (Fortuna Dusseldorf/Germany)
As long as we are representing Japan, we must fight with pride and responsibility, no matter how important the match is. As much as we are frustrated, we also feel sorry for our fans for losing, regardless of who we face. (Reflecting on the goal that was disallowed) I am always anticipating to exploit the space behind the opposing defence line, and I was able to respond to a pass to score that goal. We need to be able to create more chances as a team, but considering the two goals that were disallowed, I feel like Morita and I did our job to create enough chances after entering the match at the hour mark. I entered the match with the intention to give my teammates the freedom to execute the plays they want, but I am disappointed that I couldn't help the team win the match.
MF/FW #21 MITOMA Kaoru (Royale Union Saint‑Gilloise/Belgium)
(After playing the full 90 minutes) I am not satisfied with my performance at all, as I was not able to get myself involved in the team's goals. We conceded from a set-piece to make it a difficult match, and our offence became monotonous when trailing behind, which are both aspects we need to improve on. I really wanted to earn results that could be seen on the score sheet, so I am disappointed with today's outcome. It is great that we qualified for the World Cup, but if we hadn't clinched our spot, this kind of match would really put us in a tough position, especially when facing stronger opponents. As an attacker, my role is to create as many chances as possible. I would like to pursue for a higher level in various aspects. I feel like my intensity level is not at the world level, so I must work harder in order to compete at the international stage. I want to be able to take on any opponent and score goals from a wider range. Once I return to Belgium, I will continue to work hard so that I can become a more versatile and tough player.
PARK Hang-seo, Head Coach of Vietnam National Team
We played under the worst possible team situation and there were a lot of pressure facing the best team in Asia at their home stadium, but we still thought we had a chance if we could keep the first half scoreless. Although we were able to draw against Japan today, I don't think we can catch up with Japan in many aspects, including the environment and system surrounding football. We finished with a record of one win, one draw, and eight losses, which is not a great record, but we have given our best effort to gain a priceless experience. I want to thank the players for earning a point against Japan in the final match. I think this draw against Japan at their home ground will give great confidence and pride to the Vietnamese people.
Asian Qualifiers - Road to Qatar
SAMURAI BLUE (Japan National Team) vs Vietnam National Team
Date: Tue. 29 March, 19:35
Venue: Saitama Stadium 2002 (Saitama)
Tournament Information