NEWS
Coach Moriyasu of SAMURAI BLUE "Prepared to give best effort in tough match" - FIFA World Cup Qatar 2022 Asian Qualification Round 2
10 September 2019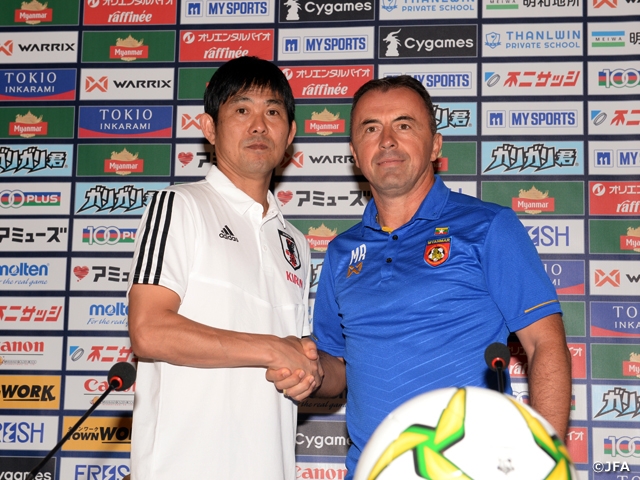 One day ahead of their first match of the FIFA World Cup Qatar 2022 Asian Qualification Round 2, against the Myanmar National Team, the SAMURAIBLUE (Japan National Team) held an official training session at the match venue, Thuwunna Stadium in Yangon, on Monday 9 September. During the official press-conference, coach MORIYASU Hajime shared his aspiration for the match, "we are prepared to give our best efforts in this tough match."
In their route to their seventh consecutive World Cup appearance, Japan's ability to adapt to the environment and decision making skills will be tested at the very first match of the second round. With Myanmar entering the rainy season, the Japanese squad had been welcomed by torrential rain during their training sessions in back-to-back days. Compared to the previous two days, the team trained under light showers in their final training session ahead of the match.
The training session was opened to the media for the first 15 minutes, as the players were seen going through their warmup routines, followed by agility drills. The team went over their tactics while the session went behind closed doors.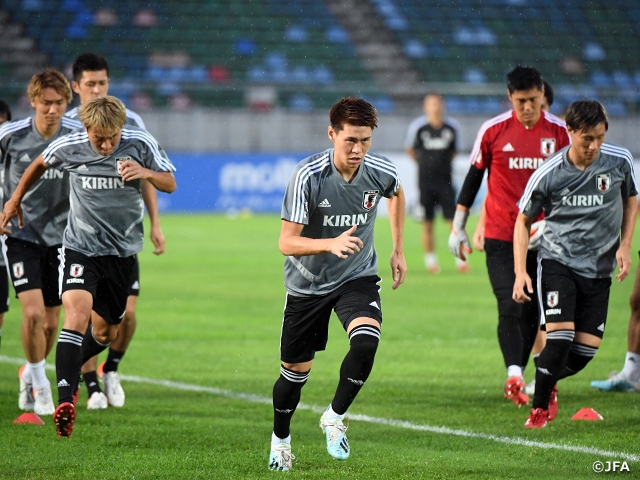 Compared to Japan, the temperature in Myanmar is not as high, but the players will certainly have difficulties playing on the soft pitch condition, as coach Moriyasu mentioned, "the players must stay flexible and make the adjustments according to the given environment. I need them to be aware of their surroundings and give their best efforts to perform well." When asked about the starting line-up, the coach stated, "I will priorities the players' conditions."
Regarding their opponent, coach Moriyasu shared his take, "Myanmar is a rising force in Asia. Their youth teams have played in the World Cup, and they are a very organised team that needs to be reckoned with." While Japan ranks 33rd in the FIFA ranking, Myanmar is currently at 135th. The team is managed by coach Miodrag RADULOVIC, who led the Lebanon National Team in this year's AFC Asian Cup. With their eyes set on the 2020 Suzuki Cup (AFF Championship), the team has started their new regime under the Montenegrin coach since April. Recently, they have won an away match against Singapore 2-1 in June.
Japan and Myanmar are in Group F of the second round of the Asian qualifiers, where five teams will compete. Myanmar has already played a match against the Mongolia National Team, where they lost the away match 0-1. During this match, their midfielder Maung Maung Lwin has been ejected and will be suspended for the next match. Since the 1994 Asian Games, Japan has faced Myanmar (formerly Burma) 12 times, and holds a record of five wins, five draws, and two losses.
The Japanese coach repeatedly mentioned that they are facing a tough match, "Myanmar is a force to be reckoned with. They are a very strong and organised team. We must also count in the fact that this is an away game. We are expecting a tough match and we will give our very best effort to win it."
After the training session, NAKAJIMA Shoya (FC Porto) shared his take on the pitch condition, "It never bothers me. I can find ways to utilise the condition to my favour." The Japanese midfielder continued by stating, "I will try to integrate my instinct and my thought process as I play on the pitch." MINAMINO Takumi (FC Red Bull Salzburg) also shared his thoughts on the match, "it is important that we are always aware of the worst case scenario, especially when dealing with bad hops and one-on-one situations."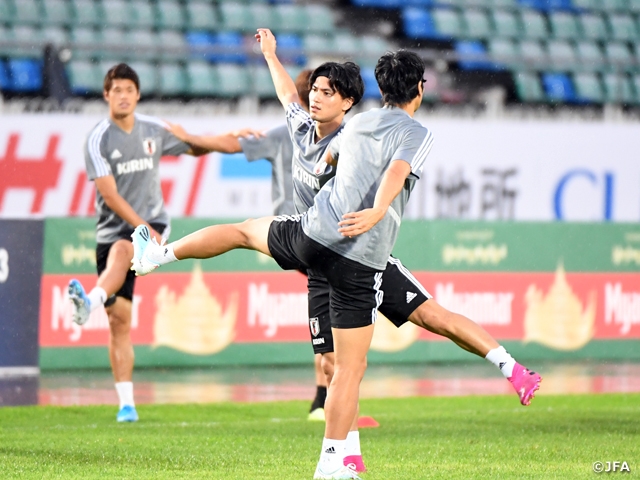 With his team entering the World Cup qualifiers, coach Moriyasu shared his aspiration, "it is a start towards our dream stage. We will strive to win each match as we move forward towards our biggest goal. There will be plenty of pressure on our players, but I want them to enjoy the moment and give their utmost efforts on the pitch."
The match between the SAMURAIBLUE and the Myanmar National Team will kick off at 18:50 (21:20 Japan time) on Tuesday 10 September.
Coaches and Players' Comments
MORIYASU Hajime, Coach of SAMURAI BLUE (Japan National Team)
Myanmar is a very attack minded team. They are capable of initiating their attacks through high ball possession and through counterattacks. With this being an away match, we must brace ourselves for a tough match and give our best efforts to win the competition. From their previous experience, I am expecting the players to enter this qualifier with a clear vision to showcase a solid performance. The pitch condition is not ideal, so the players must stay flexible and make the adjustments according to the given environment. Through the tough competitions at the qualifiers, the players can gain precious experience to develop as a football player, so I want the young players to learn from the veteran players and soak in every little detail from this match.
GK #23 SCHMIDT Daniel (Sint-Truidense V.V.)
We will be entering a competition where we cannot afford to lose, so we must work together as a team to win each match. For both the goalkeepers and the field players, it will be very difficult to play on this pitch condition, so we must utilise our power effectively. I think our opponent will also have a tough time building up their plays, so we must be careful of their counterattacks and set-plays. It is important that we don't let our guards down.
DF #3 ANZAI Koki (Portimonense S.C.)
This is my first time playing in the World Cup qualifiers, so I will do my best to help the team. Tomorrow, winning the match is the only result we will be looking for. It will be a very difficult match with this pitch condition. The opponents will be seeking for their one opportunity, so we must not commit any careless fouls or give them opportunities to counterattack. We will play safety first.
MF #9 MINAMINO Takumi (FC Red Bull Salzburg)
I have never played on a pitch like this, but this is something we must get used to while playing in an away match in Asia. We cannot use this as an excuse. In situations like this, it is important that we return to the basics and give our best efforts to win the one-on-ones, while playing tenaciously to defend our goal. With this being our first match of the qualifiers, we will do whatever it takes to win the match.
MF #10 NAKAJIMA Shoya (FC Porto)
Although this is a crucial match for the Japan National Team, I will enter the match as I usually do, and try to give my best efforts to enjoy the match. The pitch is very soft, but it shouldn't be a problem. There should be plays that we can only showcase during rainy matches, so I will try to find that out.
MF #20 ITAKURA Kou (FC Groningen)
With this being a match we cannot afford to lose, I have been experiencing a unique sense of nervousness from our training sessions. I am mentally prepared, so if I am given the opportunity, I will give my utmost efforts to showcase a good performance. I will act accordingly to the pitch condition and the game flow to erase the opponent's strengths and manage the risks for our defence line.
Miodrag RADULOVIC, Coach of Myanmar National Team
Although we were the dominant side in our first match against Mongolia, with our player being ejected from the match, we weren't able to earn the result we were looking for, but our overall performance was not bad. In our second match, we will be facing the Japanese side who consists many players playing in the top leagues of the world. They are a wonderful team with plenty of experience at the Asian Cup and the World Cup. We are in the process of developing the team ahead of the 2020 Suzuki Cup (AFF Championship), and we still need to improve ourselves in order to compete at the World Cup and the Asian Cup, but we hope to showcase a positive performance like we did against Mongolia to make our fans happy.
Schedule
Squad & Schedule of SAMURAI BLUE (Japan National Team)

Interview of NAGATOMO Yuto (Galatasaray S.K./Turkey)

Interview of NAKAJIMA Shoya (FC Porto/Portugal)

Interview of MINAMINO Takumi (FC Red Bull Salzburg/Austria)
2022 FIFA World Cup Qatar / AFC Asian Cup China PR 2023 Preliminary Joint Qualification - Round2
Myanmar National Team vs SAMURAI BLUE (Japan National Team)
Date: Tue. 10 September 2019 18:50
Venue: Thuwunna Stadium (Yangon, Myanmar)