NEWS
Fukushima United defeat North Asia University to advance to the second round in their first appearance in six years - Emperor's Cup JFA 102nd Japan Football Championship
22 May 2022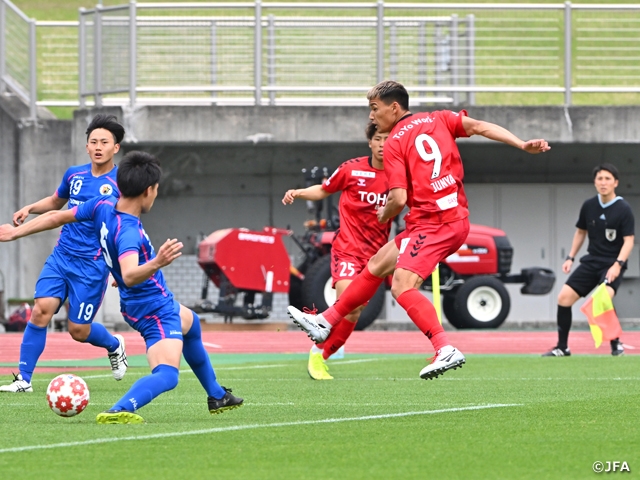 The Emperor's Cup JFA 102nd Japan Football Championship kicked off on Saturday 21 May, with nine first-round matches played across the country.
Featured Match
Fukushima United FC 7-1 (5-1, 2-0) North Asia University
At Toho Stadium, the match between Fukushima United FC (Fukushima) and North Asia University (Akita) took place, which saw Fukushima take an early lead through their quick attacks, as TAKAHASHI Junya converted the cross sent by NAGANO Shoki in the first minute.
However, the tournament debutant, North Asia University, came back right away, as UCHIGAKI Shoichi responded to a through ball delivered by SAKURAI Haruto before scoring the equaliser in the ninth minute.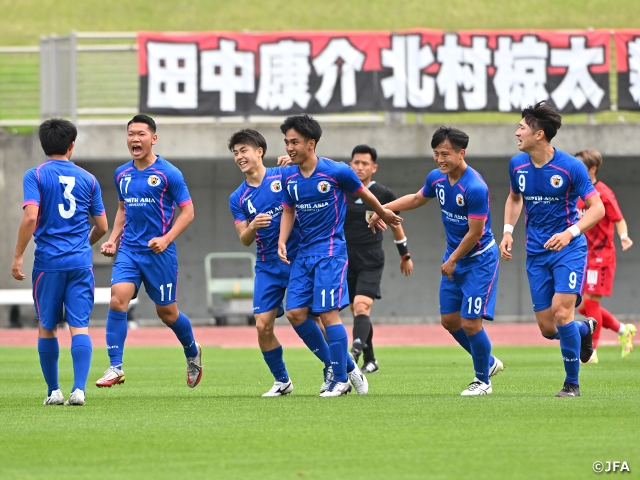 Despite conceding a goal to the university side, Fukushima, who have made their first Emperor's Cup appearance in six years, showcased their superiority by going into a scoring spree. In the 20th minute, MOROOKA Hiroto delivered a lobbing pass into the open space behind the opposing defence line to assist the goal of Nagano, before drawing a foul inside the box to set up the PK converted by Takahashi in the 38th minute.
With Nagano and Takahashi both adding a goal apiece during additional time of the first half, Fukushima entered halftime with a commanding 5-1 lead.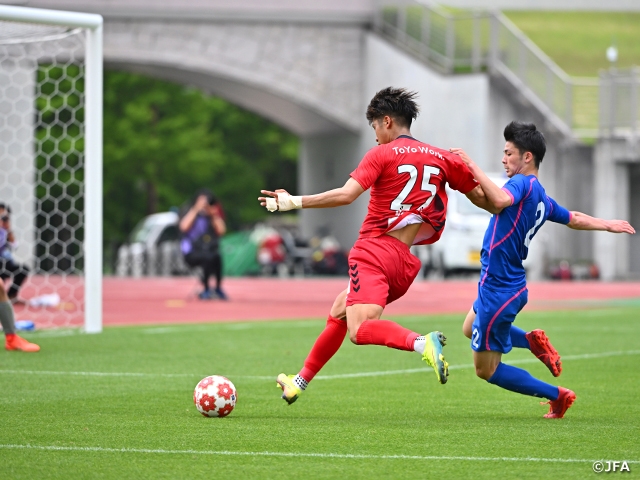 In efforts to rally back, North Asia University used their substitutes in the second half, as they introduced HARA Ryota, who struck two shots to threaten the opposing goal, but couldn't quite get the ball past Fukushima's goalkeeper YAMAMOTO Kaito.
Takahashi scored his fourth goal of the match in the 64th minute, when he connected with the cross sent by KITAMURA Ryota to further extend the lead, After MORI Kota added one last goal in the 86th minute, Fukushima cruised past the university side with a final score of 7-1.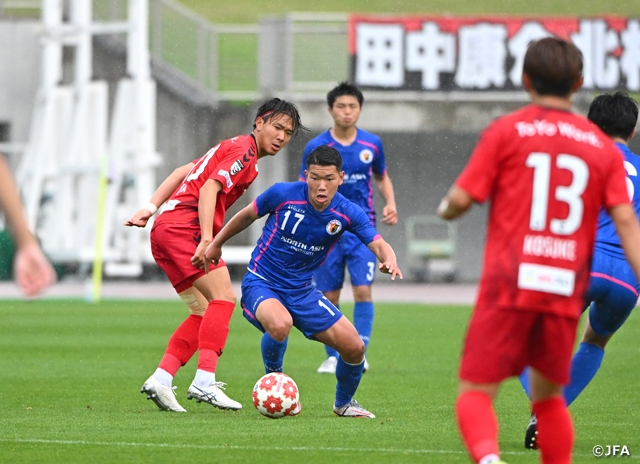 Coaches and Players' Comments
HATTORI Toshihiro, Coach (Fukushima United FC)
Winning and moving on to the next round was our team's goal today, so I'm glad that we were able to achieve that. We scored early in the game but conceded the equaliser soon afterwards and I thought we might lose our momentum. However, the players kept playing with great composure and managed to score many great goals, which led to this victory. It was also nice that we were able to score the most goals in an official match this season.
MOROOKA Hiroto (Fukushima United FC)
First of all, I'm really happy for this victory and I'm really looking forward to playing Urawa Red Diamonds in the next round. Our goal today was to win, so we are really glad that we were able to win and move on. Regardless of who we face, this team is focused on executing our game plan, and it was nice to see our side stick with our plan and create many chances today.
KAGIMOTO Katsumi, Coach (North Asia University)
Facing Fukushima, a team that plays in J3, I told my players to give their utmost efforts, and the players did just that. Despite conceding the opener early in the match, the equaliser we scored right afterwards gave us hope. However, our opponents were so much stronger and faster. Considering that our team mainly consist of 18 and 19 year-old players, we must try to make the most of this experience, both as a team and as individuals.
UCHIGAKI Shoichi (North Asia University)
Our opponents were better at managing the game, as we were getting consumed playing defence throughout the match. We tried creating chances through short counterattacks, but we weren't able to execute them as much as we would have liked. Our opponents were smarter, skilled, and better than us in all aspects. When I scored the goal, I was aiming to send the ball between the opponent's legs, so I am glad that I was able to send the ball exactly where I wanted. TO be honest, I am just really happy I was able to score.

Emperor's Cup JFA 102nd Japan Football Championship
【1st Round】Sat. 21, Sun. 22 May [Backup date: Mon. 23 May]
【2nd Round】Wed. 1, Wed. 8 June
【3rd Round】Wed. 22 June [Backup date: Wed. 29 June]
【Round of 16】Wed. 13 July [Backup date: Wed. 20 July]
【Quarterfinals】Wed. 7 September[Backup date: Wed. 28 September]
【Semi-Finals】Wed. 5 October
【Final】Sun. 16 October