NEWS
Beach Soccer Japan National Team Candidates Training Camp Report (19th April)
20 April 2014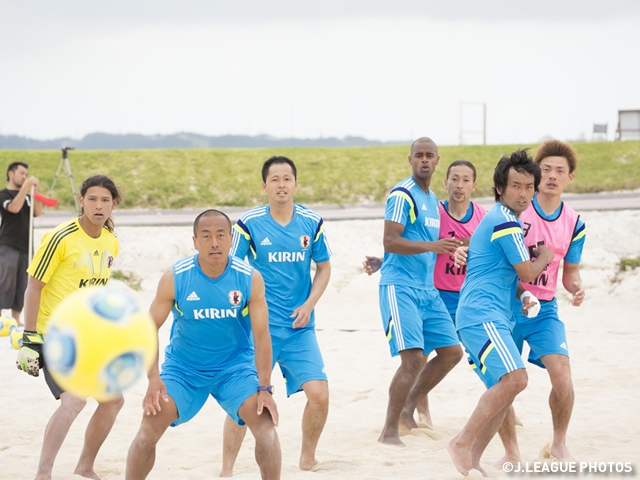 The day two of the Okinawa camp had morning and evening sessions. The morning session had 2-on-2 and 3-on3 in the half pitch before they repeatedly worked on attacking and defending corner kick situations.
In the afternoon, they spent most of the time for scrimmaging, as the head coach gave detailed directions even on how to start a kick-off.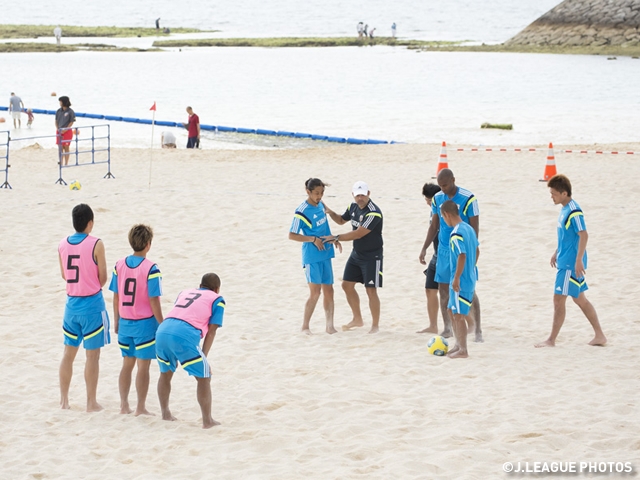 After dinner a team meeting was held to watch the film and discuss plays, both good and bad, in the World Cup 2013 match against Brazil.
After the film session, the coach passionately talked to players.
"I though Japan was a very good team when I played against in 2007 and 2008 as the head coach of the UAE. Everyone worked hard, helped each other and played collectively for the win. Then I heard such a great talent like Ozu would be naturalized as Japanese and join the team. I was very interested in watching how the team with him would play in the Asian Qualifiers and the World Cup. But I felt everybody else relied too much on him, and the team was a totally different team. I want all of you to hold yourself accountable and feel confident again. I want to build a very aggressive Japan national team that attack the goal from anywhere on the pitch. We have to hold ourselves accountable, help each other, play collectively, win together as a family and get back to the Asian champion."
At the end of the meeting, everybody huddled up and put their hands together to get everybody's spirit up.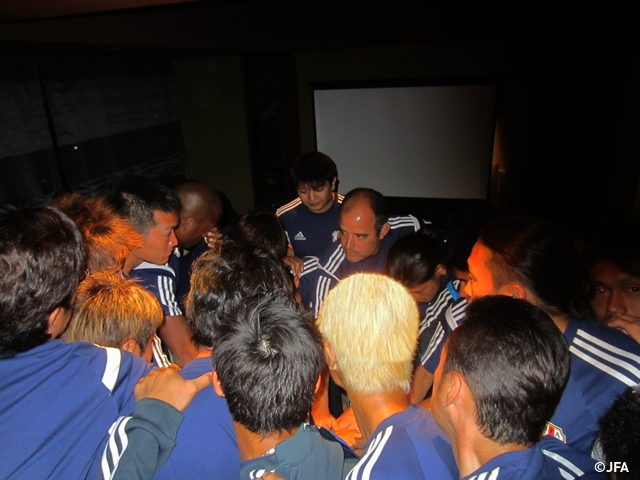 Tomorrow will be the day when the Okinawa Ginowan Beach will be open to public. We hope many people will come to the beach and enjoy the great plays by the national team.
Comments from players
HARAGUCHI Shotaro(TOKYO LEQUIOS BS)
It's been a totally different camp with the new head coach. Strategic instructions are very detailed and precise, and we have to be smart. It's been a very good camp. I have played beach soccer only for five years so far, but Coach Mendes knows what it is about very well and always strives for his ideal style. I think he is a great coach.
I want to keep learning what he teaches us, and want to be able to show it on the pitch.
I had participated in camps before, but I couldn't be selected on the team for the Asian Qualifiers and the World Cup. It was very disappointing. This time I want to put on a national team jersey, not a practice jersey, and play in the Qualifiers and the World Cup. I think I will keep getting chances if I fully understand the coach's style of beach soccer and show my strength. I will do my best because I think this year is a very good opportunity for me.
TABATA Teruki(TOKYO LEQUIOS BS)
When we had Coach Ramos, it was very friendly and the team had good chemistry. I think this new team has also good chemistry in a different sense. Coach Mendes has so much experience as a specialised beach soccer coach. So in that regard, he has more experience than other coaches before. His training is very interesting, and even players who have been on the national team for long time like us feel like learning something new from him.
Under the new coach, everybody got back to the same start line. I feel that we all are rivals to each other rather than just teammates. This good intensity is making the mood during the practice even better.
Now that we have such a great coach, we want to play his style of beach soccer on the pitch, win the championship in Asia again, and take the good momentum to the World Cup.