NEWS
U-17 Japan Women's National Team FIFA U-17 Women's World Cup Costa Rica 2014 Report 3rd April
04 April 2014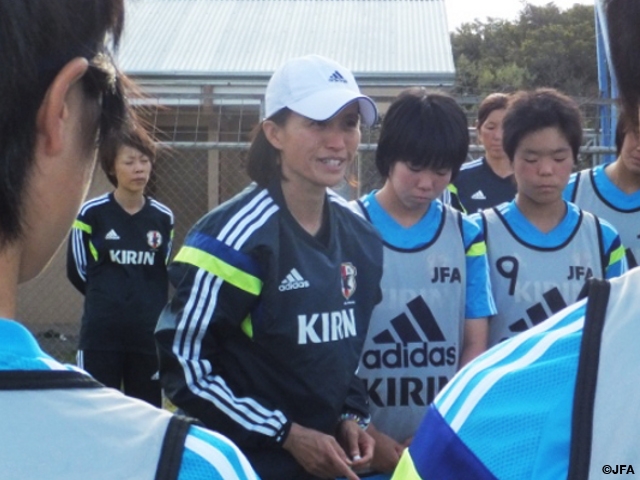 As they look to the final game tomorrow, players did light exercise at a nearby tennis court in the morning. They had core muscle training, step drills, juggling drills and soccer tennis with all players divided into 5-player teams.
In the afternoon they headed for the training facility.
Head Coach Takakura cheered up the players by saying with a smile "This is going to be the last practice we have together. We are not going to do anything special just because we have the final tomorrow. We take care of every single play just like we always do. Let's get a good practice done for tomorrow!"
As Takakura makes calls, players take cautiously one pass and one touch at a time in the drills. A drill of heading, which has been one of the team's weaknesses, didn't take a large portion of the practice, but it was done with great level of concentration as well.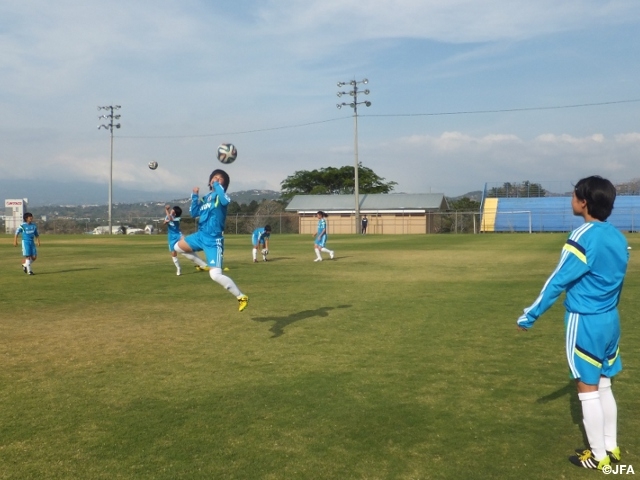 Drills such as shooting and shooting after receiving a cross ball helped players to visualise scoring goals tomorrow. Intra-squad matches keyed on set-pieces. Lastly a penalty kick drill by every player concluded the last practice before the final.
Later that day the press conference was held at a nearby hotel with four head coaches of teams that played in semi-finals in attendance. The photograph of four coaches surrounding the championship trophy was also taken afterward at the side of the hotel pool.
Press conference comment
Head Coach Takakura Asako
First of all, I would like to express my heartiest appreciation to the local organising committee in Costa Rica, FIFA and everyone else involved for holding such a great world cup for us. Players have been given such a nice and comfortable atmosphere that they have been able to concentrate on playing so easily.
The players are younger than 17 years old and this is the first international tournament experience for most of them. But as other coaches said, there have been so many outstanding players and that makes this tournament fantastic. I heard a lot of fans would be in the stadium tomorrow. My players have never played in front of a big audience, but they are saying they want to play in front of many people in Costa Rica and they can't wait. Looking back five games we played so far, Spain for our first game played such a high level of football and has gotten even better during this tournament. We have gotten better, too, so I hope we can and we will play an even better game than our first game.
Sugita Hina (Fujieda Junshin High School)
I think Spain will play very aggressively from the kick-off, but we want to play simple football. I think they will never want to lose against us again because we beat them once. So we have to be determined as well, otherwise they will dominate the pace of the game. We have always played games as one team so far, so we will keep our focus and talk to each other a lot from warm-up before the game. In the first game, we couldn't score a goal except for the set-piece, but the rest of four games our offense could do what we wanted and score goals. So I think we have gotten better. I think we will have good chances tomorrow, so it will be important whether we can finish those chances with goals or not. Of course we will fight as a team and try to win, but I personally want to score a goal myself as well as help my team in both offense and defence. I will aggressively look for a goal and help my team to win.
Miyagawa Asato (NTV Menina)
We played against Spain for the first game of this tournament. We won that game, so I think they will play the next game wanting to win no matter what. But we want to play as challengers. (Speaking of how to start the game,) we will concentrate, never back down, and play aggressively. I will look for a goal if I see a chance by dashing behind their defenders. That's my style of play. In the first game, we scored from a set-piece, but tomorrow, I want to break down their defence by my combination with Hasegawa and Sugita, score a goal and gain the momentum for our team. Even if we lose a goal first, we will stay calm, play our style of football, score back and win. I think there will be many fans. I want to enjoy playing, win and go home smiling.
Matsubara Shiho (Cerezo Osaka Sakai Ladies)
I'm so excited. We have played many games, so they may have studied us more than before our first game. But we want to play our team's style of football and win. Personally I want to play aggressively, show my will to go for a goal by my play and score. In today's practice, we made sure every single play carefully especially finishing our offense with shots and making accurate passes. Tomorrow I want to score at least one goal.