NEWS
A tournament promoting respect/fair play, and regarding safeguarding - Elimination of Violence in Football Vol.107
05 April 2022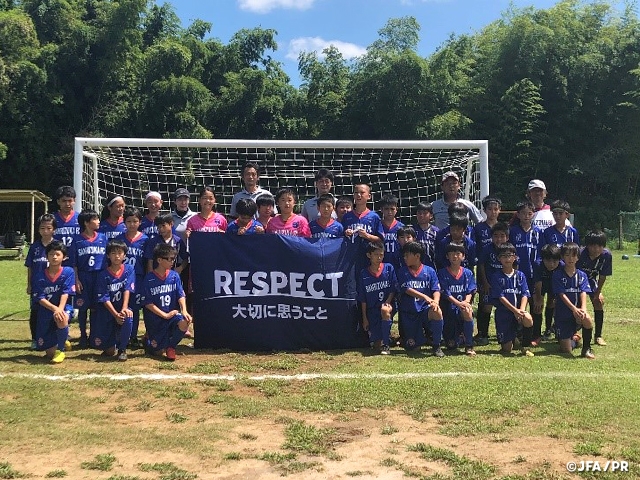 The 25th Fair Play Cup
On 27 November 2021, accompanied by YAMAGISHI Sachiko, Chair of the JFA Respect/Fair play Committee, I visited the "25th Fair Play Cup" organised by Sanrizuka FC in Narita City, Chiba Prefecture. The aim of the tournament is to invite neighbouring U-11 clubs and promote respect and fair play, as well as to provide a platform for the participating clubs to interact with each other. It has been held every year since 1996 (tournament was cancelled in 2020 due to the spread of Covid-19, though), and the organisers decided to name the tournament "Fair Play Cup" after learning that fair play was being awarded at the Emperor's Cup Japan Football Championship and other tournaments at the time.
Sanrizuka FC is a club founded on the principles of "fun football," "thinking football" and "challenge." In addition to their desire to encourage children to continue to love and play football in the future, they are also nurturing children who "can make their own decisions on the pitch" and "love football more than anything else" without being too concerned about winning or losing the match.
At the time of the club's foundation in 1984, the word "respect" was not widely recognised, but the idea has always been a fundamental tenet of the club, as shown in the respect banner displayed at this tournament. In addition, players routinely wore the respect badge on the sleeve of their jerseys.
It goes without saying that not only Sanrizuka FC but all the clubs participating in the Fair Play Cup have played with the spirit and mindset of respect. Team captains wore armbands with the respect logo as they led their teams, and every single player chased the ball with great effort, which made me feel very proud.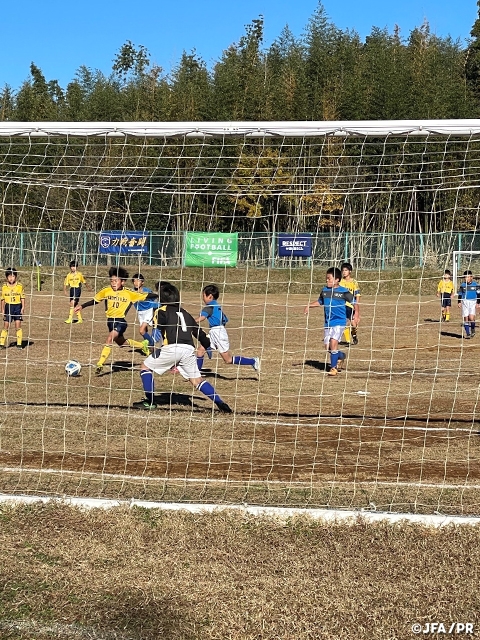 JFA Safeguarding Policy
On 18 November 2021, Japan Football Association (JFA) introduced the "JFA Safeguarding Policy" (https://www.jfa.jp/eng/respect/safe_guarding.html) to ensure that children are protected even more than before.
This policy serves as a guideline for everyone involved in football to protect the right of the children to enjoy football and sports in a safe and secure environment, while it also serves as a foundation in which the football family can rely on. The four basic principles of the policy are: "Keeping children safe and secure," "Zero tolerance - We will not tolerate," "In order to do so," and "And this is." In other words, creating a protective environment for children, eliminating violence and verbal abuse, what needs to be done to achieve these goals, and what the policy should be for the football family.
The idea of "Safeguarding" is to protect those who are vulnerable in a given situation, which includes not only children, but also adults. Specifically, JFA's policy is designed to prevent violence, verbal abuse, bullying and other forms of abuse before they occur (by improving the environment) and to deal with them when they do occur, with a particular emphasis on the former. In addition, as suggested by the subtitle "To empower children," the focus is on "protecting and empowering children (bringing out their natural potential, giving them self-confidence and strength)."
Safeguarding at clubs
When I approached them to ask, "Now that the JFA Safeguarding Policy has been established, why don't we hold a workshop to promote the policy at Sanrizuka FC?" they responded positively to my request, but then asked me, "What is Safeguarding in the first place?"
Such question is not unreasonable to ask. The policy is based on the ideas of respect and fair play promoted by the Japanese football community in the past, so the first step would be to allow each club to continue with what they have been doing. However, in order to spread the idea more widely and more deeply, so that all football families can enjoy football safely and securely, while also empowering children, the policy must first be promoted at the club level. With the help of JFA, regional/prefectural football associations, and various federations, we hope to raise awareness and enable everyone to take action.
Sanrizuka, Narita City, was once the scene of a civil conflict over Narita Airport, which has since ended, and has become a place where people live in harmony and with respect for each other. Sanrizuka FC's training ground was also known as the "Kyosei (symbiotic) Ground." Through the Fair Play Cup and with the cooperation of the neighbouring clubs, I believe that they will continue to promote respect and fair play even more than before.
【Reporter】MATSUZAKI Yasuhiro (JFA Respect/Fair play Committee)
*This article was originally posted on Japan Football Association "Technical News," March 2022 edition.