NEWS
SAMURAI BLUE's Coach MORIYASU shares aspiration to "fight hard to the end to earn three points"
16 November 2021
On Monday 15 November, one day before their sixth match of the FIFA World Cup Qatar 2022™ AFC Asian Qualifiers (Road to Qatar) against the Oman National Team, coach MORIYASU Hajime of the SAMURAI BLUE (Japan National Team) appeared in an official press conference held in Muscat to share his aspiration to "fight hard to the end to earn three points."
Japan moved up to third place in Group B after defeating Vietnam in Hanoi on November 11 to earn their third win of the final round. They will now try to accumulate three more points in this away match against Oman, as they aim to finish in the top two spots of their group to qualify for the World Cup without going through the playoffs. Japan is only one point behind Australia, who is currently in second place, the ranking could certainly change depending on the outcomes of the fixtures played on the 16th.
Japan has lost to Oman in the first leg played in Osaka in September. However, Oman lost to Saudi Arabia and Australia in the following matches, before winning against Vietnam and drawing with China PR, as they currently sit in fourth place in the group. With the support of their home crowd, Oman will be seeking to overtake the two point gap between Japan to move up the rankings.
Looking back on the last matchup, coach Moriyasu said, "We lost the match, but not everything was bad. I want to sort out what we did well and implement them into tomorrow's match." When asked about their opponent, the coach mentioned, "They have improved the qualify of their coordination through each match. We will be thoroughly analysed by our opponent, so we must prepare wide range of options for this match."
The players also shared their enthusiasm for this returning leg, as they all mentioned "We can't lose to the same opponent twice." The team held an official training session at the match venue Sultan Qaboos Stadium in the evening, in which the session was closed to the media except for the first 15 minutes.
"The opening goal will be the key," said MINAMINO Takumi (Liverpool FC), who also mentioned, "We are given more time to prepare than our previous match, so we should be able to enter the match in a better condition."
After receiving his second yellow card in the match against Vietnam, MORITA Hidemasa (CD Santa Clara) will be suspended for the next match, but it didn't seem to bother coach Moriyasu, as he mentioned, "All the players have trained well and are in good condition. This team can function no matter who is on the pitch." The coach also added, "The players have created a very positive atmosphere."
Ahead of a crucial match with significant qualifying implications, coach Moriyasu said, "Although we have won consecutive matches, we are still in a tough situation. We will go into each match as if it were a tournament to qualify for the World Cup and move forward one step at a time." The Japanese coach concluded the conference by sharing his strong determination, "No matter how tough the competition is, I strongly believe that we will make it through to the FIFA World Cup Qatar 2022™."
The match between the SAMURAI BLUE and the Oman National Team is scheduled to kick off on Tuesday 16 November at 20:00 (Wednesday 17 November 1:00, Japan time).
Coaches and Players' Comments
MORIYASU Hajime, Coach of SAMURAI BLUE (Japan National Team)
Tomorrow's match is a crucial match for both us and Oman. Both teams will be fighting for three points. However, after losing the first leg to Oman, we cannot afford to lose against the same opponent twice. We are expecting a tough match away from home, but we will prepare ourselves in the best way possible, to take home three points. As much as we want to have our revenge against Oman, we must not forget our ultimate goal. We must unite as one and fight hard to the end to earn three points, in order to qualify for the World Cup. Throughout this final round, Oman has been making minor changes to improve the overall level of their game. We would like to keep the base from the previous two matches, while organising our system to overwhelm our opponent. However, a system is just a reference of where the players stand when the game is still. We would like to prepare ourselves so that we can respond flexibly in the flow of the game and make necessary adjustments on the pitch. Despite being put in a tough situation, the players have not lost their aggression and showcased tremendous courage to compete under extreme pressure. This team has always prevailed through tough competitions in the past. We must never forget that, and never give up until the end, as we prepare for the match ahead of us. I strongly believe that we will be able to qualify for the World Cup if we put all our effort into each match as a team.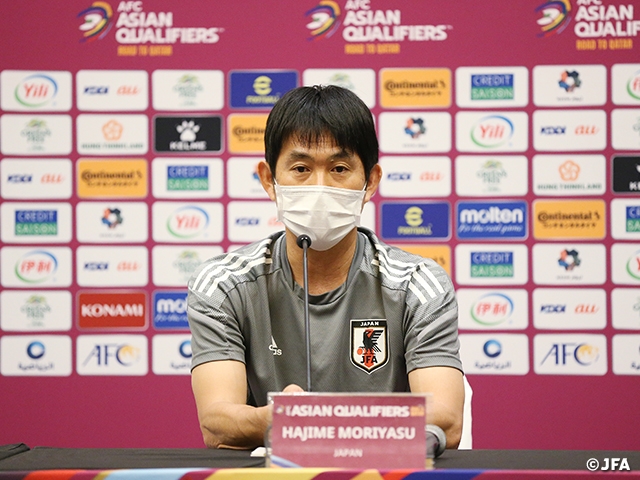 DF SAKAI Hiroki (Urawa Red Diamonds)
My leg injury is getting better, and I am able to do more in practice. I was expecting to recover sooner, so I feel responsible for the trouble I caused the team. However, I need to be able to play with high intensity in the game. As a professional, we must always think of what you can provide for the team. Japan is scouted by all the countries and our tactics are being marked, so players who can singlehandedly create opportunities can be a major threat to our opponent. While keeping tactics as a base, we need to be able to cover for each other, so that we can compensate for our strengths and weaknesses together. We suffered a bitter loss against Oman last time, and disappointed many of our fans, so we must redeem ourselves by winning the match this time. We need to win through this final round, so we will continue to insist on earning results.
MF/FW MINAMINO Takumi (Liverpool FC/England)
I think the first goal will be very important, and it will also be important to see how much we can push the opponent, and to reduce minor mistakes compared to the last game. Scoring the opening goal will be the key, and we must overwhelm our opponent while reducing minor mistakes. The goal we scored against Vietnam came from an ideal play, in which the three attackers were all involved to initiate a fast break. Against opponents who are parking the bus, we need to adjust our positions while building our offence so that we can keep a good distance between each other. We are creating plenty of opportunities, so we hope to continue creating chances upfront. I feel like the attacking midfield position suits me best, but I have been focusing on how I can play a part in scoring goals in the role I am given by the team, and I have a good feeling about it, so I would like to leave results in our next match.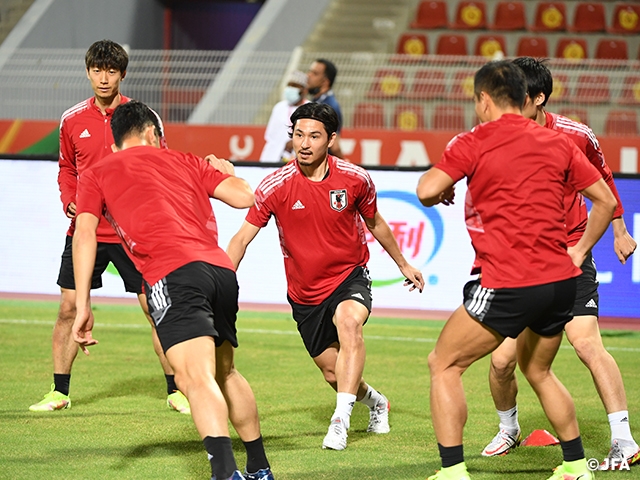 MF/FW SHIBASAKI Gaku (CD Leganes/Spain)
The gap between us and the top two teams is getting closer, and the result of this match can have major implication to our situation in January and March, so we really just need to win. When playing 4-3-3, I would like to contribute to the team with my ability to score goals, rather than my build-up skills. In other words, I am more focused on taking the role as a finisher rather than a game-maker. However, you lose flexibility when you are overly conscious of the system. Whether we play 4-3-3 or 4-2-3-1, it's important that we make adjustments according to the flow of the game. We were unclear of our roles when we faced Oman last time, so we must clarify our roles and position ourselves in a way that is not limited to the system. If I am given the opportunity to play, I want to make contributions, such as goals and assists, that can lead the team to victory.
MF/FW ENDO Wataru (VfB Stuttgart/Germany)
I think a bit of determination and momentum will be the key when facing an opponent who is parking the bus. While we control the game by possessing the ball, we must also make bold moves to strike shots from distance, deliver crosses into the middle, and make frequent runs into the box. Of course, position and tactics are important, but the game boils down to who can create and capitalise opportunities. Within the 90 minutes, we need to make a decision on when to exert our power. My role is to bring out the strengths of my teammates, but this team consists of many experienced players who can deliver a solid performance without being prepped for it, so I am not that worried. I hope to provide support from behind. This team has been updating its approach while changing the line-ups. The system and tactic change as the line-up changes. The fact that we have well-versed players who can make flexible changes depending on our opponent is a major strength of this team.
Branko IVANKOVIC, Coach of Oman National Team
Tomorrow is a very important match for both teams. We will do our best to earn three points at home. Japan is the best team in Asia. They are a very experienced team that consist of many players who play for clubs overseas, and I have a lot of respect for them. However, we have also worked hard to get here, and the players will do everything within their power to bring victory for Oman. We gained confidence by defeating Japan at their home, and we believe we can compete with any team. But it goes without saying that they are also improving, as they have a defender who plays for Arsenal. They will take advantage of their experience and try their best to beat us. We are now entering the second half of this final round, and with limited matches left to play, each match will have significant implications to our chance to qualify for the World Cup, and we must be prepared to win against any opponent in the remaining matches.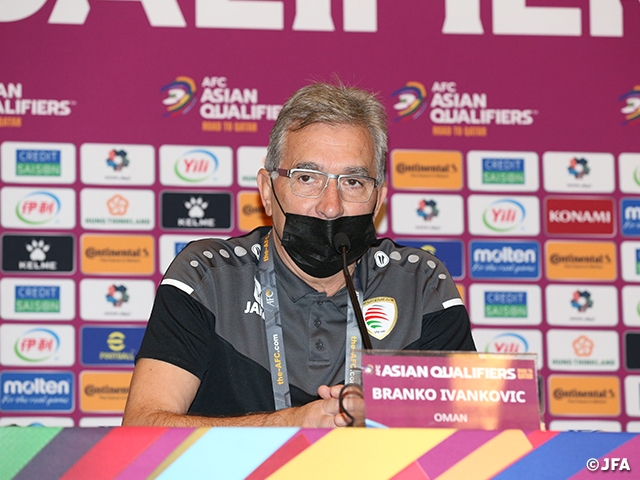 AFC Asian Qualifiers (Road to Qatar)
Tue. 16 November 2021 [20:00 (Wed. 17 1:00 Japan time)]
SAMURAI BLUE vs Oman National Team
Venue: Sultan Qaboos Stadium (Muscat, Oman)
Tournament Information