NEWS
Japan Provisional Beach Soccer National Team – Training Camp Report (18 May)
19 May 2014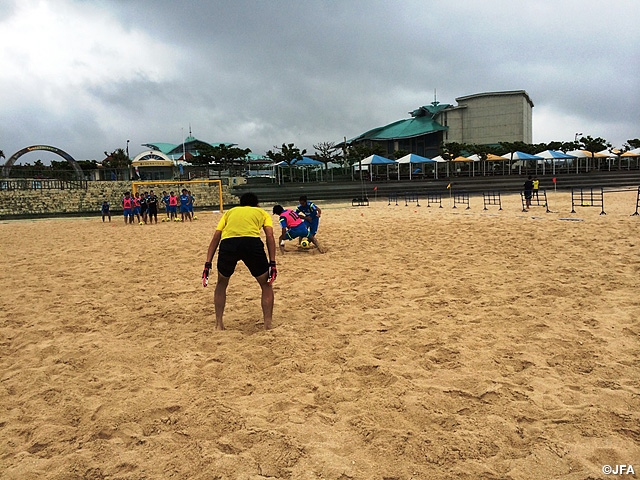 Unfortunately the 2nd day training was held in the rain.
Started with training programs for enhancing physical strength such as dribbling and followed by training for 3-1 system using the whole pitch. This is usual system which place Pivo for a target man, but this training focused on tactical training which requires flexible judgment according to the situation, rather than just remembering fixed pattern of this system.
In the afternoon, continued from the morning, the time was allocated to deepen the understanding of tactical knowledge. As changing the team members, the head coach tried to make the training as realistic as possible by putting defensive players on the pitch. Marcel Mendes, Head Coach, explained in detail so that training will not be wasted just by memorizing the playing pattern.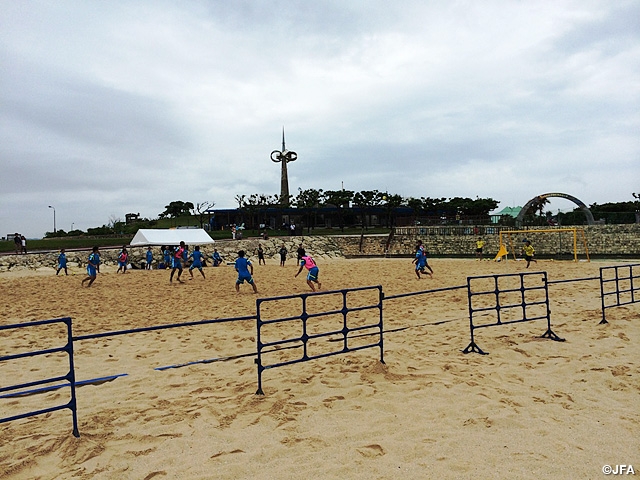 Also, they had a CK training today. They practiced some patterns – giving a chance to shoot after making team member free by taking advantage of block, get yourself scoring chance by racing in as you pretending a block. Competitive countries scores many goals from set play, he will take more time for this training until they are comfortable with them as head coach Marcel Mendesmentioned.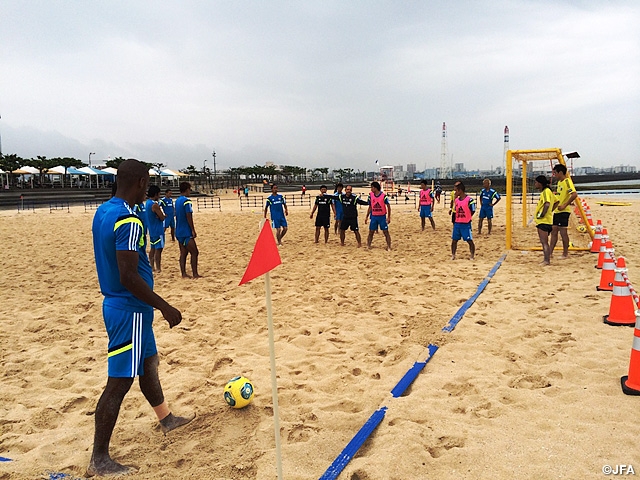 The training was finished with meeting. He explained again 2-2 trained on previous day and 3-1 system today and deepen the understanding. At the end of meeting, Head Coach Mendes insisted Beach Soccer Japan National Team is eligible to be acknowledged in the world, told them it is important to have a confidence.
Comments
OBA Takasuke (Dor Sol Kitakyushu)
I was very excited to take part in the intensive and terrific training, the first training since head coach Mendes appointed. He explained tactics training in detail. I try to understand them and play confidently for every single play in the rest of two days, tackle the program as I enjoy playing as much as I can, for making an appeal of my strong points.
SUZUKI Shunta (Sol Mar Pria)
I have refreshed feeling for training camp with the appointment of the new head coach. I realize it is crucial to understand his tactics and implement these tactics on the pitch, for Beach Soccer Japan National Team to become a top team in the world in the future. That's something I have to learn for staying in the national team. And I will spend time till the World Cup as I trying to figure out what can I contribute to the team reflecting my strong points. I am fully committed to participate in training for the rest of two days, emphasizing my strengths and understanding all the programs.
Japan National Team Partners
Supporting Companies