NEWS
Beach Soccer Japan National Team Candidates Training Camp Report (19 May)
20 May 2014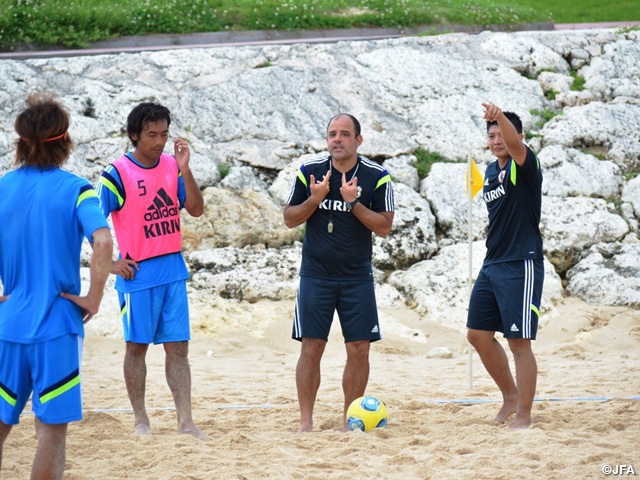 The "TSUYU" rainy season saw its break on the third day of the camp, and a strong Okinawa sunshine came back all day. Players had morning and afternoon practice sessions, which took a big portion of them for game situation drills to make sure the formations such as 2-on-2 and 3-on-1 which the team had worked on so far.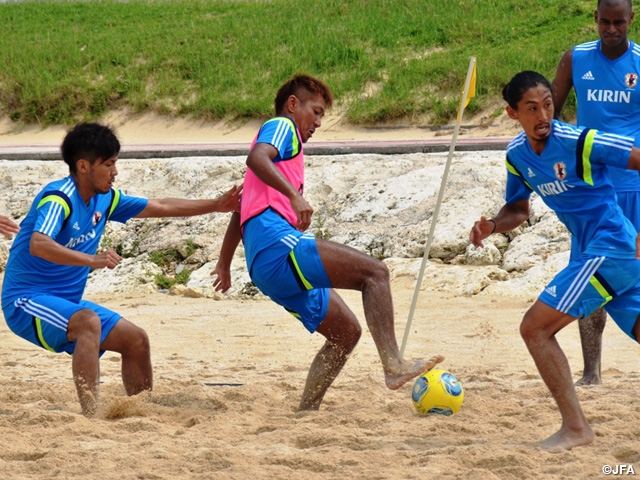 As Coach Mendes said after the practice"To be honest with you, the morning session was very stressful..." players could not perform in the way they were expected to. The coach repeatedly raised his voice. However, he continued his comments after the practice, saying "the afternoon was totally different." During the afternoon session, words actually coming out of his mouth were much more positive such as "I like that!" and "Nice!" to praise what he was observing.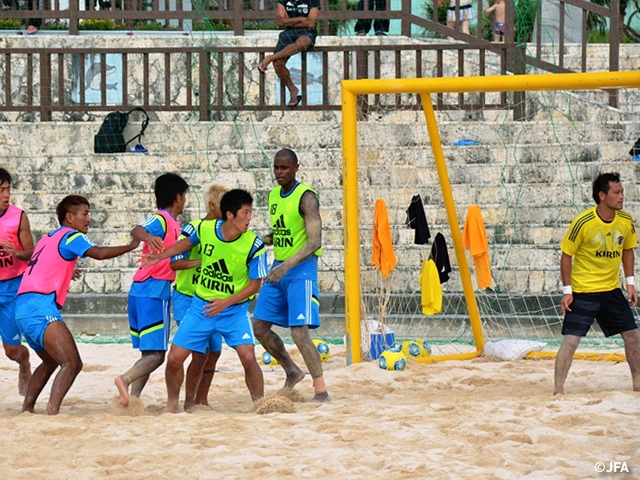 The team looked back on last year's World Cup match against Russia in the evening meeting. Some of the things shared to all were what everyone on the pitch is supposed to do depending on each situation, what priority should be considered in those moments and how those principles can be applied to game plans they are currently working on.
There is only one more day to go in this camp. The last day will have training matches against a local club.
Comments
MAKINO Shinji(LEON FUKUOKA)
This is the second training camp under Coach Mendes. Just like the first time, even a veteran like me can feel some appropriate sense of urgency. In the training, we are adding some new things onto the strategies we worked on during the last camp. Of course we have to understand the strategies the coach presents to us and we also have to be aware of how we can use them effectively in game situations. I am not just competing against both new players and players I have played together, but also as a veteran I want to take the role of creating good training environment for the new players and young players to relax and focus on the training.
TAKIGUCHI Takashi(NO SOCKS YOKOHAMA)
For me this is my first training camp under Coach Mendes. In terms of strategies and individual skills, what we are supposed to do is presented very clearly. For example how we move without the ball or the skills to kick a floater. So it's been very productive. First I have to compete against my teammates and win. So I will do my best.
MIYAMOTO Hikaru(DORSOLE KITAKYUSHU)
I have been trying to understand the strategies that Coach Marcelo is trying to establish, and as I do that, it's been a very productive and a very high-level camp. On the fundamental strategies, we have to keep learning and building up good judgment depending on the situations and the concept of risk management in order to play against other countries. So I will keep doing that and hopefully I can contribute to this team. We have only one more day, but I will stay confident and do my best to show what I have learned so far.
Japan National Team Partners
Supporting Companies