NEWS
Serving as a referee broadens your perspective - Elimination of Violence in Football Vol.108
14 June 2022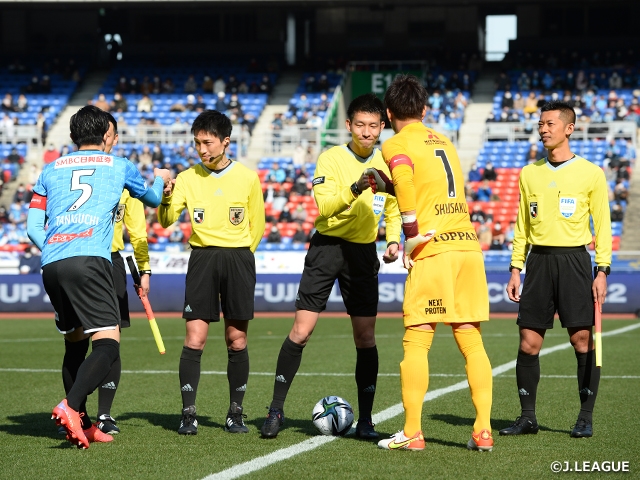 Have you ever wondered how many youth referees are qualified to officiate football in this country? The overall number of registered football referees is 261,149. Of these, 93,648 are youth referees, representing approximately 36% of the total (as of 1 April 2021).
There are various motivations for obtaining a referee licence, some to help improve themselves by learning the rules and the spirit of the game, and some to act as referees in the league in which they are involved in as a player. In some cases, teams obtain referee licences as part of a league or team policy. Many of your teams may have obtained licences for these reasons as well.
A player may engage in occasional refereeing duties while being primarily involved as a player (and vice versa). To be involved as part of the management side of the league can also broaden their perspective as a player. It is a great initiative to expose young players to different aspects of the game from a young age.
It is nice to see that most coaches treat these young referees with open arms and respect. I myself have seen players actually take charge of the referee duties, and many referees (players) make very accurate decisions, which they can do because they play on a daily basis.
But we hear that in some instances, coaches who are under a lot of stress during a match can make some pretty strong statements towards the youth referees. Other players may see this behaviour and think that it might happen to them and make them want to avoid being a referee as much as possible. If more and more people feel this way, there will be no one left to act as referees, and it will become more difficult to play matches.
Imagine how the referees (players) would feel, being in charge of a match in front of coaches who are older than themselves and having the desire to make correct decisions without stressing the players. That would make them more or less nervous, which is a different kind of nervousness from being on the pitch as a player.
The words of their mentors can sometimes have a big impact on the young players' career. The same applies to referees.
While some may argue that they are serious because they treat them as a single referee, it should be remembered that youth referees are also a target to be protected, as they are under 18 years of age. That does not mean spoiling them. If there is something you think you should tell them, tell them with the intention of "nurturing" them.
If we can create a more nurturing environment for everyone involved in football, regardless of their role, we can feel closer to each other, and this will further foster a sense of respect for each other.
【Reporter】YAMAGISHI Sachiko (Chair of JFA Respect/Fair play Committee)
*This article was originally posted on Japan Football Association "Technical News," May 2022 edition.