NEWS
【Match Report】SAMURAI BLUE move up to third place with a win over Vietnam
12 November 2021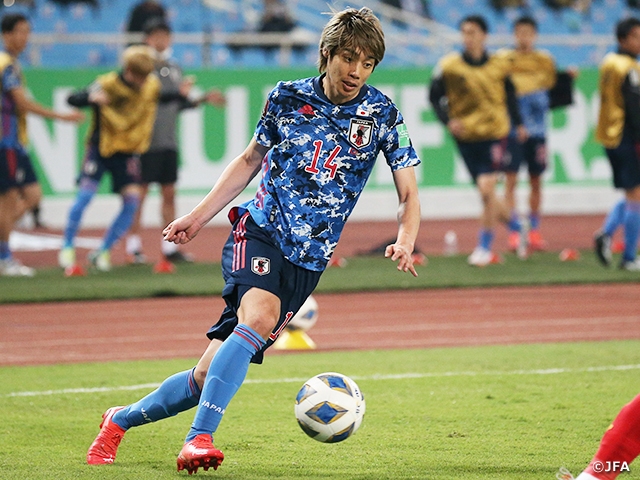 On Thursday 11 November, the SAMURAI BLUE (Japan National Team) played their fifth match of the FIFA World Cup Qatar 2022™ AFC Asian Qualifiers (Road to Qatar) against the Vietnam National Team at My Dinh National Stadium, Hanoi, where they won 1-0 thanks to the goal scored by ITO Junya (KRC Genk). With this victory, Japan moved up to third place in Group B, as they are now scheduled to face Oman in Muscat on Tuesday 16 November.
With Japan entering the match in fourth place in their group with two wins and two losses, the team was in a must win situation to clinch the top two spots to automatically qualify for the World Cup. On top of that, 11 players who travelled from Europe arrived late due to an issue that occurred during their transit, giving the team only one training session ahead of the match with the entire squad.
Japan entered this match with a 4-3-3 formation, which they used against Australia in the second match of the October series. The starting line-up was also unchanged, except for the right full back position, where YAMANE Miki (Kawasaki Frontale) took over.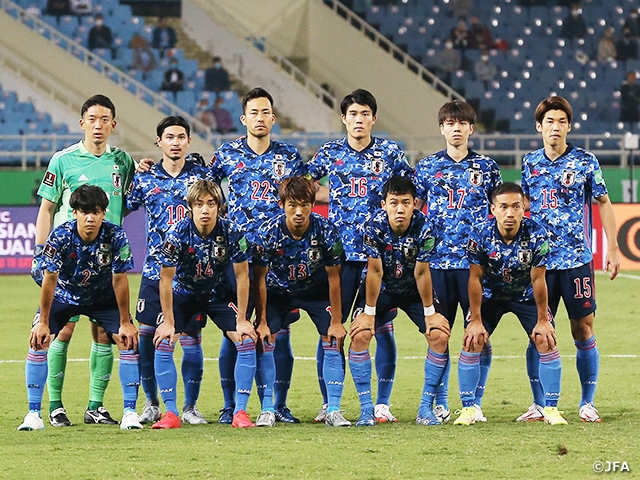 Facing the Vietnamese side who entered the match with a 5-3-2 formation, MORITA Hidemasa (CD Santa Clara) positioned himself on the left flank to combine with TANAKA Ao (Fortuna Dusseldorf), MINAMINO Takumi (Liverpool FC), OSAKO Yuya (Vissel Kobe), and Ito to create chances.
The opening goal came in the 17th minute, when Osako dished the ball to Minamino, who dribbled down the left side before delivering a pinpoint cross to the far side, allowing Ito to slot the ball into the net.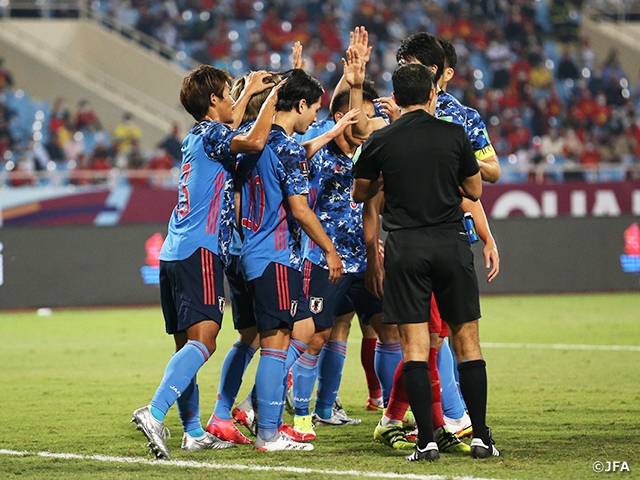 Another big chance was created by Japan in the 40th minute, when Ito broke loose from a counterattack. As he carried the ball down the left flank, Ito quickly turned inside and struck a magnificent shot into the upper corner of the goal. However, after the goal was reviewed by VAR, it was ruled that a player in offside position had influence the play, erasing the goal off the score board for Japan.
Vietnam, despite having lost all four of their matches so far and being at the bottom of the group, maintained their aggressive stance with the support of over 11,000 fans at their home stadium, and showed their willingness to counter with quick dribbling when possessing the ball and to make attempts to score goals from mid-range. However, Japan's hard work and calm response prevented them from causing major damage.
After finishing the first half 1-0, Japan continued to press forward, as they brought in NAKAYAMA Yuta (PEC Zwolle) and ASANO Takuma (VfL Bochum 1848) in the 63rd minute, followed by SHIBASAKI Gaku (CD Leganes) and FURUHASHI Kyogo (Celtic FC) in the 75th minute.
In the 64th minute, Asano made a run into the left space to strike a shot, and in the 82nd minute, Shibasaki made an attempt after receiving a heel-pass from Furuhashi, but both efforts were denied by the Vietnamese defence. Morita came close in the 85th minute, when he responded to a deflection of a shot taken by Shibasaki, but his attempt was saved by the opposing goalkeeper. Morita received his second yellow card in this final round and will be suspended for the next match.
Japan maintained their solid defence and introduced Genki Haraguchi (1. FC Union Berlin) in the 88th minute to close the match. Although failing to score additional goals, they won 1-0 and increased their points nine. Vietnam has now lost five matches in a row.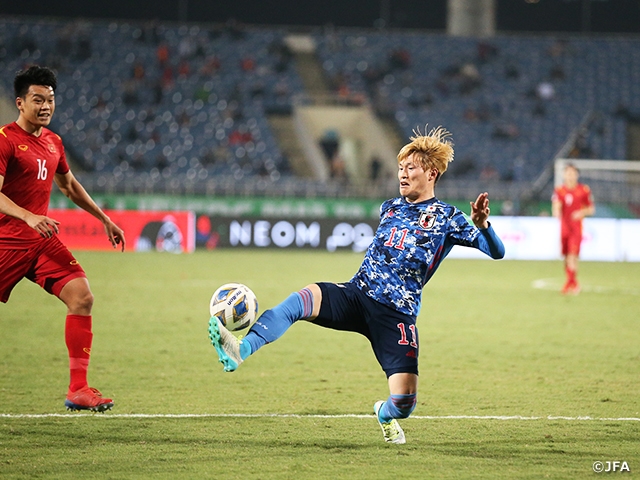 In the other Group B fixtures played on this day, second place Australia drew 0-0 at home with group leader Saudi Arabia, while Oman drew 1-1 with China PR.
As a result, Japan, with three wins and two losses, moved into third place, two points ahead of Oman and one point behind Australia in second place. Japan will now play an away match against Oman on Tuesday 16 November.
In Group A, Iran won 2-1 on the road against Lebanon to improve their record to 13 points, while Korea Republic won 1-0 at home against UAE to remain in second place with 11 points. Iraq drew 1-1 with Syria in a home match in Doha, moving Iraq up to fourth place, dropping UAE to fifth, while Syria remain in sixth.
Coaches and Players' Comments
MORIYASU Hajime, Coach of SAMURAI BLUE (Japan National Team)
This was a match we couldn't afford to lose in order to qualify for the World Cup, and despite playing against a great opponent in a tough environment away from home, our players managed to keep a clean sheet to win the match, which is the result we needed to move forward toward the World Cup, and I am happy with this result. Although we finished with just one goal, the second goal scored by Ito, which was disallowed by VAR, was a wonderful goal that could have been allowed. In that sense, I'd like to think positively that we were able to create chances besides the one goal we scored. Vietnam was a very good team, so I would like to praise my players for their hard work. 11 players were stranded in transit during their trip back from Europe, which threw a wrench in our preparation plan, but the players managed to make use of their time on the plane to communicate with each other while working on their individual mental and physical recovery. When I saw the faces of the 11 players, they all looked great and refreshed, which gave me the confidence that we can make this work with just one training session. The players who arrived and trained here as planned, also made great efforts to adjust in a short time. In the limited time we had, the players communicated well with each other to stay on the same page. The fact that the players managed to keep their composure when facing an accident helped us earn this result. The next match against Oman will be another tough match away from home, but we will do our best to prepare for it so that we can win and move on to the World Cup.
DF #22 YOSHIDA Maya (UC Sampdoria/Italy)
While this was a match in which we had to at least secure three points, we struggled to showcase our usual performance after having limited time to coordinate with each other, but I am just glad that we were able to walk away with a victory. In spite of the bad conditions and long travel, I think everyone gave it their all. It would have been better if we could have capitalised on the set pieces. Our goal is to win both matches of this series, and we are only halfway through our plan, so we must start preparing for our next match on our way to Oman. We will use the time on the road to assess today's match and prepare ourselves in the best way possible. We shouldn't underestimate Oman nor ourselves. We want to go into the second match with confidence.
MF/FW #6 ENDO Wataru (VfB Stuttgart/Germany)
We are not satisfied with our performance at all, but we are just glad that we were able to earn three points. It would have been so much nicer if we could have scored the second goal. It was great to see our side keep a clean sheet, but there were so many issues that need to be addressed. I will do my best to prepare myself both mentally and physically ahead of our next match. It was tough for the players who only had a day to prepare, but we did what we can within the given time frame. Continuing from our match against Australia, I played as the anchor, while Tanaka and Morita were getting involved in offence, so I focused on keeping myself stationary at the middle. Oman played defensively when we faced them at home, so our main focus will be on how to score goals. We need to apply numbers, play with high intensity, and be creative in the final third.
MF/FW #13 MORITA Hidemasa (CD Santa Clara/Portugal)
We are not totally satisfied with our overall performance, but it was a match that we definitely needed to win, so considering that we were not in perfect condition, we should be happy with this result. Playing overseas makes you immune to long travels and accidents. As a professional footballer, we cannot make that an excuse for our bad performances. We had so many opportunities from set pieces, but couldn't convert, so that is an aspect we must improve on. We are not fully adapting to the 4-3-3 system, and I feel that we can create more chances from this formation. We were expecting our opponent to play 5-4-1, so I focused on staying wide during the first half, but I may have positioned myself too far out, so I need to be more aware of the team balance on the pitch. With today's yellow card, I will not be able to play in our next match, so I will do my best to support the team off the pitch.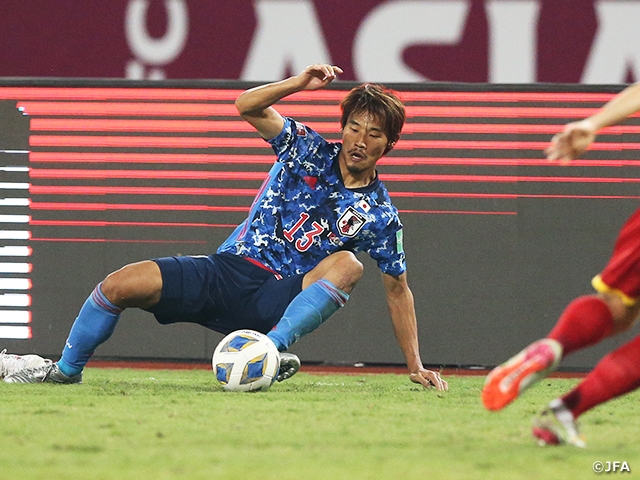 MF/FW #14 ITO Junya (KRC Genk/Belgium)
When I scored the goal, Minamino broke loose from a counter, and delivered a well-paced cross into the gap between the goalkeeper and defenders, so I just had to tap the ball into the net. We really wanted to score more goals, but I am just glad that we were able to win. We had limited time to prepare ourselves ahead of this match, but we were able to make the most of the time we had to keep ourselves on the same page. It wasn't like we were playing for the first time, so we can't use that as an excuse. I spent my time on the plane to recover my body and tried to stay relaxed. We lost to Oman at home, so we would like to have our redemption. We failed to capitalise on our chances created from the flanks in our last match, so we hope to convert them this time. I feel like I was able to showcase my strengths today, so I will try to keep that trend going for our future matches.
MF/FW #17 TANAKA Ao (Fortuna Dusseldorf/Germany)
The fact that we were able to earn three points was our biggest achievement. Some may consider 1-0 as a bad result, but it wasn't easy to keep it at 1-0, and our goal was to earn three points, so we should be happy with this result. I didn't touch the ball as often as I would have liked, but since the opponent was playing five in the back, I tried to position myself in between the lines and hold my position as much as possible. However, I felt that I need to become a player that can make a difference, even when playing such role. If I can raise the quality of my plays, I can help the team create more opportunities. After watching the first match, I felt that Oman would be a difficult opponent to play against. I think they are a very well organised team, but we should be able to play better if we keep a close eye on our opponent. We need to earn three points at all costs, so we will do our best to prepare ourselves.

AFC Asian Qualifiers (Road to Qatar)
Thu. 11 November 2021 [19:00 (21:00 Japan time)]
SAMURAI BLUE vs Vietnam National Team
Venue: My Dinh National Stadium (Hanoi, Vietnam)
Tournament Information