NEWS
SAMURAI BLUE's Coach MORIYASU shares aspiration to "Earn three points to move forward" in match against Vietnam at the AFC Asian Qualifiers (Road to Qatar)
11 November 2021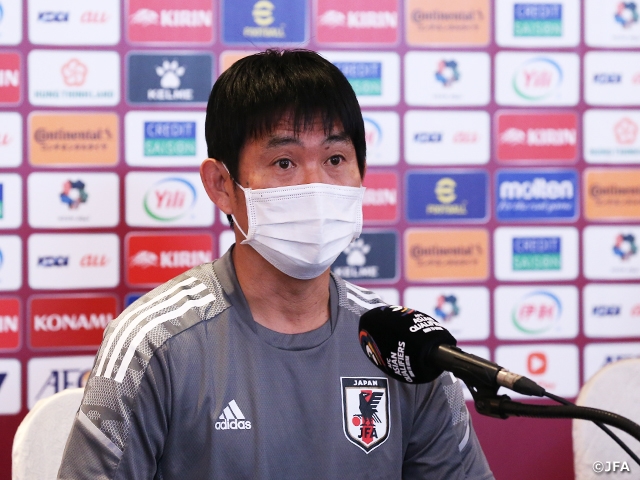 On Wednesday 10 November, one day before their fifth match of the FIFA World Cup Qatar 2022™ AFC Asian Qualifiers (Road to Qatar) against the Vietnam National Team, coach MORIYASU Hajime of the SAMURAI BLUE (Japan National Team) appeared in the official press conference held in Hanoi, where he shared his aspiration to, "earn three points despite the tough environment and move forward toward the World Cup."
Japan is currently in fourth place in Group B with two wins and two losses. The team must finish within the top two spots to qualify for the World Cup without going through the playoffs, and they need a win to close the three-point gap with Australia, who is currently in second place.
Led by Korean coach PARK Hang-seo, who has been at the helm since 2017, Vietnam finished in second place in the second round of the Asian qualifiers, where they were grouped with UAE. In the final round, they lost to Saudi Arabia 1-3, Australia 0-1, China PR 2-3, and Oman 1-3, and are currently at the bottom of the group. However, they have scored in all matches except for the match against Australia, including the goals of NGUYEN Tien Linh, who scored in back-to-back away matches against China PR and Oman in October, as the striker has scored seven goals so far since the second round.
Japan has won all three of their previous meetings with Vietnam, but in their last meeting, when they faced each other at the quarterfinals of the AFC Asian Cup in January 2019, Japan struggled against a young Vietnam side, and walked away with a 1-0 victory thanks to the PK scored by DOAN Ritsu.
YOSHIDA Maya (UC Sampdoria), who also played in that Asian Cup match, said, "Vietnam has a lot of players with great techniques and agility. With this being an away match, we can't let them gain momentum."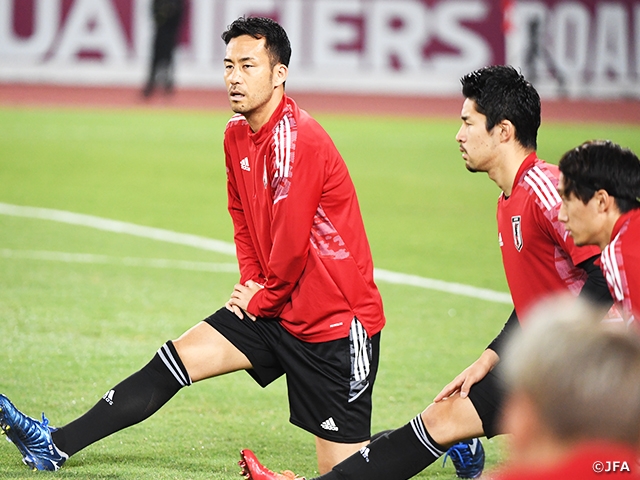 Because Vietnam has imposed several travel restrictions on those entering the country in light of the recent Covid-19 outbreak, players traveling from Europe had to stop by Japan before entering Vietnam. 11 players, including Yoshida, took a chartered flight from the Netherlands to accommodate their weekend fixtures, but arrived much later than scheduled due to problems that occurred during transit, which forced Japan into an unusual situation where the entire team didn't gather on site until the day before the match.
However, coach Moriyasu said, "I heard from the players that they were able to use the time to rest up and relax. All players should be ready to play tomorrow."
MINAMINO Takumi (Liverpool FC) also shared his take on the situation, "I'm just going to focus on doing what I can. I'm not going to use this as an excuse, and it's not acceptable as an excuse. If we can showcase our usual performance, we should be able to earn a good result."
MITOMA Kaoru (Royale Union Saint-Gilloise), who is currently playing in Belgium, was called up to the SAMURAI BLUE for the first time. MAEDA Daizen (Yokohama F. Marinos) and UEDA Ayase (Kashima Antlers), who played with Mitoma in the Tokyo Olympics, are back to the senior side for the first time since the CONMEBOL Copa America in 2019. Maeda is currently the top scorer in the J.League with 21 goals, while UEDA is fourth with 13 goals and they are anticipating for their opportunity to play for the SAMURAI BLUE and help them earn tree points.
"Whether it's the Olympics team or the senior national team, my job is to help them win matches. I am determined to fight for Japan," said Mitoma.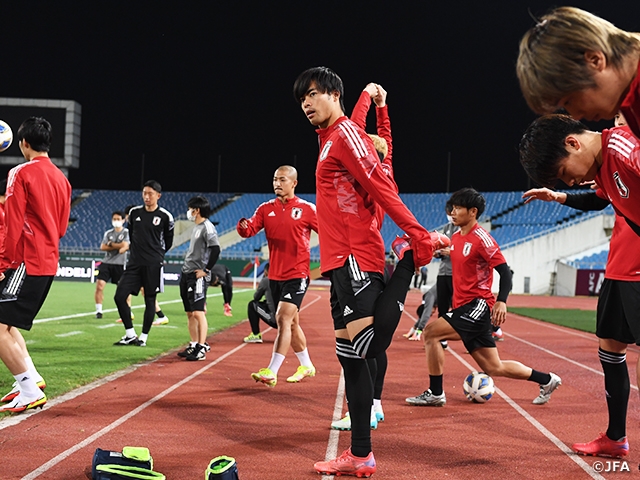 Japan is scheduled to face Vietnam at My Dinh National Stadium in Hanoi on Thursday 11 November at 19:00 (21:00 Japan time). Japan will then face Oman on Tuesday 16.
Coaches and Players' Comments
MORIYASU Hajime, Coach of SAMURAI BLUE (Japan National Team)
I have the impression that Vietnam has developed into a very strong team in recent years, and they should be considered as one of the best teams in Asia. Coach Park has taken the time to develop the players and strengthen the national team, which made them a very good team. We are expecting a very tough match tomorrow, as we will be playing in a completely away environment, but we are planning on earning three points to make a forward progress towards the World Cup. With the chartered flight from Europe arriving behind schedule, we were not able to hold our scheduled training session as a team, but we have to overcome these unexpected events in order to achieve our big goal. I have been telling my players to "expect the unexpected. Let's overcome them together." Although it was unfortunate that we couldn't hold our training session as planned, I have been told from the players that they were able to use the time to rest up and relax, so I would like to think that they are fully ready to play tomorrow in terms of their physical condition. Having lost the first matches of the series in September and October, we must be ready to win the first match in this November series. Even though we lost to Saudi Arabia in October, we were able to bring the best of what we had at that time and keep the players on the same page in terms of how we want to fight as a team. We want to do the same in November, as we improve our conditions, clarify the individual roles, prepare both mentally and physically, and fight in tandem. Although we will have only one training session with the entire squad, we will make the most of the session to keep the players on the same page.
DF YOSHIDA Maya (UC Sampdoria/Italy)
On our trip back from Europe, we stopped for about 9-10 hours at the refuelling point in Russia and stayed on the plane for about 24 hours, but there was enough space to stretch, so we spent our time stretching and playing card games. We haven't had the chance to talk with each other in a while, so I think this was a good opportunity for us. I was quite an event, but in a way, it was expected. It was a good experience for the young players, but we need to win our match in order for us to be able to say so. Vietnam has a lot of players with great techniques and agility. With this being an away match, we can't let them gain momentum. It is also extremely important not to concede the opening goal. We must manage the risks while we play the game. I will be fully prepared to play, but as long as we win, I don't care who steps on the pitch. It is important that we enter the match without being distracted by the atmosphere.
MF/FW ENDO Wataru (VfB Stuttgart/Germany)
It was the first time for me to go somewhere from Europe via Japan, and the other players also said they had never done it before, but these kinds of accidents can happen. Everyone is used to traveling around, so as usual, we have been communicating with each other while preparing for the match. In our match against Australia, we had three defensive midfielders, so I had to decide when to get involved in our offence depending on the positions of the other two players. If I play as the anchor, I will focus on how to suppress the opponent's counterattacks, but if I play as a defensive midfielder, I must make better decisions on when to move forward depending on who I am paired with. In the match against Vietnam, the challenge will be how to break down an opponent who is dropping deep in their territory, and I think it is important for us to take shots from distance, while finding the right timing to apply pressure. It is also important to take care of the opponent's counterattacks, and I think the key is to not drop back too far. In offence, we need to find spaces where our opponent doesn't want us to put the ball and try to exploit the spaces behind the midfielders and defenders. I will try to make bold plays and deliver balls into open spaces.
MF/FW MITOMA Kaoru (Royale Union Saint‑Gilloise/Belgium)
I am happy to be called up to the national team for the first time, but I am also feeling a great sense of responsibility since I am getting called up in the midst of this tough competition at the final round of the Asian qualifiers. It's only been a few months since I went to Belgium, but I think it was worth it. I have always dreamed of playing for the national team, so I will make sure to leave nothing behind. If I am to play in the match, it will be in the flank, so I need to work on getting into the penalty area and delivering the last pass. Whether it's the Olympics team or the senior national team, my job is to help them win matches. I am determined to fight for Japan. The 4-3-3 system is completely different between Frontale and the national team, but the position is the same. I will play aggressively and try to bring momentum for the team in the same way I did for Frontale.
MF/FW MINAMINO Takumi (Liverpool FC/England)
I was on the plane for about 24 hours due to an issue with the aircraft, and including the time before that, I have been on the road for over 30 hours. We have to win no matter what the situation. We had some trouble, but I am confident that we can win the match if we can showcase our usual performance. We must prepare ourselves as professionals and win for the people who support us. We changed our system in the match against Australia in October, which made it much easier for me to play. The fact that we were able to change our formation and win, while we had our backs against the wall, gave us great confidence. We hope to prepare ourselves so that we can win the match no matter what formation we use. I remember Vietnam playing really well in 2019. The level of our opponent must have improved since then, but that could be said for our team too, so we hope to showcase our dominance tomorrow.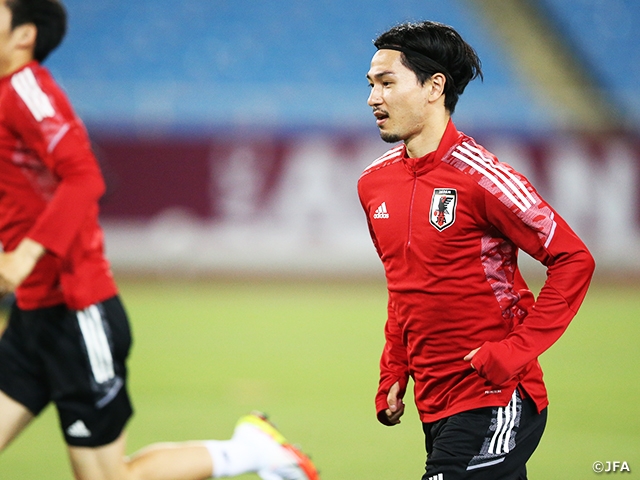 PARK Hang-seo, Coach of Vietnam National Team
Japan is in fourth place with two wins and two losses, which is higher than us. They have many talented players, and it will be a very tough match for us, but we will give our best efforts to compete tomorrow. When we faced them in the 2019 Asian Cup, our team mainly consisted of U-23 players, while Japan had many players who had experienced playing in the World Cup, but I don't think we can compare the two sides from back then.
AFC Asian Qualifiers (Road to Qatar)
Thu. 11 November 2021 [19:00 (21:00 Japan time)]
SAMURAI BLUE vs Vietnam National Team
Venue: My Dinh National Stadium (Hanoi, Vietnam)
Tournament Information