NEWS
WE League Kicks-off! "A new beginning" - Comment of Chair OKAJIMA Kikuko
12 September 2021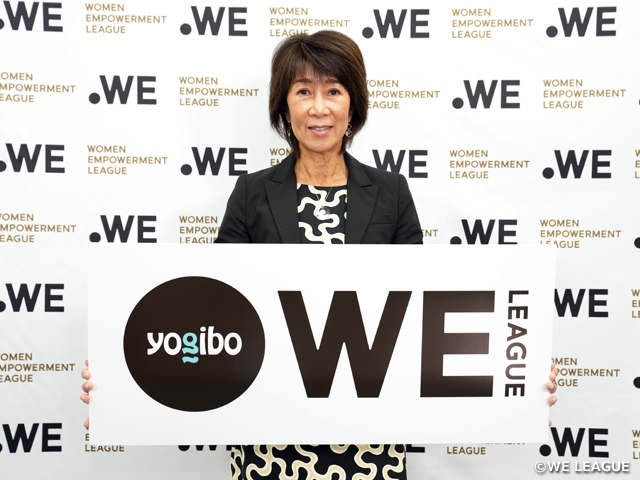 A new chapter of women's football in Japan has begun with the opening of the WE League. Since football was for a long time generally regarded as a sport for men, for many years women were not even allowed to register with the Japan Football Association. The WE League has changed the history of women's football in Japan because women can now become professional football players.
Due to the spread of COVID-19, many local governments do not allow stadiums to be opened to their full capacity. The limit is under 50% of their capacity or 5,000 people, whichever is lower, and all of the clubs make preparations at their stadiums with these limits in mind. I hope that every fan and supporter can enjoy their first match either at the stadium or at home.
I am expecting WE League players to be aggressive on the pitch. The bronze medal match at Tokyo 2020 between the USA and Australia was very entertaining, with the players demonstrating a high intensity and aggression in their play. WE League matches will likewise be interesting and exciting if the players are tirelessly seeking goals. Games are enjoyable when players can produce a string of shots on goal, and when the goalkeepers can produce fine saves to keep them out. Matches which spectators find intriguing will attract more fans to the stadiums and this will result in the commercial success of the League.
One of the important goals for the WE League is to help make Nadeshiko Japan (the Japan national women's team) one of the world's top-ranked teams again. I hope that Nadeshiko Japan, with many players from the WE League, will thrive at the FIFA Women's World Cup Australia & New Zealand 2023™ and at Paris 2024. One thing the WE League can do to make players more competitive is to encourage overseas players to come to Japan. This season, players from the Philippines, Australia, Germany, Singapore, the USA and Nigeria will play in Japan.
In the years since winning the FIFA Women's World Cup Germany 2011™, Japan has been caught up and surpassed by European countries, mainly because they established professional leagues several years ago. I think it is important for Japanese players to gain in ability and strength so that they can compete with players from other countries. The WE League encourages clubs to find talented overseas players, so that Japanese players will have opportunities to play against and with them on a regular basis.
One thing I ask the WE League clubs to try is to increase the number of spectators, particularly families and people in their community who have never been to women's football games. Offering interesting attractions at the stadiums aside from the football matches themselves can help bring in new fans. Examples of such attractions could be various events, food trucks and the availability of items that are not usually available for sale. The fun experience offered at local stadiums could be more valuable than usual, since the ability to visit attractions in other prefectures may be limited by COVID-19 restrictions.
The first opening match was on September 12. The WE League decided to treat each clubs' first home game as an "opening match". Therefore, opening ceremonies have been held eleven times, once at each venue, and this gives fans and supporters the opportunity to enjoy their home team's special opening match.
I would like to take this opportunity to express my sincere gratitude to all those who have contributed time and energy to help create this new league. The WE League was born with the hope of raising women's football in Japan to the highest level. This is the only beginning, and "WE" will grow to reach the top.