NEWS
Final Module/Symposium of the 2022 JFA Women's Leadership Programme held
03 October 2022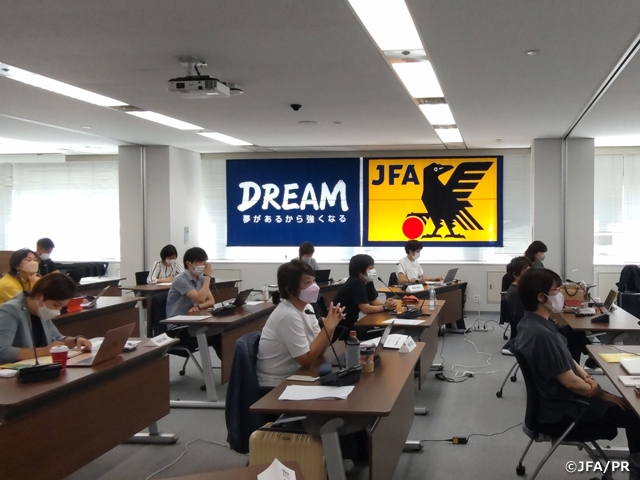 The final module of the JFA/WE League Women's Leadership Programme was held over two days on Saturday 1 and Sunday 2 October. In the final module, the participants delivered individual and group presentations based on what they had learnt in the programme.
In the individual presentation session held on the first day, each participant presented an action plan based on the issues they identified after analysing the current situation of their own organisation under the theme, "Analysis of the current situation and plans to produce and promote women in their own organisation." Many of the participants said that they had never thought about the advancement of women in their own organisations before working on this assignment, but they came up with many concrete plans and expressed their desire to take on the leadership role to create a better environment.
On the second day, group presentations were made on the theme of "formulating a concrete action plan on what we can do from our respective standpoints for the development of women's football in Japan." This term's participants have come from a wide variety of organisations and fields, including prefectural football associations, Nadeshiko League, WE League, J.League, futsal, referees, and more. The participants, who have a diverse background in football, worked in groups of three to tackle the assignment, resulting in unique proposals that combines their experiences and knowledge. The presentations were diverse in content, transcending over different organisations and areas of expertise, with one group focusing on the players, "increase opportunities for pre-school children to experience football," another group focusing on the supporters, "increase the number of spectators and being loved by the community," and a group proposing from a supportive perspective, "introduce various ways to interact and enjoy football other than playing, such as being a referee." Although the perspectives varied, they all shared the same desire to "enjoy football," and their passion for football and sport was evident.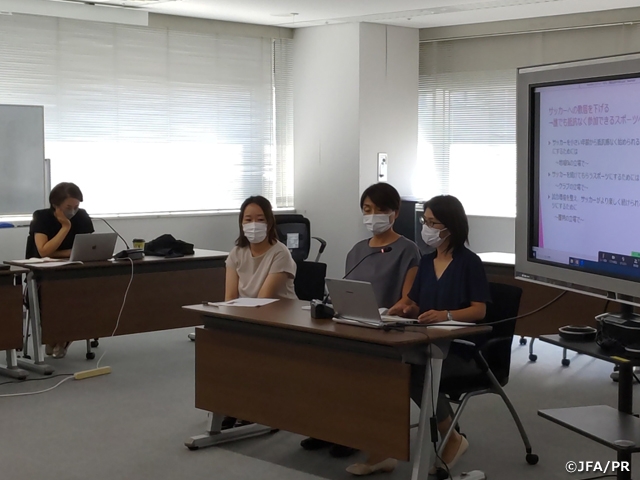 On Sunday 2, the Women's Leadership Symposium was held as the final lecture of the programme. The contents of the symposium will be streamed at a later date. After the symposium, a ceremony was held to mark the completion of the programme, with all 12 third-year participants receiving a certificate and a commemorative ball. JFA President TASHIMA Kohzo, Programme Leader IMAI Junko (Vice-Chair of the JFA Women's Committee) and Coordinator YAMAGUCHI Rieko (Josai University) congratulated the participants on their completion of the programme and expressed their expectations for the future, bringing the four-month programme that began in June to a close.
Participants' Comments
Ms. GIN Iyoko, Executive Director (Football Association Kanagawa)
I had never thought about the theme of "women" in particular before, but through the lectures and individual assignments, I realised that I myself may have been putting on the brakes somehow, or may have had a bias towards the topic, so this programme really helped me reorganise my own thoughts and recognise the issues. In addition, I have regularly held online meetings with my team members to discuss the group assignments. I am involved in CP football (seven-a-side football for people with cerebral palsy) on a daily basis, and in the process of working on the assignments, I was able to gain various insights from the other participants, which made the time very meaningful. Participating in this programme has also made me realise that there are so many women working hard in the world of football and has inspired me to work even harder myself.
Ms. ITO Yuka, Chief Hometown Officer (Cerezo Osaka)
In my career so far, I have never felt much difficulty because of "being a woman." Having become aware of the existence of gender bias and diversity, I hope that from now on I, as an elder in the workplace, will take the initiative and have a positive impact on those around me. For the sake of the younger generation, I feel strongly that I want to continue to develop myself. Furthermore, Cerezo Osaka will be joining the WE League from next season. Although I am in charge of the men's team, I would like to take this opportunity to get actively involved with the women's side and share the experience I have gained with the men's team.
Ms. KONDO Erika, PR Manager (Sanfrecce Hiroshima Regina)
Before taking this programme, I was too busy with my daily work and did not have the time to learn something new, but thanks to my supervisor who introduced me to this programme, I had a great opportunity to face myself. I had always had a vague idea of what a leader should look like, but through this programme, I was able to sort out what I wanted to be and change my own mindset. In this programme, I was able to communicate closely with members who I normally wouldn't have the chance to interact with, which made me feel the possibilities of football. From now on, I would like to make more efforts to connect with others, to learn how to get involved and to make the WE League even more exciting.