JFA Goalkeeper Project
JFA Goalkeeper Project
The Japanese National Team made its first FIFA World Cup appearance in 1998. For the first time in this tournament, the Japanese National Team experienced the vast gap and the various differences between Japan and the top of the world. The JFA Technical Study Group reported that one of the necessities for catching up to the rest of the world was the urgent need for identifying GK talent and GK youth development. Following this, the Goalkeeper Project (GK Project) was established under the Technical Committee. Out of the 4 points of the JFA development plan (National Team, Youth Development, Coach Education, Grassroots), our activities approached the 3 points (National Team, Youth Development, Coach Education).
This activity has been carried out not only by JFA, but also with cooperation with the GK projects in the 9 regions and 47 prefectural FAs, to develop GKs throughout Japan.
The JFA Pledge for 2050 in the JFA 2005 Declaration states: "By 2050, we will realise two key objectives that will allow all to share a special joy;
1. The Football Family of Japan, the fans with a true love for football, will number 10 million strong
2. We will host the FIFA World Cup in Japan, and the Japan National Team will be Champion.
In order to be the best, we need the world's best GK. In order to realise this promise, we started the action plan in 2020.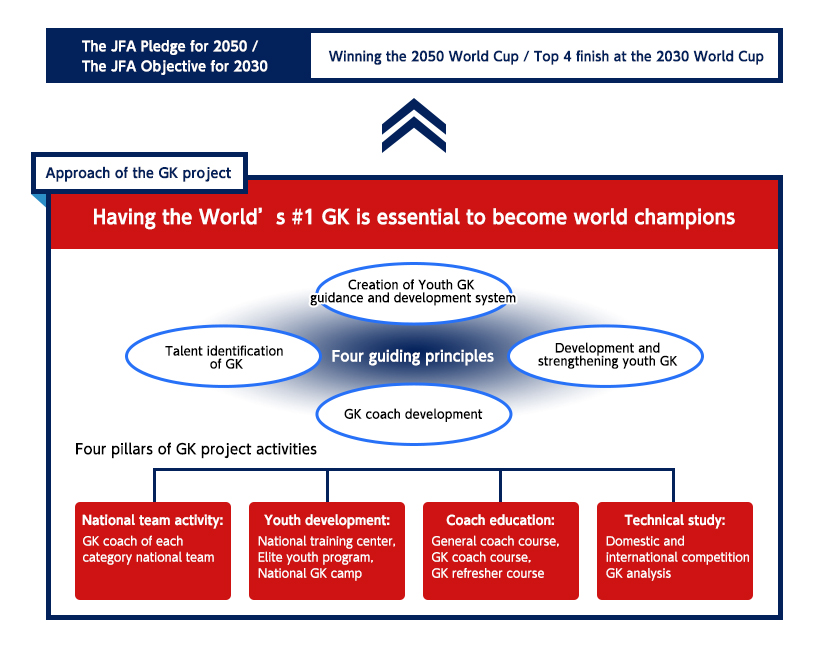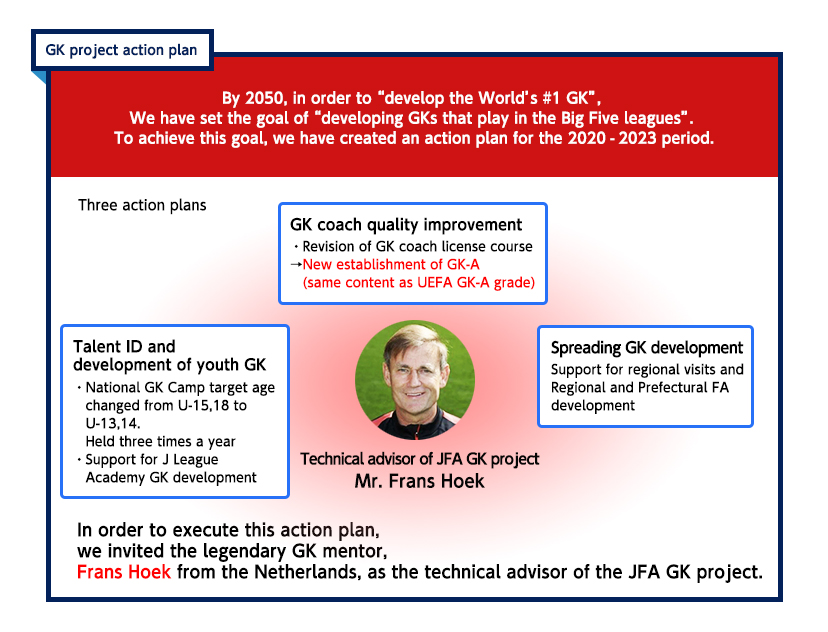 Introduction of Mr. Frans Hoek, Technical advisor of JFA GK project
After playing for 12 years as a professional player, he became an assistant coach for Ajax Amsterdam, specializing in set pieces and goalkeeping, which was unprecedented and innovative at the time.
Since then, he has coached at big clubs such as FC Barcelona, ​​Manchester United, Bayern Munich, and Galatasaray, as well as national teams, such as Netherlands, Poland, and Saudi Arabia.
Working with Head coaches Johann Cruyff and Louis van Gaal, he always coached at the highest level. As an instructor for FIFA, UEFA, Royal Dutch Football Association (KNVB), he played a central role in establishing the UEFA GK-A license.
Worked with goalkeepers including:
Edwin van der Sar, Stanley Menzo, Víctor Valdés, Vítor Baía, Pepe Reina, Robert Enke, Lukasz Fabiański, Thomas Kraft, Michel Vorm, David de Gea