NEWS
Class S Coach Training Course 2022 Module 3/Intensive Course (6) Participant's Report Vol. 8
16 September 2022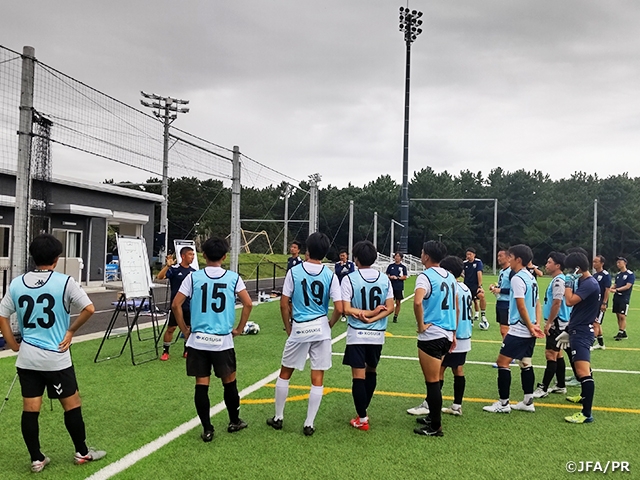 Following a four-day short course, the two-week intensive course began at Prince Takamado Memorial JFA YUME Field.
In Module 3, the course started with presentations given by the participants. The 20-minute presentation, which involved considerable amount of effort in researching, interviewing and editing, was created with the idea that it was a "present" to the audience.
Because all participants were required to complete one coaching session each during the intensive course in Module 3, it was a physically demanding two weeks for everyone.
Module3 Intensive Course ⑥
Duration: Mon. 5 - Thu. 8 September
Mon. 5 September
PM
Short course review
Periodisation in football: Raymond VERHEIJEN
Tue. 6 September
AM
Coaching session
PM
Professional Coaching Theory: OIWA Go (U-21 Japan National Team)
Presentation by the participants
Wed. 7 September
AM
Coaching session
PM
Presentation by the participants
Team building: FUKUTOMI Shinya (Tokyo Denki University)
Thu. 8 September
AM
Coaching session
PM
Presentation by the participants
Professional Coaching Theory: SHIGAKI Ryo (Vanraure Hachinohe)
Cooperation in dispatching support players: Edogawa University, Chuo Gakuin University, JEF United Ichihara Chiba (Academy Staff)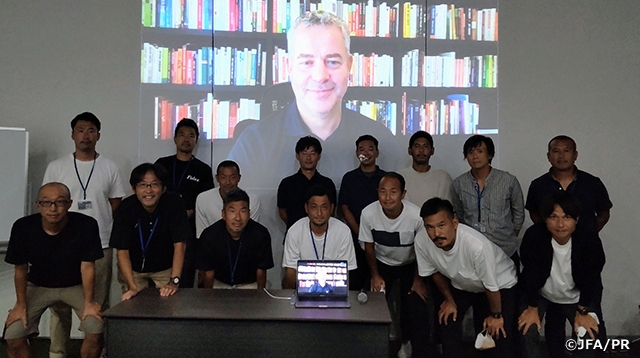 Participant's Comment
Mr. TAMURA Yuzo (Iwaki FC)
Module 3 is now in its second week, and we are back at the JFA YUME Field. On the first day, Mr. Raymond VERHEIJEN gave a lecture on Periodisation. We learned the importance of periodisation through an actual example from his time at Ajax, and also learned that periodisation is implemented differently for each team.
In Professional Coaching Theory, Mr. OIWA Go (U-21 Japan National Team) visited us and gave us an in-depth talk on "coaching." He gave us a valuable and rich insight on what he values as a coach, team management, what he looks for from an assistant coach, his distance with the players, his time with Kashima Antlers, and how he prepared for the competitions in Asia.
One of the most memorable lessons I learned from this lecture was how important it is to keep our communication simple. I also learned that it is important to expose yourself, instead of trying too hard to impress the players. He also told us the importance of letting your assistant coach take over from time to time.
We then took part in a lecture given by Mr. SHIGAKI Ryo (Vanraure Hachinohe), where he shared us with He spoke about how he took over as manager in the middle of this season, the challenges he faced, the meeting he held on the first day, and the difficulties of taking over responsibilities. As for what subjects he wished he had spent more time on when he attended the Class S Coach Training Course, he said it was in the areas of bringing out the best in the players and in management.
On the final day, Mr. FUKUTOMI Shinya gave us a lecture on team building, which involved a group assignment. During his lecture, each participant was given two drawings, and worked in groups to create a story using the drawings. This group work allowed us to think together as a team, listen to each other, see who would take the initiative, and find out hidden qualities of our fellow participants. It took us 45 minutes to complete the task, but he mentioned that we were able to complete rather quickly than normal. It was a very interesting drill that I wish to implement when I become a coach in the future.
We have just one week left in Module 3. With the cooperation of the students who participated as support players, the instructors and the assistant students, we will continue to work together as a group, inspire and motivate each other to strive to become a better coach through this course.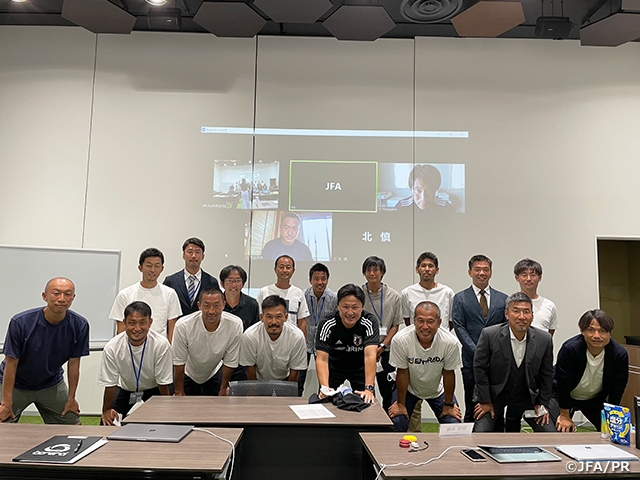 Next time, we will share the report of Mr. Nagayama Kazuya (Hosei University).