NEWS
Nagoya advance to ACL quarterfinals with come from behind victory over Daegu while Kawasaki lose to defending champions in penalty shoot-out
15 September 2021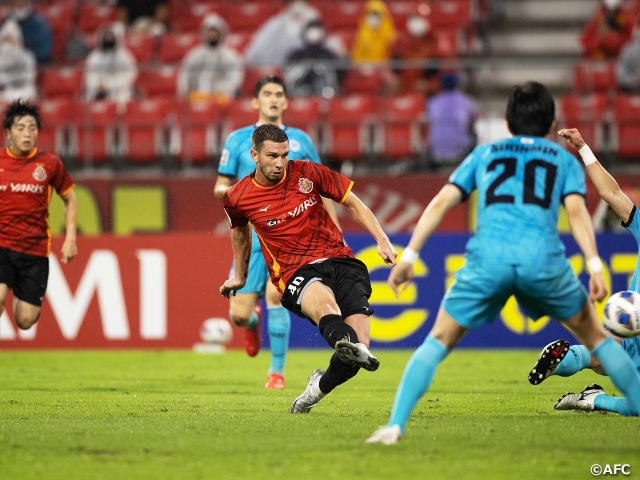 The round of 16 fixtures of the AFC Champions League (ACL) 2021 took place on Tuesday 14 September. While Nagoya Grampus defeated Daegu FC (Korea Republic) 4-2 at home, thanks to the hat-trick scored by SWIERCZOK. J.League champions Kawasaki Frontale lost to the ACL defending champions Ulsan Hyundai FC (Korea Republic) in a penalty shoot-out.
Nagoya's Swierczok scores hat-trick
After advancing through the group stage as the leader of Group G, Nagoya welcomed Daegu, the runners-up of Group I, to Toyota Stadium for the round of 16. Due to the influence of the Covid-19 pandemic, the format for this year's ACL knockout stage is held in a single-elimination format in which the winner is decided by a single-leg, instead of the usual home and away two-legged ties.
The match started with Daegu's CESINHA scoring the opening goal in the fourth minute. Nagoya quickly responded in the eighth minute, when Swierczok, SOMA Yuki, and MAEDA Naoki worked the left flank to break down the Daegu defence, setting up the right footed shot of Swierczok to equalise the match.
Swierczok, who joined Nagoya following the ACL group stage, continued to create opportunities from the left side, as he showed great combinations with YOSHIDA Yutaka to threaten the opposing goal.
Daegu constructed their offence around their Brazilian trio, EDGAR, Cesinha, and Bruno LAMAS, as they showed great techniques to exploit the space between the Nagoya defence and midfield, allowing JEONG Seung-won to penetrate the space to create opportunities. With Edgar converting a cross with a header in the 28th minute, Daegu took a 2-1 lead into halftime.
Nagoya made changes to bring in MORISHITA Ryoya and KIMOTO Yasuki to start the second half. This substitution turns out to be effective, as Morishita assisted the goal of Swierczok to level the game in the 63rd minute. Two minutes later, the 28 year old Polish striker responded to a long feed delivered by Yoshida, took on two defenders before scoring his third goal of the match to put Nagoya ahead.
With momentum on their side, Nagoya went onto score their fourth goal in the 79th minute, when NAKATANI Shinnosuke converted the cross of MATEUS to double their lead.
Now trailing by two goals, Daegu rallied in the closing minutes, as Cesinha and PARK Han-bin created chances to threaten the Nagoya goal, but led by their goalkeeper LANGERAK, the Nagoya defence showed great composure to maintain their lead, punching their ticket to their first ACL quarterfinals since 2009.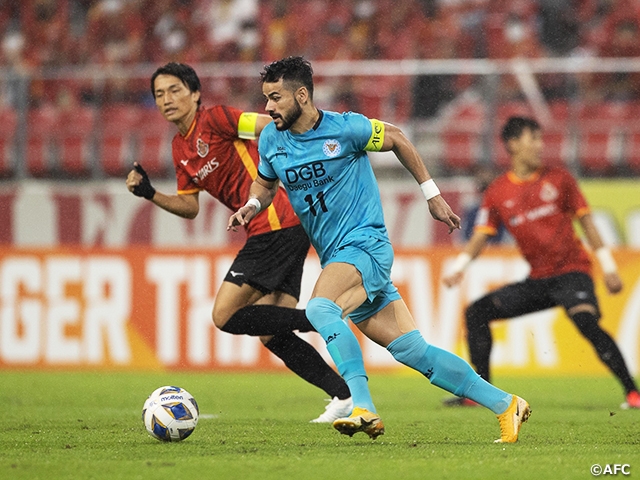 Kawasaki lose in penalty shoot-out
Seeking for their first Asian title, Kawasaki Frontale faced the defending champions Ulsan Hyundai FC in the round of 16.
After winning the group stage, Kawasaki lost MITOMA Kaoru and TANAKA Ao to the transfer market, while losing players like TANIGUCHI Shogo and OSHIMA Ryota to injuries. Facing an opponent who also led their group at the group stage, Kawasaki started DAMIAO Leandro, IENAGA Akihiro, WAKIZAKA Yasuto, and KOBAYASHI Yu in their attacking third.
Led by coach HONG Myung-bo, who has plenty of experience playing in the J.League, Ulsan applied aggressive pressure form their front line while showcasing quick transitions between offence and defence to create chances. LEE Dong-jun and OH Se-hun actively took shots to threaten the Kawasaki goal, but led by their centre halves JESIEL and YAMAMURA Kazuya, Kawasaki showcased a solid collective effort to keep the match scoreless.
Despite giving up the initiative to Ulsan in the first half, Kawasaki managed to create opportunities in the second half, as they responded quicker to the second balls while keeping the ball moving when they had possession of the ball. However, with both sides failing to score a goal, the match entered overtime.
At the end of the first half of overtime, CHINEN Kei responded to a pass delivered by SCHMIDT to strike a header but couldn't hit the target. TACHIBANADA Kento also made an attempt in the second half of overtime, but his effort failed to capture the goal as well.
The match remained scoreless after 120 minutes of play, and the winner had to be determined by a penalty shoot-out. Despite taking a 2-1 lead at the end of the third turn, Kawasaki failed to convert back to back spot-kicks while Ulsan made both, sending the K.League champions into he quarterfinals.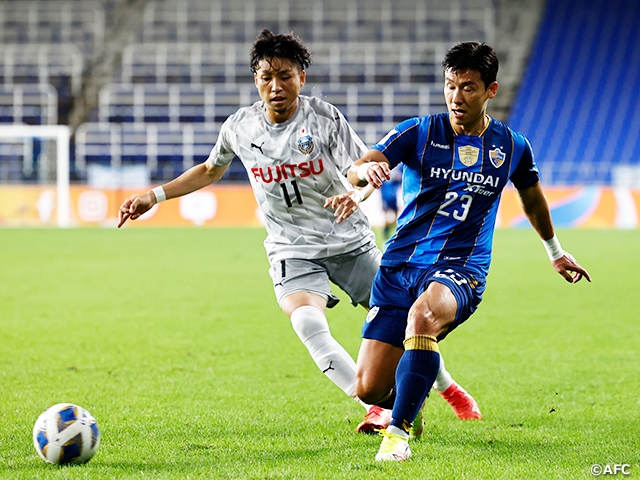 Cerezo Osaka is scheduled to face FC Pohang Steelers (Korea Republic) at home on Wednesday 15 September.
Coaches and Players' Comments
Massimo Ficcadenti, Coach (Nagoya Grampus)
Both teams showcased superb performances in both offence and defence, and we thank our opponent for making this such a wonderful match. It became an open match, but after 90 minutes of play, I feel that we showed a performance that was worthy of a victory. During halftime, I told my players that we need to make some changes in the flanks. Swierczok really showed us his abilities as a striker in the final third. This comeback victory over a strong opponent gives us great confidence moving forward.
FW Jakub SWIERCZOK (Nagoya Grampus)
It was unfortunate that we conceded two goals, but I feel that we were able to take control over the match afterwards. I am glad I was able to score three goals, and I am happy that the team is advancing through to the next round. I was able to score because my teammates provided me with great passes. The first two goals were easy goals, but the third goal was a bit difficult. I managed to stay focused and showcase my usual performance, but more than anything, I am glad the team won today.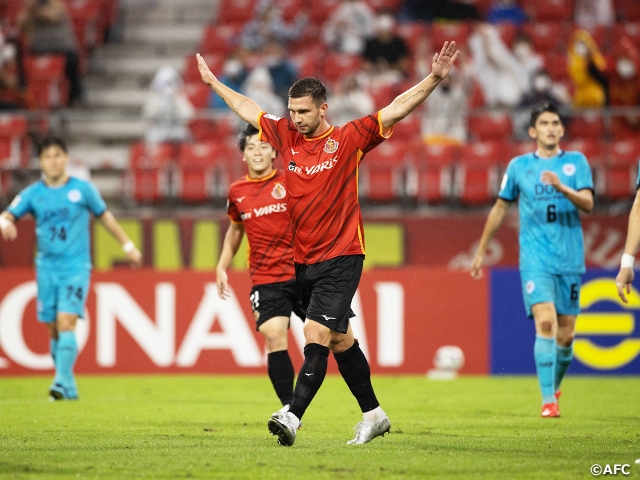 LEE Byung-keun, Coach (Daegu FC)
I am very disappointed that we couldn't advance through to the quarterfinals. Although we were able to play well and score two gaols in the first half, it was unfortunate that we lost a player with an injury and couldn't play in our best condition. The players still played very hard and showcased a performance that left a strong impression. We were expecting #8 (KAKITANI Yoichiro) to be playing upfront, but we faced #40, who showed great abilities to score goals, and although we were able to limit the damage in the first half, we gave up too many chances in the second half.
Oniki Toru, Coach (Kawasaki Frontale)
This was a very tough match. After surviving a difficult first half, we managed to make the necessary adjustments to take control of the second half. We really wanted to score a goal while we had control, but the opponent made it difficult for us to score. We made changes in the second half to score goals, and our players fought really hard. It was unfortunate that we lost in penalties, but I am proud of our performance and want our players to keep their head up high.
GK JUNG Sung-ryong (Kawasaki Frontale)
Considering that this was an away match against an opponent who was fully prepared, I think we gave our very best. Despite facing a strong opponent, we knew we were a good team too, and was pretty confident that we can win this match. This is an unfortunate result, but we will make the most of this experience and try to reset our minds ahead of our league matches.
MF TACHIBANADA Kento (Kawasaki Frontale)
It was an intense match against a strong opponent. It reminded us that we need to train even harder to be able to score under high pressure, both as a team and as an individual. It made want to become a player that can make a difference in close matches like these.
HONG Myung-bo, Coach (Ulsan Hyundai FC)
Both teams played very well, and I am proud of the fact that we were able to showcase a strong performance against a solid team like Kawasaki. We kept our focus until the end and despite losing a player with an injury, the players off the bench played very well to help us earn this victory.