NEWS
Kobe advances to third round with win over Suzuka in the Emperor's Cup JFA 101st Japan Football Championship
17 June 2021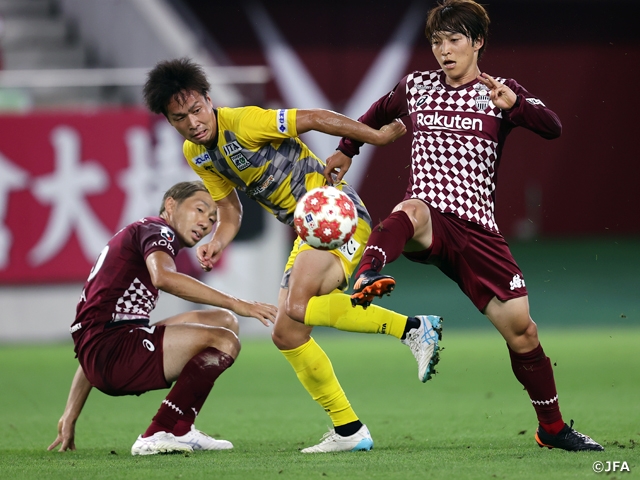 The remaining second round fixtures of the Emperor's Cup JFA 101st Japan Football Championship took place on Wednesday 16 June.
Pick-up Match
Vissel Kobe 4-0 (1-0, 3-0) Suzuka Point Getters
At Noevir Stadium Kobe Vissel Kobe(J1) faced Suzuka Point Getters (Mie). While Kobe started the match by connecting short passes from the defence line, Suzuka came out applying aggressive pressure from the front line, as coach Milagros MARTINEZ later reflected, "We were able to apply pressure from our attacking third and create good offence after winning the ball." In the second minute, TAMURA Shota broke through the left flank before sending a cross towards the centre, allowing UMIGUCHI Genta to strike a shot, but his attempt fell short from capturing the Kobe goal.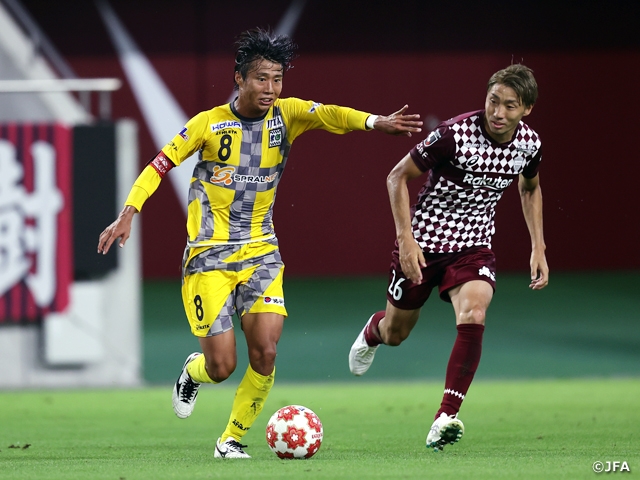 "We told each other to focus on the first 15 minutes of the match, but made too many passive plays. It allowed our opponents to gain momentum." As KOBAYASHI Yuki later mentioned, Kobe gave up the initiative to Suzuka, but gradually picked up their pace as the match progressed. In the 18th minute, NAKASAKA Yuya came close to capitalising a cross sent by HATSUSE Ryo, but his header was denied by Suzuka's SAKATA Akihiro. The opening goal came in the 29th minute, when the ball was connected from Kobayashi to Hatsuse, then to FUJIMOTO Noriaki who delivered a direct cross towards the centre, which was calmly converted by TANAKA Junya, giving Kobe a 1-0 lead.
With momentum on their side, Kobe continued to create opportunities in the second half, as their second goal came in the 49th minute, when Kobayashi struck a header off a CK delivered by Hatsuse. In efforts to change the dynamics of the match, the Mie side brought in two of their attacking players, but Kobe continued to dominate the match, as Suzuka's second half substitute KAWASATO Kotaro later reflected, "Our opponent possessed the ball with great quality. We had to chase the ball from the first half, so we were out of gas at the end." In the 61st minute, Kobe scored a goal from a sequence between Nakasaka and INOUE Shion before Tanaka scored his second goal of the match.
Kobe brought in players like Ayub MASIKA and YASUI Takuya in the closing minutes to close out the match, as they continued to apply pressure upfront. With Yasui scoring the fourth goal in the 90th minute, Kobe walked away with a 4-0 victory, in which Kobayashi mentioned after the match, "This was a much tougher match than what the score indicates. We are glad that we were able to score four goals while keeping a clean sheet."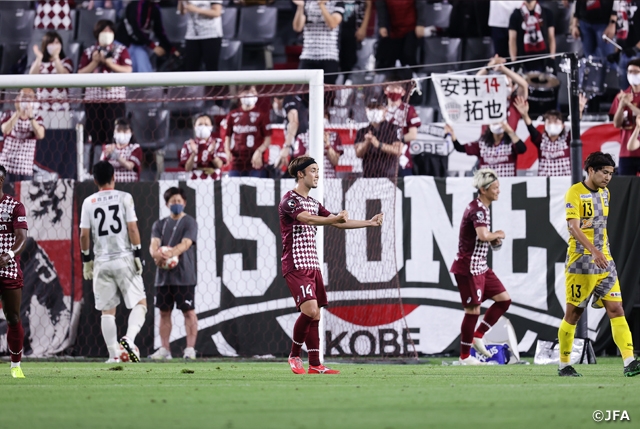 Coaches and Players' Comments
MIURA Atsuhiro, Coach (Vissel Kobe)
The Emperor's Cup has its own difficulty of facing teams from lower categories, but with the entry to the ACL at stake, we entered with a must win mentality. Prior to the match, I told my players to play aggressively in both offence and defence, but we showed passive plays in the early minutes, so I had to remind them during the water break. Our plays improved after that, as our players started to play more offensive and made good runs. The players did a great job of understanding and executing what we had to do.
TANAKA Junya (Vissel Kobe)
Although we struggled at the beginning of the match, we managed to make our adjustments as the match progressed. The first goal came from a great run and cross by Nori (Fujimoto). That goal really allowed us to regain our composure. Shion (Inoue) delivered a perfect ball when I scored my second goal. My body just reacted to his cross. Despite not having any issues with injuries up to this year, I have suffered two muscle strains this year. I am starting to realise that my body is changing, but I want to continue with my career, so I will do my best to stay healthy.
Milagros MARTINEZ, Coach (Suzuka Point Getters)
We managed to enter the match strong and showcased a good performance, but our opponent gradually picked up their pace to dominate the match. We did well against a team that can execute a superb passing game but lost our momentum after conceding in the second half. Our opponent consisted of top class players in the attacking third. Although we have been struggling in our league matches, I am satisfied with the efforts made by the players today.
UMIGUCHI Genta (Suzuka Point Getters)
Our strengths lie on our ability to apply pressure and initiate fast breaks. It is something we have spent a lot of time in our training sessions, but we still lacked quality in our plays today. It tells us that we are not at the level as Kobe. It felt like we were dominated more than what the score suggests. The opposing players showcased great quality in each of the fundamental skills, such as controlling and kicking the ball. I am just shocked to see how good they are.
Emperor's Cup JFA 101st Japan Football Championship
【1st Round】Sat. 22, Sun. 23 May [Backup date: Mon. 24 May]
【2nd Round】Wed. 9, Wed. 16 June
【3rd Round】Wed. 7 July [Backup date: Wed. 14 July]
【Round of 16】Wed. 18 August [Backup date: Wed. 13 October]