NEWS
Shimizu defeats Omiya to start the season with back to back wins at the Prince Takamado Trophy JFA U-18 Football Premier League 2021
12 April 2021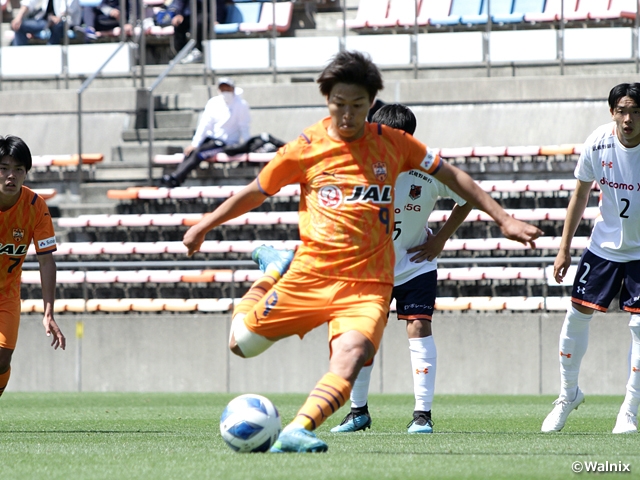 The second sec. of the Prince Takamado Trophy JFA U-18 Football Premier League 2021 EAST took place on Saturday 10 and Sunday 11 April.
Pick-up Match
Shimizu S-Pulse Youth 1-0 (0-0, 1-0) Omiya Ardija U18
At IAI Stadium Nihondaira, Shimizu S-Pulse Youth (Shizuoka) who won their first fixture 4-1 last week, welcomed Omiya Ardija U18 (Saitama) who on the other hand lost their season opener 0-4.
Reflecting on last week's loss, Omiya's coach TANNO Yusuke mentioned, "It was a match where we couldn't show anything we worked in the past." However, the team started off strong in their second fixture, shutting down the Shimizu offence to zero shots in the first half, as TAKAHASHI Manato (#6) mentioned, "After last week's loss, the senior players got together and decided to change the team's vibe from the training sessions."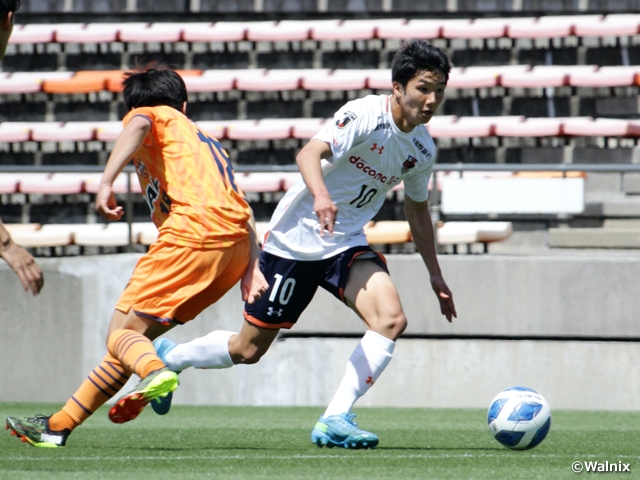 After seeing their offence kept at bay in the first half, Shimizu started to rally in the second half, as CHIBA Kanta (#9) later described, "Nihondaira is our home stadium. We are all striving to play here in the future, so this was a match we couldn't afford to lose." With both sides showing strong performances, the match came down to the wire.
Coming off of an injury, Chiba was "not in his top form" according to coach IWASHITA Jun, but the striker proved to be the difference maker in this match, as he earned a PK in the 88th minute, which he converted himself to give the home side the lead, as the striker later reflected, "I wasn't nervous at all because I knew I was going to score."
Despite their strong performance, Omiya conceded a late goal that turned out to be the deciding factor, as Takahashi looked back on the match, "We exhausted ourselves to build our momentum in the first half, which left us with an empty tank at the end."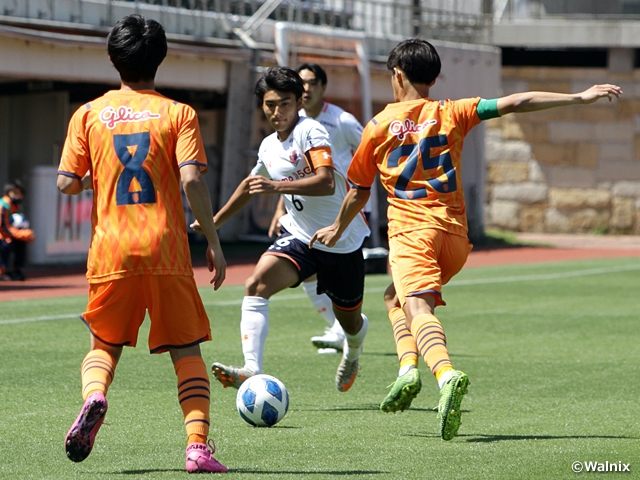 With his side coming up with a close victory, coach Iwashita started off by commenting, "It wasn't a win we can be proud of" and continued by stating, "we need to work on our tasks while the players still have a firm image of this match."
Omiya's coach Tanno also commented after the match, "Unlike our first match, where we didn't even challenge ourselves, we showcased a much better performance today. I wish we could have won this match, but that just shows how competitive this league can be. We hope to build on our offence, so that we can make the difference in close matches like this."
Coaches and Players' Comments
IWASHITA Jun, Coach (Shimizu S-Pulse Youth)
It felt like our opponent had control over this match, so it wasn't a win we can be proud of. We must use this as a learning experience and try to understand what went right and what went wrong in this match. We also need to understand the fundamentals of football. However, it was great to see our players communicating on the pitch, so that is an aspect we hope to build on in our future matches.
FW #9 CHIBA Kanta (Shimizu S-Pulse Youth)
It is an honour to be able to play at IAI Stadium Nihondaira, and we must not take for granted of these opportunities. Our defence did a great job keep a clean sheet. I have been prone to injuries as of late, so I felt so relieved when I scored that goal.
TANNO Yusuke, Coach (Omiya Ardija U18)
There are losses we can learn from, but last week's loss was not one of those. We trained hard this week so that we don't make the same mistakes. We could have used more early crosses and taken more risks to score goals. It was a shame we couldn't get anything going from our set-pieces as well.
MF #6 TAKAHASHI Manato (Omiya Ardija U18)
Unlike our match against Ryutsu Keizai University Kashiwa High School, we managed to play with great intensity from the first half, as we entered the match with the intention to challenge ourselves and showcase what we have been working on in our trainings. However, we had to be more creative to score goals, so that is an aspect we must work on ahead of our next match.
Results of other matches
Kashiwa Reysol U-18 2-3 (1-1, 1-2) Yokohama F.Marinos Youth
Aomori Yamada High School 9-0 (3-0, 6-0) Funabashi Municipal High School
Urawa Red Diamonds Youth 1-2 (0-1, 1-1) Ryutsu Keizai University Kashiwa High School
Yokohama FC Youth 2-2 (2-0, 0-2) FC Tokyo U-18
Despite taking the lead twice in their home match against Yokohama F.Marinos Youth (Kanagawa), Kashiwa Reysol U-18 (Chiba) allowed the Yokohama side to come back on both occasions, eventually conceding the go-ahead goal to SHIMADA Haruto (#13) in the 68th minute to drop their home fixture. In the match between Aomori Yamada High School (Aomori) and Funabashi Municipal High School (Chiba), the Aomori side showcased their dominance throughout the match, scoring nine goals to record back to back wins in the new season. After taking the lead with a first half PK, Ryutsu Keizai University Kashiwa High School (Chiba) managed to navigate their way through a 2-1 victory over Urawa Red Diamonds Youth (Saitama). The match between two sides who opened the season with a 1-0 victory, Yokohama FC Youth (Kanagawa) took the initiative by scoring two goals in the first half, but FC Tokyo U-18 (Tokyo) came from behind to equalise the match in the second half, as the two sides shared a point apiece.

Prince Takamado Trophy JFA U-18 Football Premier League 2021
League Duration: Sat. 3 April - Sun. 5 December 2021