NEWS
Aomori Yamada wins close match against Omiya to keep perfect record at the Prince Takamado Trophy JFA U-18 Football Premier League 2021
03 May 2021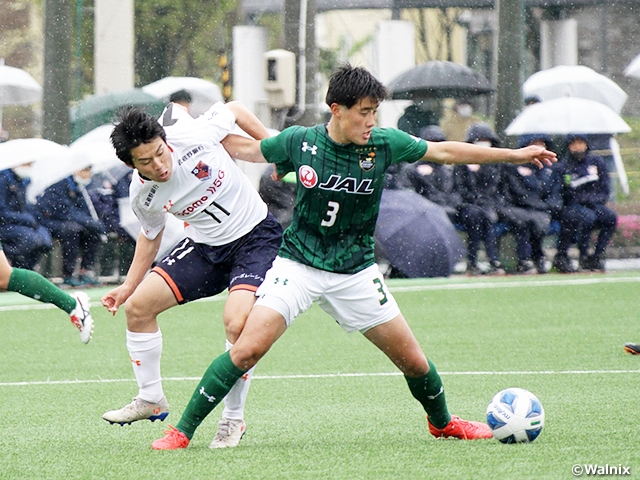 The fifth sec. of the Prince Takamado Trophy JFA U-18 Football Premier League 2021 EAST took place on Saturday 1 and Sunday 2 May.
Pick-up Match
Aomori Yamada High School 1-0 (0-0, 1-0) Omiya Ardija U18
With Shimizu S-Pulse Youth extending their winning streak to "5" on Saturday, Aomori Yamada High School (Aomori) faced Omiya Ardija U18 (Saitama) on Sunday, a match in which coach KURODA Go described as, "A match we cannot afford to lose in order to keep up with the pace of Shimizu."
The visiting side, Omiya, entered the match following a 1-0 victory over FC Tokyo U-18 (Tokyo), as NUKI Masato (#2) shared his confidence towards his team, "We are improving as a team." The Omiya defender continued to mention, "We told each other before the match to fight with a strong mentality."
Omiya started the match by sending long balls into the Aomori territory, as coach TANNO Yusuke later mentioned, "Our strengths lie on our ability to connect short passes, but we didn't want to square up against Aomori Yamada's strong defence, so I told our players to make our opponent chase the ball."
Despite being caught by surprise with Omiya's tactic, as their midfielder UNO Zento (#6) mentioned, "We weren't expecting them to be using that many longballs," the Aomori side still managed to keep their composure to make the necessary adjustments on the pitch.
With GK NUMATA Koki (#1) making a spectacular save to keep the score line intact, Aomori Yamada scored the opening goal in the 49th minute, when MATSUKI Kuryu (#10) calmly converted a PK to take the lead.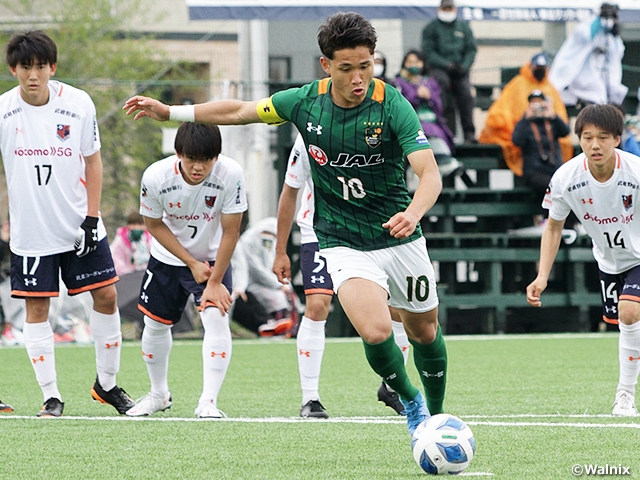 In efforts to level the match, Omiya rallied in the second half with YAMAZAKI Rin (#10) making attempts to break through with his dribbling skills, while his teammates utilised long-throws, and set-pieces to threaten the Aomori goal, but their efforts were denied by the tenacious defensive performance showcased by the Aomori side, as time ran out with Aomori Yamada securing their fifth straight victory with a final score of 1-0.
Following the match, Aomori's coach Kuroda mentioned, "Omiya had studied us very well, but it was great to see our side prevail at the end." Omiya's coach Tanno also commented, "Our players really showcased their wiliness to win the match. Although we fell short from equalising the match, we still managed to showcase that we are capable of deploying different strategies, and the players showed great improvements in this match."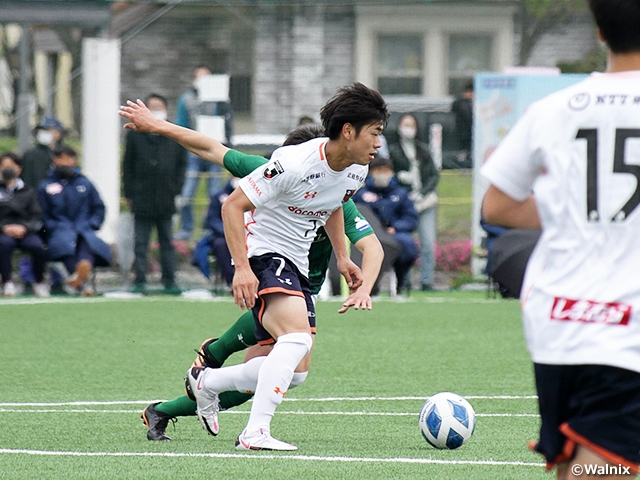 Coaches and Players' Comments
KURODA Go, Coach (Aomori Yamada High School)
Teams are generally testing the water in the first three league matches, but once reaching the fifth week, teams are fully aware of what they are up against. Therefore, we must be prepared to face opponents who are entering the match with the intention to deny our strong points. We conceded some close chances to our opponent today, but Numata did a great job to stop them, which kept us in the match.
GK #1 NUMATA Koki (Aomori Yamada High School)
I made a critical mistake to concede our first goal of the season last week, so I wanted to redeem myself. A single save can change the entire outcome of the match, and I feel like I was able to make that kind of save today. My goal is to become a player like OKI Yuya, who currently plays for Kashima Antlers and used to play for the same junior youth team as I did.
TANNO Yusuke, Coach (Omiya Ardija U18)
In order to put up a good fight against the league leader, we had to give everything we've got. I didn't say anything special, but our players were fully motivated for this week. The competition level helped bring out the best of our players today, and I am proud of their performance.
DF #2 NUKI Masato (Omiya Ardija U18)
Although we created many opportunities, we couldn't convert them, which turned out to be the big difference in this match. However, we didn't concede goals from run of plays, and we were able to put up an equal bout against Aomori Yamada, so I am satisfied with our overall performance. Unlike the first few matches, we are now entering each match with a sense of challenger's spirit, so we hope to continue with that attitude.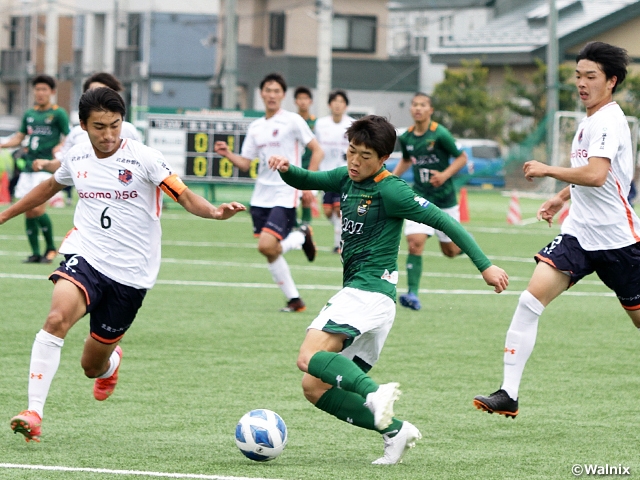 Results of other matches
Shimizu S-Pulse Youth 4-0 (1-0, 3-0) Kashiwa Reysol U-18
Yokohama FC Youth 2-2 (1-1, 1-1) Urawa Red Diamonds Youth
Yokohama F.Marinos Youth 1-2 (0-1, 1-1) Funabashi Municipal High School
Postponed Ryutsu Keizai University Kashiwa High School vs FC Tokyo U-18
Shimizu S-Pulse Youth (Shizuoka) welcomed Kashiwa Reysol U-18 (Chiba) to their home, where they extended their winning streak to "five" as they bagged a 4-0 victory. In the match between Yokohama FC Youth (Kanagawa) and Urawa Red Diamonds Youth (Saitama), both sides scored a goal apiece in each half, drawing the match 2-2. Funabashi Municipal High School (Chiba) edged Yokohama F.Marinos Youth (Kanagawa) 2-1 after both sides exchanged a late goal in the second half. The match between Ryutsu Keizai University Kashiwa High School (Chiba) and FC Tokyo U-18 (Tokyo) was postponed in response to the state of emergency announced by four prefectures. New match dates will be announced in due course.

Prince Takamado Trophy JFA U-18 Football Premier League 2021
League Duration: Sat. 3 April - Sun. 5 December 2021