NEWS
Tosu share a point with Ozu despite send-off at the Prince Takamado Trophy JFA U-18 Football Premier League 2021 WEST
28 June 2021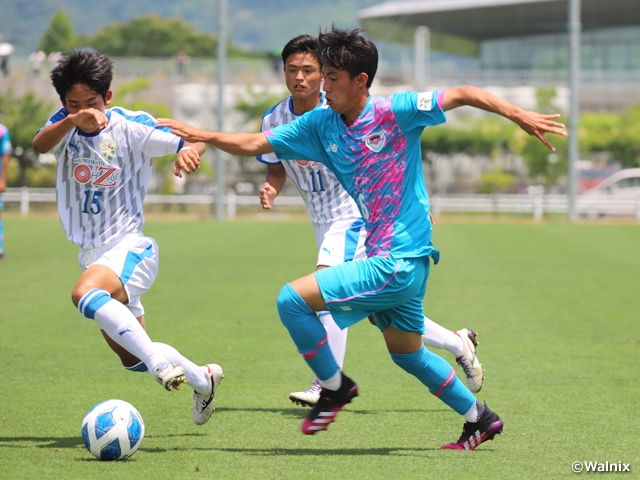 The eighth sec. of the Prince Takamado Trophy JFA U-18 Football Premier League 2021 WEST took place on Saturday 26 and Sunday 27 June, where Sagan Tosu U-18 (Sagan) squared off against Ozu High School (Kumamoto).
Pick-up Match
Sagan Tosu U-18 1-1 (0-0, 1-1) Ozu High School
After making his J1 debut three days before this match, NITTA Rio (#11) started on the bench for Tosu, but NAKANO Shinya (#6), who had been with the top team for most of this season, made his first start at the Premier League, as the defender mentioned, "I need more playing time to get better. I have not been able to gain as many minutes as I wanted with the top team, so I was eager to play long minutes with the U-18 squad." While Nakano made numbers of runs down the flank to create opportunities, Ozu's SAKATA Togo (#2) displayed great coverage to contain the fullback from breaking loose.
Ozu's organised defence proved to be effective in the first half, as KAWAZOE Taiki (#4) later reflected, "Are football starts from defence and we are always trying to keep the first half scoreless." In the 19th minute, Ozu intercepted a pass deep in the Tosu territory and connected the ball to KAWAGUCHI Atsushi (#7) who struck a shot from midrange. The shot was handled by the Tosu GK outside the box, which resulted in a red card shown to the GK.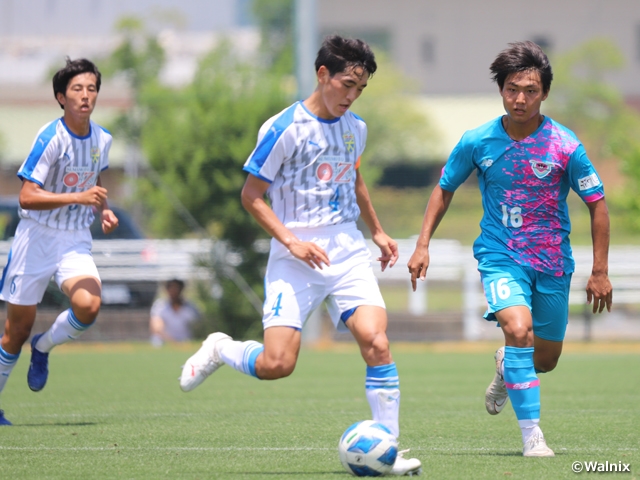 Despite playing with 10 players, Tosu showcased great resilience to keep the pressure against Ozu. The Saga side even created opportunities by building their attacks around FUKUI Taichi (#14). With Nitta being introduced to the pitch in the second half, the Tosu offence turned up their gear to threaten the Ozu goal, as Nitta later reflected, "My teammates know how I play, so they kept delivering long balls behind the opponent's defence line." Their simple approach came to fruition in the 72nd minute, when Nitta responded to a long feed delivered by SAKAI Shunya (#5) to convert the one-on-one, giving Tosu the lead.
In efforts to rally back, Ozu introduced their captain MORITA Daichi (#10) in the closing minutes. With time running out, HIDAKA Haruto (#3) delivered a long-throw in the 84th minute, which was initially blocked by the Tosu defence, but Kawazoe responded to the loose ball and struck a powerful shot that captured the net. With momentum on their side, Ozu dominated the last five minutes, but fell short from scoring the go-ahead goal, as Kawazoe later commented, "Despite being down by a player, our opponent ran tenaciously and made it feel like we were up against 12 or 13 players."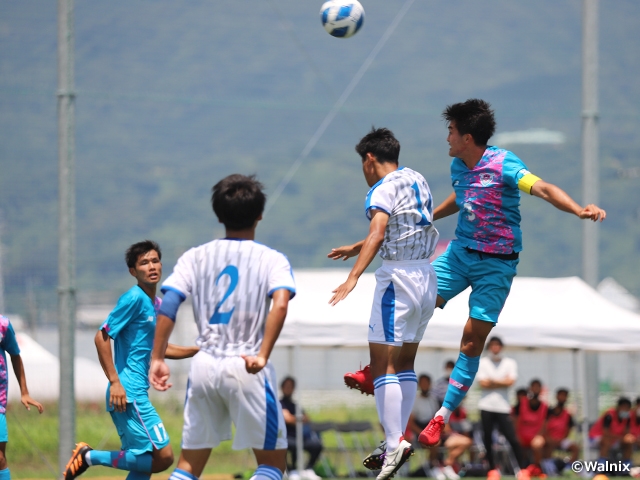 Coaches and Players' Comments
TANAKA Tomonori, Coach (Sagan Tosu U-18)
After we were down by a player, our plan was to endure the first half and make our move in the second half by bringing in Nitta. Everything went according to plan until we scored the goal. With our side playing through with 10 men, I can't ask for more. Kawazoe, who scored the equaliser for Ozu, is a player I coached at the U-15 category, so I am happy for his goal.
DF #6 NAKANO Shinya (Sagan Tosu U-18)
I entered the match thinking I had to be the difference maker at the U-18 category. I wanted to produce results in the form of goals and assists, but I didn't have what it takes to earn the results I wanted. Especially in the first half, I was surrounded by the opponents and couldn't break through. I made the adjustments in the second half and started to make more runs down the line, so that is a positive aspect I can take back from this match. Our opponent started to dominate the match after we took the lead, so that is an aspect we could improve on, but all and all, we are happy to take back a point from this match.
YAMASHIRO Tomohiro, Coach (Ozu High School)
Our team has dominated the second half in all of our matches thus far, so that is an aspect we feel confident about. After one of the opponent players was ejected from the game, our players started to play passively, so we focused on our defence in the first half, with the intention of bringing in Morita to attack the second half. It was disappointing that we failed to capitalise on our opportunity to score the second goal, but we are glad to walk away with a point. Being able to play against Nakano is a valuable experience. The player who scored the equaliser, Kawazoe, used to play for the U-15 squad of Tosu, so he came up big for us today.
DF #4 KAWAZOE Taiki (Ozu High School)
I was facing my former team, so I was fired up more than anybody. I was given the arm-band on behalf of an injured teammate, so I was determined to keep the team on the same page. Our team consists of many players who were cut or rejected by youth clubs, so we were pretty fired up for this match. It is disappointing that we couldn't win against a team with 10 players, but the fact that we came from behind was a sign of improvement for our team.
Results of other matches
Cerezo Osaka U-18 Postponed Jubilo Iwata U-18
Vissel Kobe U-18 3-0 (2-0, 1-0) Kyoto Sanga FC U-18
Higashi Fukuoka High School 0-4 (0-1, 0-3) Sanfrecce Hiroshima F.C Youth
Nagoya Grampus U-18 Postponed Gamba Osaka Youth
Vissel Kobe U-18 (Hyogo) welcomed Kyoto Sanga FC U-18 (Kyoto) at home, where they scored three goals to claim their first win of the season. Sanfrecce Hiroshima F.C Youth (Hiroshima), who currently lead the WEST, scored four goals in their shutout victory over Higashi Fukuoka High School (Fukuoka) to remain in first place. Fixtures between Cerezo Osaka U-18 (Osaka) and Jubilo Iwata U-18 (Shizuoka), Nagoya Grampus U-18 (Aichi) and Gamba Osaka Youth (Osaka) were postponed, due to limited training period for the two Osaka sides. New match dates will be announced in due course.
Prince Takamado Trophy JFA U-18 Football Premier League 2021
League Duration: Sat. 3 April - Sun. 5 December 2021