NEWS
Shimizu beat Urawa to stay in the hunt for the title - Prince Takamado Trophy JFA U-18 Football Premier League 2021 EAST
25 October 2021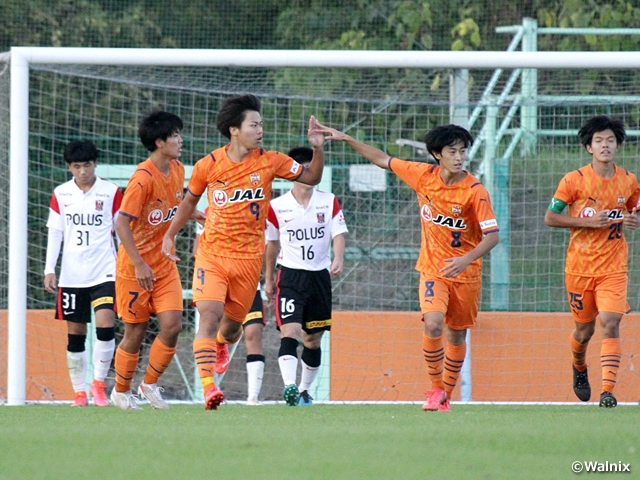 Three of the postponed matches in the Prince Takamado Trophy JFA U-18 Football Premier League 2021 EAST took place on Saturday 23 and Sunday 24 October.
Pick-up Match
Shimizu S-Pulse Youth 5-2 (0-1, 5-1) Urawa Red Diamonds Youth
The 13th sec. fixture between second place Shimizu S-Pulse Youth (Shizuoka) and last place Urawa Red Diamonds Youth (Saitama) took place in Shizuoka. While Shimizu is chasing the league leader Aomori Yamada High School (Aomori) in the title race, Urawa is also competing to avoid relegation, making this a must win match for both sides.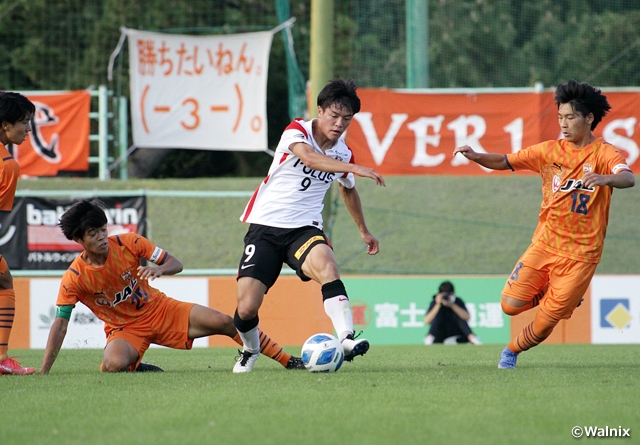 The opening goal came in the ninth minute, when Urawa's HAYAKAWA Junpei (#39) received the ball from HORIUCHI Yota (#16) and struck a spectacular shot that ended in the back of the net.
After conceding the opener, Shimizu struggled to find their rhythm, as CHIBA Kanta (#9) later reflected, "Because we were winless in the recent two matches, we couldn't have a good image of ourselves, which led us to lose our composure." The home side couldn't evade the pressure applied by Urawa and ended the first half with just one shot.
During halftime, Shimizu's coach IWASHITA Jun started his pep-talk by saying, "We have experienced many matches thus far," and continued by saying, "Let's think about where to look forward and whether there are any options to pass the ball." The players also communicated with each other to reconfirm their intentions, such as the timing of their vertical passes and cross balls, which allowed them to enter the second half with a better understanding of each other.
With the players playing on the same page, Shimizu managed to level the match in the 51st minute. The goal came when Chiba responded to a deflection of the cross delivered by WATANABE Keika (#22), as the striker later mentioned, "I knew that a goal would give our side confidence and momentum."
While the equaliser gave Shimizu momentum, Urawa started to lose their composure, as coach IKEDA Nobuyasu later reflected, "We weren't able to control our mental state," and that, "Because we were so eager to win the match, we started to play defensively after taking the one goal lead."
With momentum on their side, Shimizu went onto score four unanswered goals, as ANDO Aoi (#23) and KANEKO Seita (#7) scored in the 56th and 71st minute respectively, before Chiba scored his second and third goal in the 76th and 84th minute to complete his hat-trick. Despite conceding a goal to SEYAMA Kazuki (#37) during additional time, the home side walked away with a 5-2 victory that closed the gap between Aomori Yamada to six points.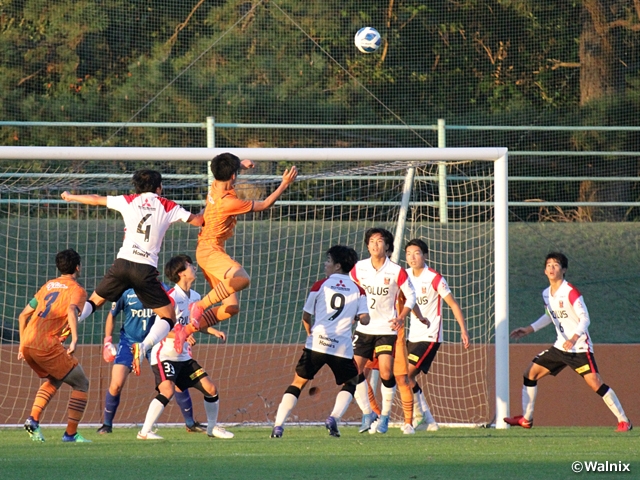 Coaches and Players' Comments
IWASHITA Jun, Coach (Shimizu S-Pulse Youth)
We discussed during halftime how we should try to pass the ball before the opposing defenders make their shift, and how we should try to cross the ball before the they fully return. We were not playing on the same page in the first half but managed to make the adjustments in the second half.
FW #9 CHIBA Kanta (Shimizu S-Pulse Youth)
I demanded for more softer crosses during halftime. Up until our last match, we were too conscious of the title race, which had a negative effect on our performance. We came to realise that it is more important to focus on the match in front of us, so we hope to keep that mentality for the rest of the season.
IKEDA Nobuyasu, Coach (Urawa Red Diamonds Youth)
In football, it is important to play the full 90 minutes. There was a stiffness that came from the fact that we had not won many matches this season, and we lost our composure after conceding the equaliser. I don't think our performance was that great from the first half, but our mental weakness was definitely exposed in the second half. We have another match coming up soon, so we will continue to improve ourselves towards that.
DF #6 ONO Kakeru (Urawa Red Diamonds Youth)
I feel responsible for the first goal we conceded at the beginning of the second half because it started from a play in which I was outplayed by my opponent. Even if I make mistakes, I had to be more vocal and try to motivate my teammates, so that is an aspect I need to improve myself.
Results of other matches
Omiya Ardija U18 6-1 (2-0, 4-1) Yokohama F.Marinos Youth
FC Tokyo U-18 0-1 (0-0, 0-1) Kashiwa Reysol U-18
The eighth sec. fixture between Omiya Ardija U18 (Saitama) and Yokohama F.Marinos Youth (Kanagawa) took place on Saturday. After taking a two goal lead in the first half, Omiya added four more goals in the second half, including the hat-trick of YAMAZAKI Rin (#10) to blow past Yokohama FM. Kashiwa Reysol U-18 (Chiba) claimed the win over FC Tokyo U-18 (Tokyo) in the postponed match from the seventh sec., thanks to the 86th minute goal scored by MAIE Hidetaka (#9).

Prince Takamado Trophy JFA U-18 Football Premier League 2021
League Duration: Sat. 3 April - Sun. 5 December 2021