NEWS
Kawasaki win four in a row thanks to the goal scored by their ace - Prince Takamado Trophy JFA U-18 Football Premier League 2022
16 May 2022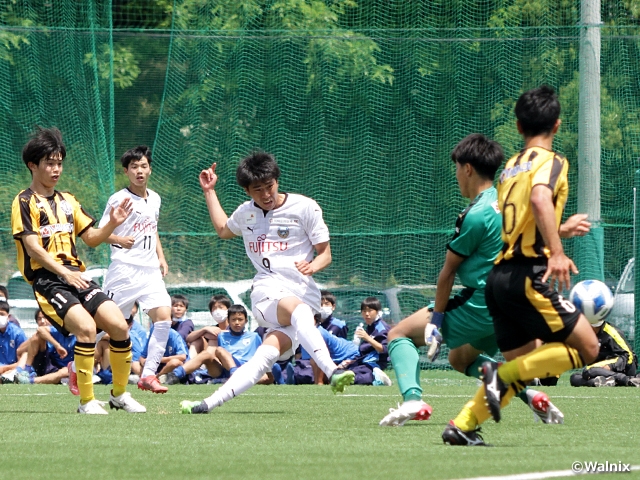 The seventh sec. of the Prince Takamado Trophy JFA U-18 Football Premier League 2022 EAST took place on Saturday 14 and Sunday 15 May. Two of the newly promoted sides, Maebashi Ikuei High School (Gunma) and Kawasaki Frontale U-18 (Kanagawa) squared off in Takasaki, Gunma.
Featured Match
Maebashi Ikuei High School 0-1 (0-0, 0-1) Kawasaki Frontale U-18
For Kawasaki, who are in first place with 16 points, this is a match they cannot afford to lose in order to maintain the lead in the EAST, while for Maebashi Ikuei, who trail Kawasaki by four points, this match presents a great opportunity for them to close down the gap and contend for the title, as coach YAMADA Kosuke mentioned, "We entered the match prepared to contain our opponents from doing what they wanted to do."
As Maebashi Ikuei's TOKUNAGA Ryo (#14) recalled, "Our opponents struggled against us," the Gunma side did a great job keeping their lines compact and giving Kawasaki very little space to work with. Facing the resistance showcased by Maebashi Ikuei, Kawasaki's coach NAGAHASHI Yasuhiro commented, "We were not allowed to demonstrate our football, especially in the first half."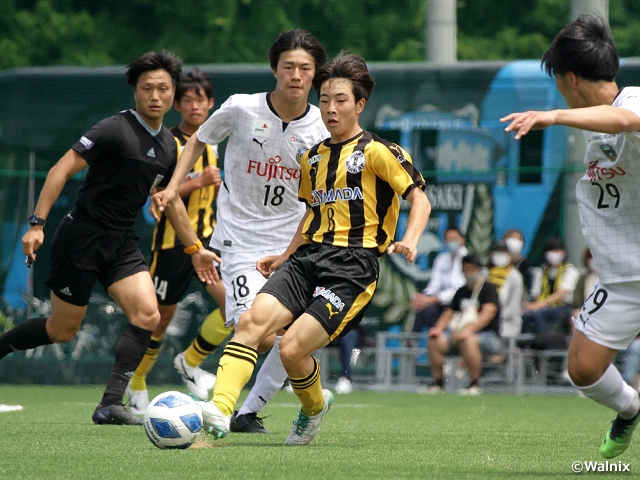 In exchange for their defensive efforts to keep Kawasaki at bay, the home side struggled to create any threats offensively, as coach Yamada later reflected, "We played too defensively," and as Tokunaga mentioned, "We created very few opportunities to take a shot." However, the stalemate came to an end in the second half, and it was Kawasaki who broke the deadlock, as coach Nagahashi later praised his players, "The players displayed great patience despite the tough circumstance."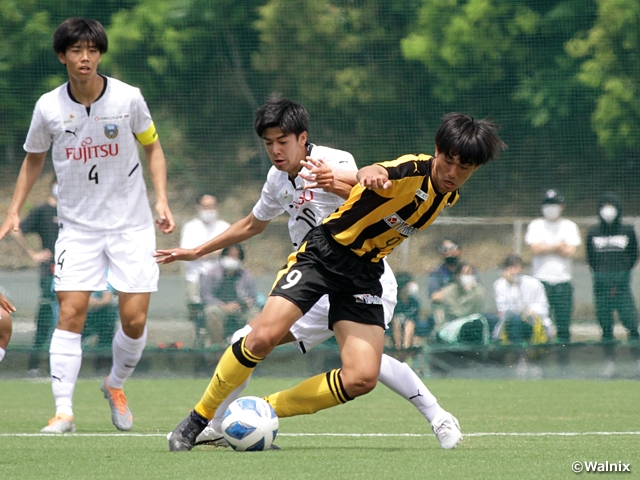 Just as Maebashi Ikuei started to pick up their pace with attacks initiated by TAKAASHI Zen (#10) and KOIKE Naoya (#9), the decisive moment arrived in the 69th minute, as Tokunaga described, "It was the one moment that we let our guards down." OKAZAKI Torataro (#20), who had been contained by the Maebashi Ikuei defence until this moment, carried the ball deep into the opposing territory before delivering the final pass to GOKITA Kishin (#9), who superbly pierced a right-footed shot into the net, as the striker later commented, "It came from my game intuition.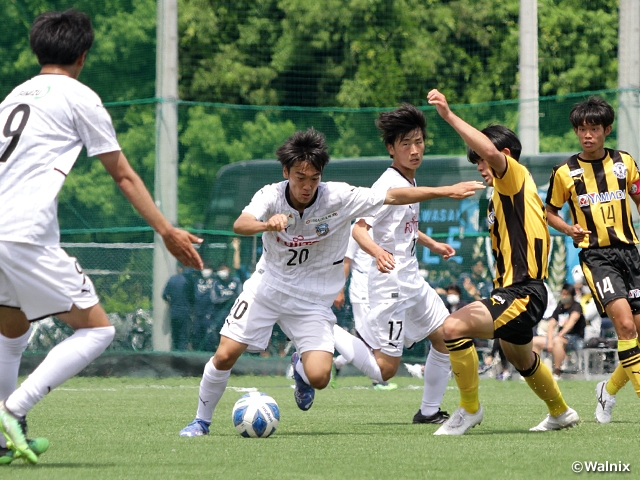 Despite the late efforts showcased by Maebashi Ikuei to equalise the match, Kawasaki's defence led by their captain TAKAI Kota (#4) and goalkeeper HAMASAKI Tomoyasu (#21), the league leader managed to keep a clean sheet to walk away with yet another three points, extending their winning streak to four matches.
Coaches and Players' Comments
YAMADA Kosuke, Coach (Maebashi Ikuei High School)
We managed to keep our lines compact and gave Kawasaki limited space to work with. The defensive midfielders did a great job to track back and apply pressure from midfield, which disabled our opponents to penetrate the central area. However, we need to be able to exploit the space behind the opposing defence. That is an aspect we must improve on, in addition to the scene where we conceded the goal.
MF #14 TOKUNAGA Ryo (Maebashi Ikuei High School)
This is a very disappointing result. The team fought very hard throughout the match. We were anticipating for the runs made by Okazaki and OKANOICHI Kyohei (#11), but we let our guards down in that one moment. These are the kinds of matches we need to win in order to contend for the title, so this is a very regretful loss.
NAGAHASHI Yasuhiro, Coach (Kawasaki Frontale U-18)
Maebashi Ikuei was truly a tough opponent to play against. They really kept our offence at bay and presented a challenge that really pushed the limits of our players. There are no easy matches in the Premier League. Each team has their own colour, which provides us with a different challenge to work with and a unique learning experience every week.
FW #9 GOKITA Kishin (Kawasaki Frontale U-18)
I have always wanted to become a player who scores when the team is struggling the most, so I am very happy to be able to score in a match like this. I wasn't fully aware of the goalkeeper's position, but my intuition told me to aim for the near side, so I went with my intuition. Our defence did a great job to keep us in this match, so I am glad I was able to score that goal.
Results of other matches
Omiya Ardija U18 2-0 (1-0, 1-0) Ryutsu Keizai University Kashiwa High School
Aomori Yamada High School 0-1 (0-0, 0-1) Yokohama FC Youth
Funabashi Municipal High School Postponed Kashiwa Reysol U-18
JFA Academy Fukushima U-18 2-2 (2-0, 0-2) Kiryu Daiichi High School
FC Tokyo U-18 1-4 (0-1, 1-3) Yokohama F.Marinos Youth
Omiya Ardija U18 (Saitama) scored a goal in each half to win over Ryutsu Keizai University Kashiwa High School (Chiba) 2-0. Yokohama FC Youth (Kanagawa) defeated Aomori Yamada High School (Aomori) 1-0, thanks to the 84th minute goal scored by SHOJI Keitaro (#38). Despite conceding two goals to JFA Academy Fukushima U-18 (Shizuoka) in the first half, Kiryu Daiichi High School (Gunma) scored two goals in the second half to walk away with a point. Yokohama F.Marinos Youth (Kanagawa) scored four goals in their win over FC Tokyo U-18 (Tokyo), as they moved up to second place in the ranking. The match between Funabashi Municipal High School (Chiba) and Kashiwa Reysol U-18 (Chiba) was postponed.
%F0%9F%8F%86#高円宮U18 プレミアリーグ 2022%F0%9F%8F%86
%F0%9F%94%B4EAST 第7節(5/15)%F0%9F%94%B4

%E2%9A%BD試合結果%E2%9A%BD#青森山田 0-1 #横浜FC#市立船橋 (延期) #柏#前橋育英 0-1 #川崎F#AC福島 2-2 #桐生第一#FC東京 1-4 #横浜FM

結果詳細はこちら%F0%9F%94%97https://t.co/Y65xFaqUYE#高校サッカー pic.twitter.com/ZR3mlJ3Ad1

— 高円宮杯 JFA U-18サッカープレミアリーグ (@jfa_u18) May 15, 2022
%F0%9F%8F%86#高円宮U18 プレミアリーグ 2022%F0%9F%8F%86
%F0%9F%94%B4EAST%F0%9F%94%B4

%E2%9A%BD暫定順位表%E2%9A%BD
1%E2%83%A3 #川崎F
2%E2%83%A3 #横浜FM
3%E2%83%A3 #FC東京
4%E2%83%A3 #前橋育英
5%E2%83%A3 #横浜FC
6%E2%83%A3 #大宮
7%E2%83%A3 #青森山田
8%E2%83%A3 #AC福島
9%E2%83%A3 #市立船橋
1%E2%83%A30%E2%83%A3 #流経大柏
1%E2%83%A31%E2%83%A3 #柏
1%E2%83%A32%E2%83%A3 #桐生第一

詳細はこちら%F0%9F%94%97https://t.co/xyY4xTyaZQ#高校サッカー pic.twitter.com/jzvASikP7x

— 高円宮杯 JFA U-18サッカープレミアリーグ (@jfa_u18) May 15, 2022
Prince Takamado Trophy JFA U-18 Football Premier League 2022
League Duration: Sat. 2 April - Sun. 4 December 2022