NEWS
Premier League starts off second half of the season with a Derby Match - Prince Takamado Trophy JFA U-18 Football Premier League 2022
08 July 2022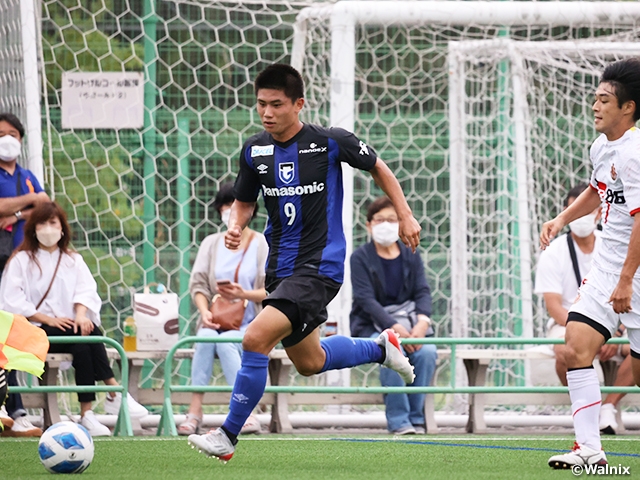 The Prince Takamado Trophy JFA U-18 Football Premier League 2022 is about to enter the second half of the season, as the 12th sec. takes place on Saturday 9 and Sunday 10 July.
EAST
EAST leaders Kawasaki Frontale U-18 (Kanagawa) will welcome Omiya Ardija U18 (Saitama) to their home. Despite entering their first season at the Premier League, Kawasaki kept an undefeated record in the first half, with 10 wins and one draw. In addition to a defence that has conceded a league-low seven goals, the team has also shown impressive offensive ability, scoring an average of five goals per match in the last three matches. On the other side, Omiya are in fifth place with five wins, one draw, and five losses. Coming off a win over FC Tokyo U-18 (Tokyo), in which team captain OZAWA Haruki (#3) scored the decisive goal in the losing minutes, the Saitama side will certainly be looking to gain momentum by beating two top rank teams in a row.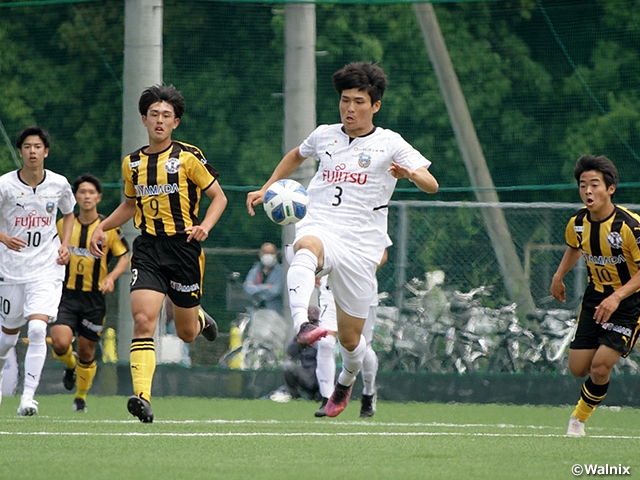 Second place Yokohama F.Marinos Youth (Kanagawa) will square off against Yokohama FC Youth (Kanagawa) in the "Yokohama Derby." The two sides have faced each other in the season opener, in which UCHINO Kotaro (#9) scored the first of three goals that led Yokohama FM to victory. Since then, Yokohama FM have maintained their position near the top of the table thanks to their attacking prowess, scoring a league-high 34 goals. Yokohama FC, meanwhile, are in seventh place with four wins, three draws, and four losses. They are looking to gain momentum with a win over their rivals.
Third place FC Tokyo will face JFA Academy Fukushima U-18 (Shizuoka). FC Tokyo got off to a good start with a 4-1 victory in their season opener against AC Fukushima, which was followed by four consecutive wins from the third sec., but have had a difficult campaign since then, recording just one win while losing four. With only two goals scored in the last three matches, expectations are high for a strong performance from their attackers, including KUMATA Naoki (#9), who is first in the scoring charts with 11 goals.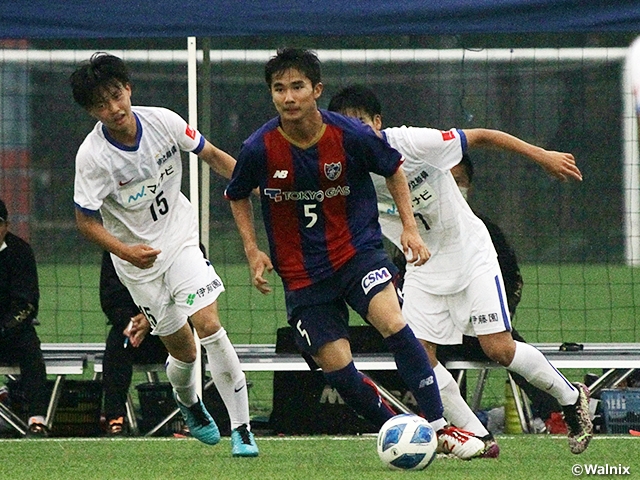 Elsewhere, Aomori Yamada High School (Aomori) will play against Funabashi Municipal High School (Chiba), Maebashi Ikuei High School (Gunma) against Kashiwa Reysol U-18 (Chiba), and Kiryu Daiichi High School (Gunma) against Ryutsu Keizai University Kashiwa High School (Chiba).
WEST
In last week's top-of-the-table clash between provisional second place Jubilo Iwata U-18 (Shizuoka) and leaders Sagan Tosu U-18 (Saga), Iwata took the lead in the first half, but goals from NARAHARA Yoshiki (#7) and OSATO Koma (#11) gave Tosu a comeback win, which allowed Tosu retain the top spot. This week Tosu will face sixth place Riseisha High School (Osaka), while Iwata face eighth place Sanfrecce Hiroshima FC Youth (Hiroshima). Both Riseisha and Hiroshima won the previous week, so all eyes will be on them to see if they can hold off the top teams.
Third place Shizuoka Gakuen High School (Shizuoka) will face Ozu High School (Kumamoto). Despite their impression run from the start of the season, Shizuoka Gakuen have lost two of their three recent matches. Ozu on the other hand, currently sit at the bottom of the table with one win, one draw, and six losses. The team has not won a match since the second sec. against Vissel Kobe U-18 (Hyogo), but captain KOBAYASHI Shunei (#9), who has scored in two consecutive matches, will lead the team to try to break the deadlock. It was Shizuoka Gakuen who won the first leg 4-0. Halfway through the season, what results await us this time?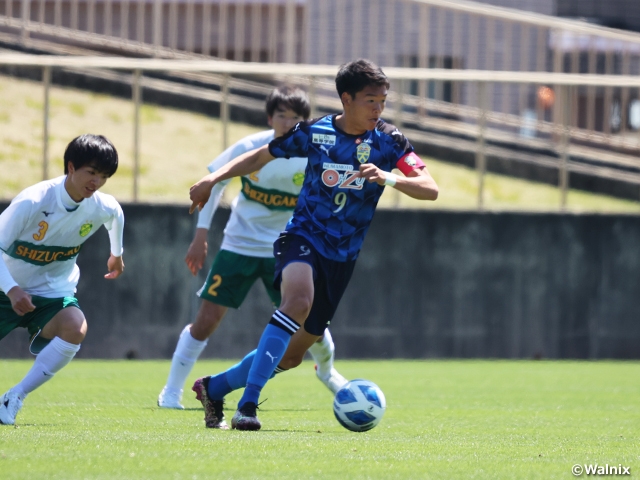 Kobe will play against Gamba Osaka Youth (Osaka).Kobe had a shaky start to the season, losing three in a row from the second sec., but have improved since and now sit in fifth place with five wins, one draw, and four losses. In the last four matches, they have won three and drawn one, with all of the victories coming from shutouts. Their opponents Gamba Osaka are in 11th place with a record of one win, two draws, and four losses. During their match losing streak since the start of the season, the Osaka side has conceded 17 goals, exposing their defensive fragility. However, in the last three matches they have conceded just two goals, with two clean sheets. Last week, the team earned their first win of the season with a 1-0 victory over Nagoya Grampus U-18 (Aichi). They will seek to ride the momentum to escape the relegation zone.
Elsewhere, Higashi Fukuoka High School (Fukuoka) will play against Shimizu S-Pulse Youth (Shizuoka). The match between Cerezo Osaka U-18 (Osaka) and Nagoya Grampus U-18 (Aichi) has been postponed to a later date.
Prince Takamado Trophy Premier League Official Twitter
%E2%9A%BD%EF%B8%8F 今週末開催 %EF%B8%8F%E2%9A%BD%EF%B8%8F#高円宮U18 プレミアリーグ 2022%F0%9F%8F%86

%F0%9F%93%BA放送・配信対象試合%F0%9F%93%B1

%E2%98%91 @jsports_soccer#V神戸 vs #G大阪

%E2%98%91 @sportsbull_jp #履正社 vs #鳥栖

詳細はこちらから%F0%9F%94%97https://t.co/oAPnT9B5Lp#高校サッカー pic.twitter.com/2338ayNw6a

— 高円宮杯 JFA U-18サッカープレミアリーグ (@jfa_u18) July 8, 2022
Prince Takamado Trophy JFA U-18 Football Premier League 2022
League Duration: Sat. 2 April - Sun. 4 December 2022