NEWS
【Match Report】Japan Beach Soccer National Team start off AFC Beach Soccer Asian Cup Thailand 2023 with a 7-0 victory against Indonesia
18 March 2023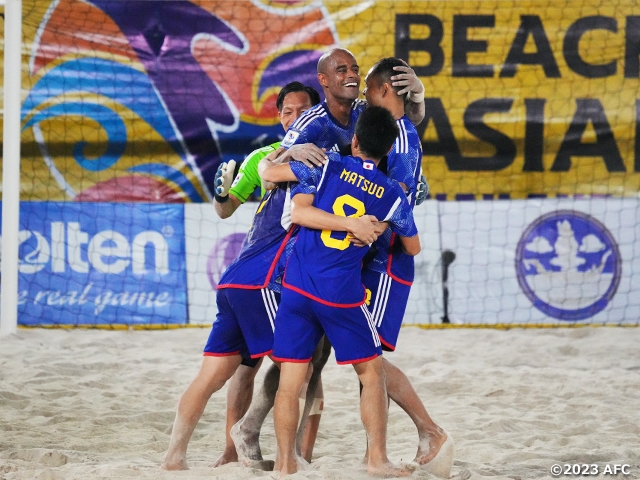 On Friday 17 March, the Japan Beach Soccer National Team faced Indonesia in their first group match of the AFC Beach Soccer Asian Cup Thailand 2023, which serves as the Asian qualifier for the FIFA Beach Soccer World Cup™ to be held in autumn.
Japan took the lead in the second minute, when AKAGUMA Takuya, the third highest scorer at the FIFA Beach Soccer World Cup Russia 2021™, shook the net with his signature bicycle kick. Following this goal, Japan struggled to create chances against the tenacious defence displayed by Indonesia but managed to double their lead in the last five seconds of the first period, when YAMADA Takahito, making his national team debut for Japan, converted a pass after the ball was connected through MOREIRA Ozu and UESATO Takumi.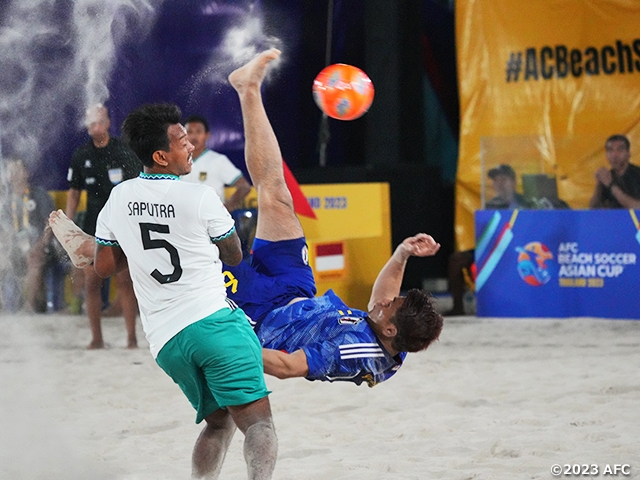 In the second period, Akaguma, Moreira, and Yamada each scored in the sixth, ninth, and 11th minute respectively, but it was Moreira's goal that impressed the most, as he delivered a spectacular lob shot that found the upper left corner of the goal, in which the player-coach later reflected, "I knew exactly where the goalkeeper was positioned."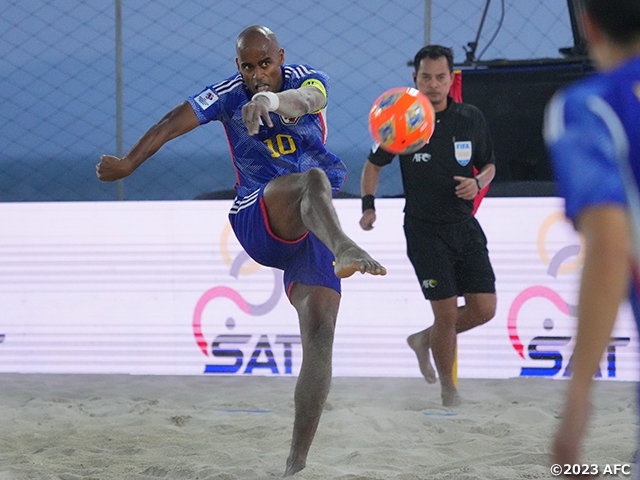 Entering the third period with a 5-0 lead, YAMAUCHI Shusei, the oldest player on the squad, scored in the fourth minute, before Moreira converted a free kick a minute later, as Japan walked away with a commanding 7-0 victory to start off the tournament.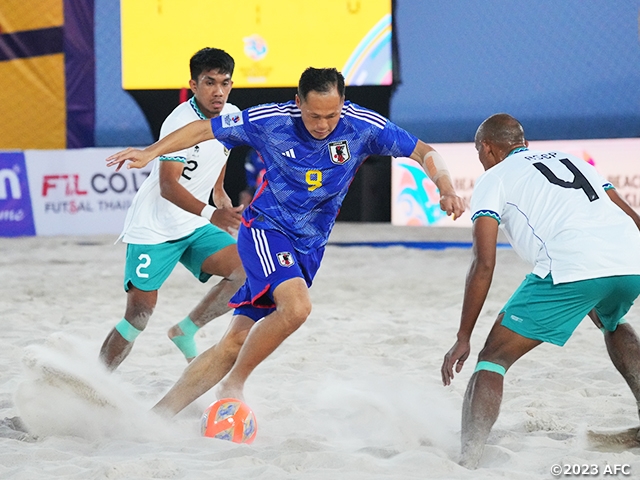 Prior to the match, a commemorative ceremony was held for MATSUO Naoya, who made his 100th cap with the national team, and was presented with a special uniform with "100GAMES" printed on the back.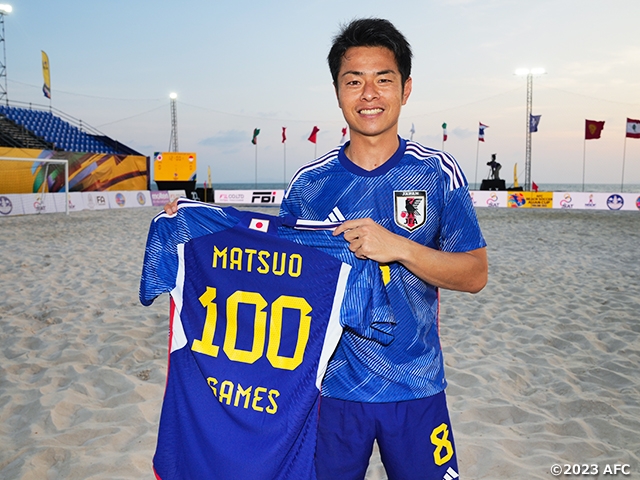 Japan will now face China PR on Sunday 19 March.
Coaches and Players' Comments
MOREIRA Ozu, Player-Coach (Tokyo Verdy BS)
I think the match was fought at the pace of Japan from start to finish. However, I think we would have found a better rhythm if we had been able to pick up the pace. It was great to see our three pivots score goals, but our ala and fixo had to play with better pace. I am glad that I was able to score with a lob shot. We hope to do better in our next match against China PR.
TABATA Teruki, Assistant Coach (Veertien Mie BS)
I am happy with the result, but not satisfied with how we played. Although we dictated the pace of the match, the players didn't show their best stuff, especially in the final third. We knew in advance that Indonesia was a physical team, so we prepared as a team beforehand. After the game, I told the players that we need to improve our performance in our next match and continue to strive to reach the final.
GINOZA Tomoya, GK Coach (Sol Mar Praia Okinawa)
We were able to make the most of our two goalkeepers, SHIBAMOTO and KAWAI, as we used Shibamoto when we played a 2-2 formation, while Kawai when we played 3-1. I am sure the two have gained confidence from this experience. In modern beach soccer, goalkeepers are required to play as one of the field players. I hope Shibamoto and Kawai will continue to inspire each other to become better goalkeepers. I will continue to support the entire team as GK coach.
GK #12 SHIBAMOTO Shinya (Tokyo Verdy BS)
I don't typically get nervous, so I was able to make my national team debut without feeling anxious. I was really happy when I found out I was starting. I had a few close opportunities but wasn't able to capitalise on them. By taking more shots, I can draw out the opponents and exploit the open space behind them.
FP #8 MATSUO Naoya (Averdade Kumamoto BS)
I never thought that I would be playing in my fourth World Cup. This match made me remember how thrilled I was to play alongside my idols during my first World Cup appearance. I have been supported by so many people throughout my career. Everyone was trying to setup a goal for me today, so it was disappointing that I couldn't score any goals.
YouTube(AFC):#ACBeachSoccer Thailand 2023 | Japan 7 - 0 Indonesia
AFC Beach Soccer Asian Cup Thailand 2023
Tournament Date: Thu. 16 - Sun. 26 March 2023