NEWS
【Match Report】Japan Futsal National Team start off NFDF Futsal Championship Pattaya Thailand 2023 with a victory
03 March 2023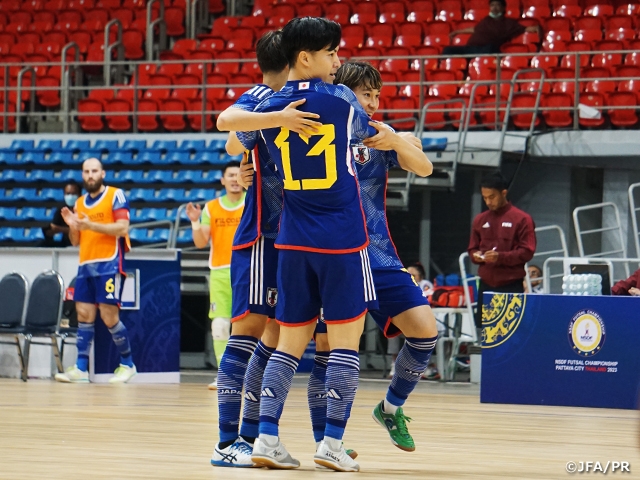 NFDF Futsal Championship Pattaya Thailand 2023
Thu. 2 March 2023, 18:00 (local time)
Match duration 40mins (20x2 Playing-time)
Eastern National Sports Training Center (Pattaya, Thailand)
Japan Futsal National Team 5-0 (1-0, 4-0) Mozambique Futsal National Team
Scores
18' MORI Gensuke
21' Own goal
35' OLIVEIRA Arthur
38' MORI Gensuke
39' MORI Gensuke
Starting Line-up
GK: KUROMOTO Guilherme
FP: MIZUTANI Soma, OLIVEIRA Arthur, HIRATA Neto Antonio Massanori, HENMI Katsutoshi Rafael
Reserves
GK: TABUCHI Hiroshi
FP: ISHIDA Kentaro, YAMADA Kaito, KANAZAWA Sora, TSUTSUMI Yuta, SHIMIZU Kazuya, HARADA Kokoro, MORI Gensuke, NAKAMURA Mitsuru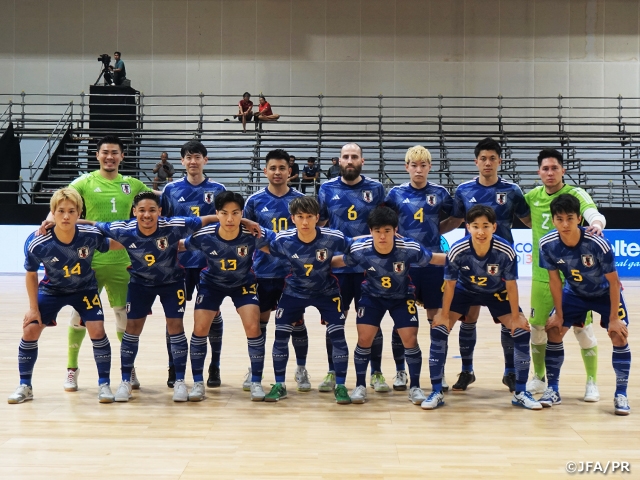 Match Report
On Thursday 2 March, the Japan Futsal National Team played their first group stage match of the NFDF Futsal Championship Pattaya Thailand 2023, where they defeated the Mozambique Futsal National Team 5-0, thanks to the hat-trick scored by MORI Gensuke.
For the Japan Futsal National Team, this was their first international competition since the AFC Futsal Asian Cup™ Kuwait 2022, which took place in October of last year. With the team entering their first match in nearly four months, Head Coach KOGURE Kenichiro sent off the players by telling them, "In order to achieve our goal of reaching the quarterfinals of the FIFA Futsal World Cup™, we need to be able to win against teams from Africa. We will not have many opportunities to face African teams until the World Cup, so let's try to make the most of this opportunity to get used to their distinctive rhythm and playing style. Let's also aim to put up a strong showing and win with dignity as the Asian champions."
KUROMOTO Guilherme was named as the starting goalkeeper along with OLIVEIRA Arthur, MIZUTANI Soma, HENMI Katsutoshi Rafael, and HIRATA Neto Antonio Massanori on the court. The match started with Japan taking the initiative by rotating three sets of players to control ball possession. Despite the efforts showcased by NAKAMURA Mitsuru, a national team debutant who demonstrated great individual skills to penetrate the flanks, Japan struggled to score against a side that dropped deep in their own territory. However, a young set of players, consisting of players from the U-23 Japan Futsal National Team that toured France in February, broke the deadlock in the 18th minute, when the ball was connected from HARADA Kokoro to YAMADA Kaito, before Mori converted the delivery to put Japan ahead before halftime.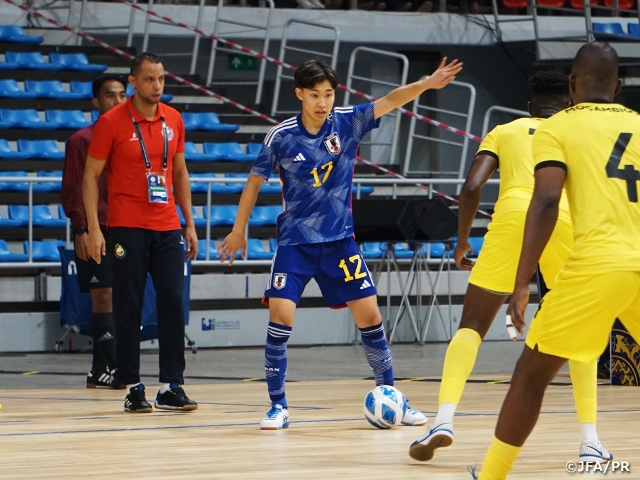 With a one goal lead, coach Kogure gave a pep-talk during halftime, "We've created a lot of chances so far and we're having a good game, so let's play with confidence. However, let's aim to score by playing more effectively and making conscious efforts to draw out our oppositions." In contrast to the somewhat slow-paced first period, the second period featured plenty of action from the early minutes. Japan doubled their lead in the 21st minute, when the kick-in delivered by ISHIDA Kentaro induced an own goal. In the 35th minute, a shot taken by Oliveira once struck the post, but a team-mate collected the deflection to give the captain another shot at goal, which he managed to convert to make it 3-0. KANAZAWA Sora and Mori forced a turnover deep in the opposing end, which allowed Mori to send the ball into the net in the 37th minute, but this play was overturned after being reviewed by the Video support (VS) system, which was introduced for the first time in this tournament. Japan persisted in scoring goals because they required at least a four-goal advantage to claim the group lead after witnessing their group-rival Thailand thrash Mozambique 6-2 the day before. Their aggression was paid off in the 38th minute, when Harada carried the ball upfront before delivering a sharp pass to Mori, who superbly redirected the ball to extend the Japanese lead. After Mori completed his hat-trick in the 39th minute, Japan started off the tournament with a 5-0 victory.
Japan will now face the host country Thailand on Friday 3 March.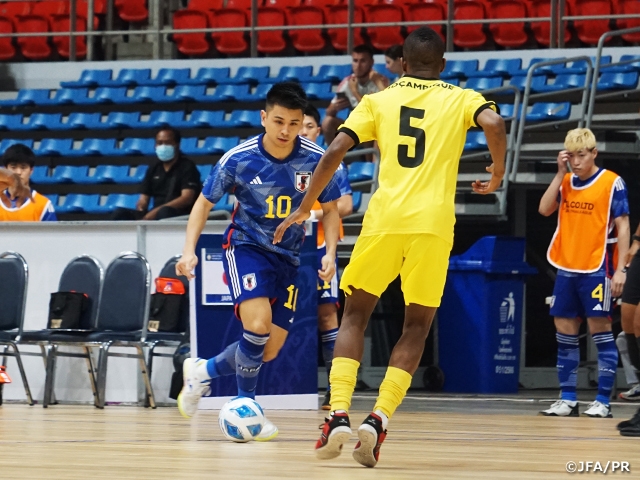 Coach and Players' Comments
KOGURE Kenichiro, Head Coach (Japan Futsal National Team)
First of all, I am glad that we were able to win our first match. Despite having only two days to prepare for this match, the players gave their all, both on and off the pitch. Some of the players are fresh off the F.League play-offs, while others haven't participated in an official game in nearly a month, and some had to fly in from Spain. I am convinced that we will be able to put on an even better performance in our encounter against Thailand tomorrow, despite the fact that everyone is in varying conditions.
GK #1 TABUCHI Hiroshi (Nagoya Oceans)
I am glad that we were able to win in my first official match with the Japan Futsal National Team. This victory was attained through a total team effort that included the staff members. We managed to complete the first match without any injuries, and we have already begun to get ready for the next one. Prior to our encounter against Thailand, we will make the necessary adjustments in an effort to leave no regrets.
FP #5 YAMADA Kaito (Inter Movistar FS/Spain)
The tournament in Thailand has final begun. Although our captain has reminded us of the challenges of the first match, I feel like we were able to showcase our usual performance on the pitch. However, there were still a lot of things we can do better, so we are hoping to improve ourselves through the competition and strive to display an even better performance in the upcoming matches. I personally am glad that I was able to obtain this victory in my national team debut. However, I will not be content with this result and continue to give my best efforts to repay for all the support I have received up to this point.
FP #6 OLIVEIRA Arthur (Nagoya Oceans)
We were able to play a very good match in our first match of this tournament in Thailand. Tomorrow, we will be playing against the host nation Thailand, who are an even stronger opponent. It will be a difficult match, but we hope to make it a great match.
FP #13 MORI Gensuke (Real Betis/Spain)
We struggled in the early minutes, but I am glad that we were able to prevail at the end. I am very happy to have scored my first hat-trick with the national team, but the tournament has just begun, so I will reset my focus to our next match against Thailand.
NFDF Futsal Championship Pattaya Thailand 2023
Tournament Date: Wed. 1 - Tue. 7 March 2023
Venue: Eastern National Sports Training Center (Pattaya, Thailand)