NEWS
【Match Report】U-19 Japan National Team fail to reach semi-finals after losing to Cote d'Ivoire - The 49th Maurice Revello Tournament
14 June 2023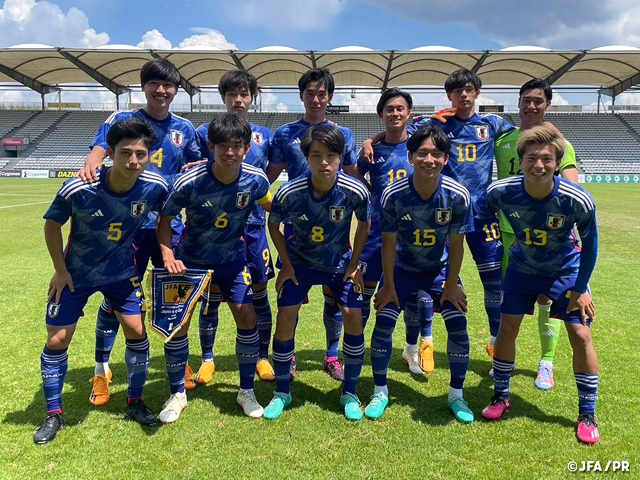 On Tuesday 13 June, the U-19 Japan National Team played the U-23 Cote d'Ivoire National Team in their third group match of the 49th Maurice Revello Tournament. With the team placed third in the group prior to this match, it was a must win match for Japan to advance to the semi-finals.
The match started with Cote d'Ivoire taking advantage of their speed to penetrate the flanks, while the Japanese players showed great composure to fend off the attacks. In the eighth minute, SHIOGAI Kento (Keio University) earned a free kick deep in the opposing end, which TOKUNAGA Ryo (University of Tsukuba) and IKEDA Shunta (Yokohama F.Marinos Youth) played a designed sequence to setup the shot of Shiogai, but his shot was denied by the woodwork.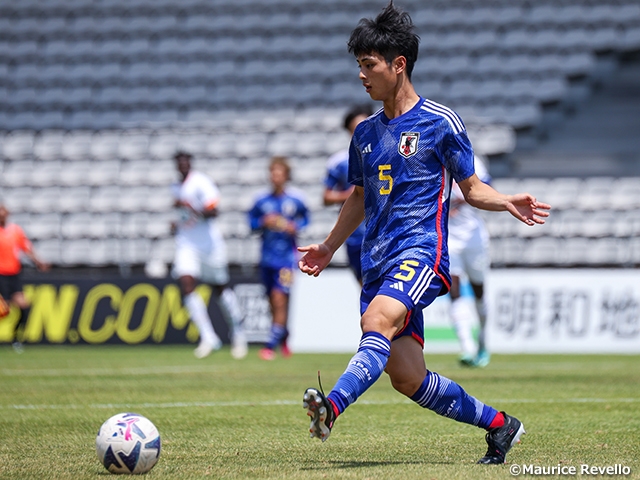 Shortly afterwards, Cote d'Ivoire scored the opening goal in the 11th minute, when they intercepted a pass from the Japanese goalkeeper before burying the ball into the back of the net.
After ANZAI Yuto (Shoshi High School) nearly scored with a long range shot in the 15th minute, YUKUTOMO Toki (Ehime FC) capitalised on a free kick he earned himself to tie the score in the 20th minute.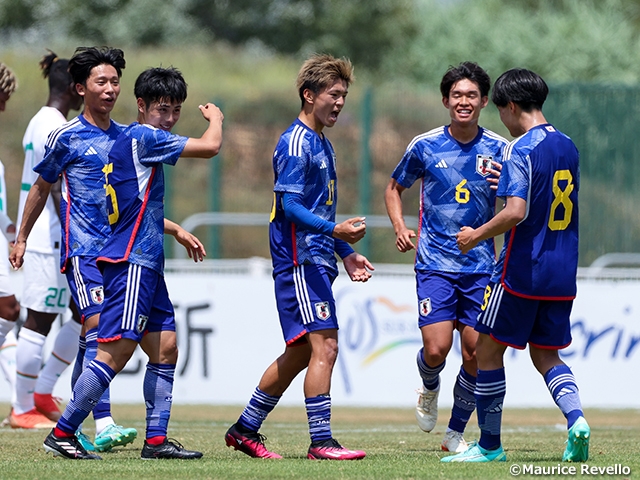 In the 41st minute, Anzai penetrated the left side before sending a cross towards the centre, which was fumbled by the goalkeeper. Although Yukutomo was there to respond to the loose ball, his effort went off the crossbar.
Japan had to play against the wind in the second half, and in the 49th and 50th minutes, their goal was threatened by long-range attempts carried by the wind. With momentum and the wind on their side, Cote d'Ivoire took the lead in the 57th minute, when they capitalised on a counterattack after winning the ball in the midfield.
In efforts rally back, Japan introduced HAYAKAWA Jumpei (Urawa Red Diamonds Youth) and KITA Kazunari (Kyoto Sanga FC U-18) in the 61st minute but couldn't find ways to carry the ball into the final third.
It wasn't until the introduction of ISHII Hisatsugu (Shonan Bellmare U-18) in the 75th minute, that Japan managed to find ways to create opportunities in the opposing end, but they still struggled to convert their chances.
Despite the late surge made by Japan, Cote d'Ivoire handed Japan their second loss of the tournament, dropping them down to fourth place and eliminated their chances of move into the semi-finals.
The U-19 Japan National Team will now face the Mediterranean Selection U21in the 9th/10th place play-off on Thursday 15 June.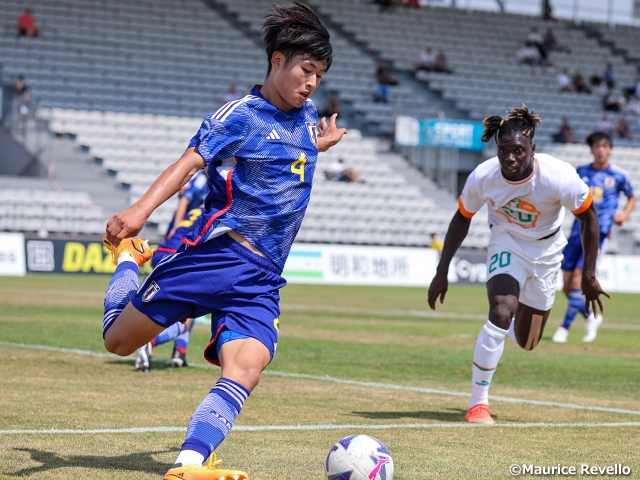 The 49th Maurice Revello Tournament
Tournament dates: Mon. 5 – Sun. 18 June 2023
Tournament information