NEWS
U-20 Japan National Team lose 1-2 against Argentina in final training match before the FIFA U-20 World Cup Argentina 2023™
16 May 2023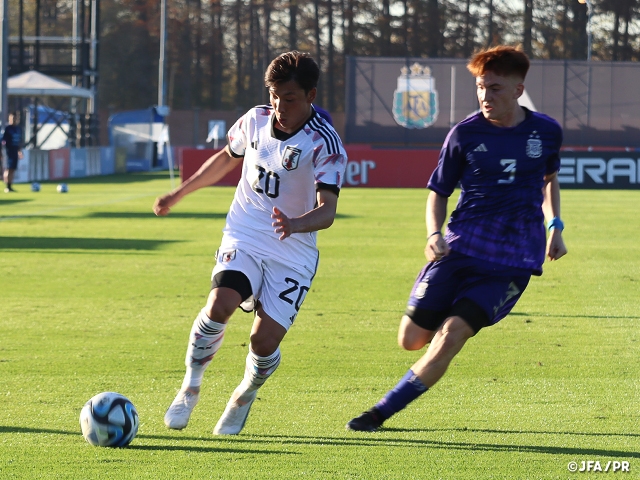 The U-20 Japan National Team played a training match (45-minute halves with unlimited substitutions) against the U-20 Argentina National Team on Monday 15 March as their final training match before the FIFA U-20 World Cup Argentina 2023™.
Japan played Argentina in the play-off for the 2022 Maurice Revello Tournament, where they were overwhelmed by their opponents' speed and intensity, losing the match 2-3. Ahead of the rematch against the South American powerhouse, Head Coach TOGASHI Koichi sent the players off by telling them, "Let's demonstrate what we have worked on and developed over the past year."
On the fourth day since arriving in Argentina and after two days of practical training, the team lost 1-2 in a match played behind closed doors. Although the loss was discouraging and exposed the team's weaknesses, the players appeared to find solace in the fact that they had improved from the previous year.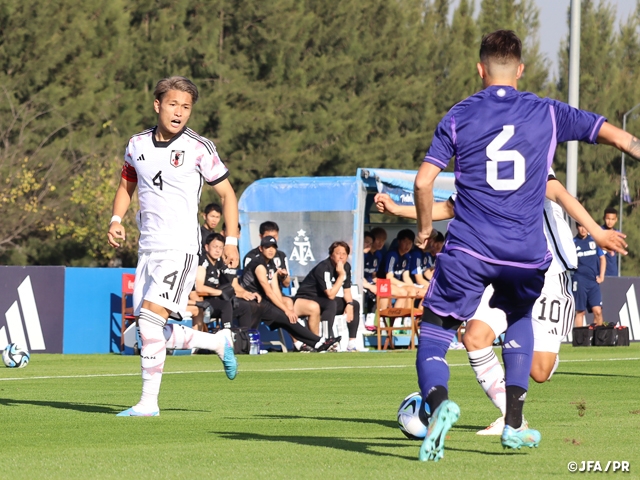 The pre-tournament camp will end with a recovery session on Tuesday before the tournament period begins on Wednesday and the players will continue to condition themselves at the hotel and training venues designated by FIFA. Japan's first match is against the U-20 Senegal National Team at 18:00 on Sunday 21 May (6:00 Monday 22 May).
Coach and Players' Comments
TOGASHI Koichi, Head Coach of U-20 Japan National Team
It was an ideal training match before the tournament, against an opponent we played a year ago and learned a lot from. We got a good look at what to try and improve on offensively and defensively, as well as the players' current condition. It provided us with a great opportunity to simulate the first match and the matches beyond the group stage. From here, we will focus on our conditions and make sure that everyone is ready to give their all from the start of the first match.
MF SANO Kodai (Fagiano Okayama)
In contrast to last year, when Argentina completely outplayed us, I believe this time we were able to compete and had a decent chance of winning. We were able to elevate ourselves, and I think that's a good thing. Today, it felt like the ball rolled in the favour of our opponents, and there were times when we weren't quite on the same page in terms of how we pressurised the ball, so that is something we need to work on as we try to improve our conditions ahead of our first match. I don't think we need to be worried as long as we keep improving on what we've done so far. I'm excited and can't wait to play.
MF EINAGA Takatora (Kawasaki Frontale)
It is frustrating that we were unable to win against Argentina, and I also regret that I was unable to do anything as an individual. We conceded a goal through our own mistake, but I think that one goal can cost us the tournament in the World Cup, so we must be more careful. Personally, I feel like I could have done a better job getting involved with the ball in order to show my strength. We want to fight hard for the ball to initiate our attacks. We are given a rare opportunity to represent our country, so I want to enjoy the moment and give my all to help the team win.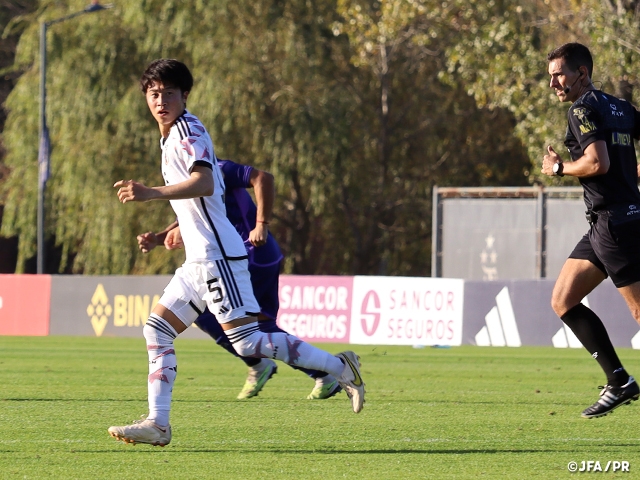 FIFA U-20 World Cup Argentina 2023™
Tournament dates: Sat. 20 May - Sun. 11 June 2023
Tournament Information