NEWS
Pre-Season Refresher Course for Women's Class-1 Referees held ahead of the opening of WE League
09 September 2021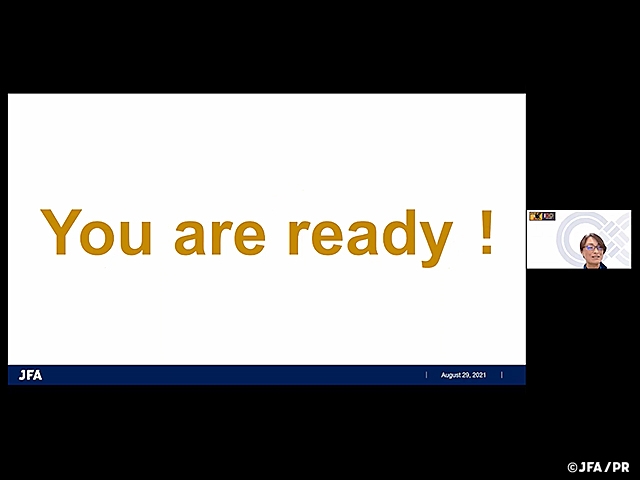 Japan's first ever women's professional football league, the "WE League," is about to kick-off on Sunday 12 September 2021. Ahead of the kick-off, a pre-season refresher course for women's class-1 referees was held online on Sunday 29 August.
At the beginning of the course, WE League's Chair OKAJIMA Kikuko gave a speech to encourage the referees, followed by briefing and discussions held with the WE League secretariat to review the past preparation activities and important matters ahead of the league's kick-off.
All matches in the WE League will be officiated by female referees (women's class-1 referee). Referees in charge have gone through various workshops and trainings to improve their skills and mind-set ahead of the league's kick-off. The referees will be acting as the 12th team of the league and give their best efforts to allow the players to be radiant on the pitch and deliver great excitement to the fans.
Comments
YAMAGISHI Sachiko, Vice chair of JFA Referees Committee/Chair of Women's subcommittee
We have been preparing for the opening of the WE League with the referees. Despite facing many postponements caused by the Covid-19 pandemic, the referees have attended the workshops by adjusting the schedules of their personal lives. They must have faced many adversities, but when I looked at their positive attitudes, it made me realise their deep affection towards football and how much they were looking forward to the opening of this professional league. The opening day of the WE League is just upon us. We would like to thank not only the referees but also all the other people for their support to allow us to welcome this day. We will convert all the support we have received into energy and give our utmost efforts to propel the WE League.
KANEMATSU Haruna, Women's Class-1 Referee
We are thankful to all the people who has supported us to hold this online refresher course ahead of the opening of the WE League, despite the ongoing pandemic. Listening to Chair Okajima of the WE League made me once again realise that a professional women's football league is finally upon us. There were times when I would question myself if I were truly ready for this, but when Chair Yamagishi of the Women's subcommittee told us that "You are ready!" it gave me the courage to move forward. Just like the players and teams, we will be officiating a professional match for the first time. We will do our best to challenge and enjoy ourselves, while cooperating with other referees to fulfil our duties one match at a time. It would be great if we can deliver even a tiny bit of power to the viewers.