NEWS
A clean match created by respect - Always have respect Vol.98
17 September 2021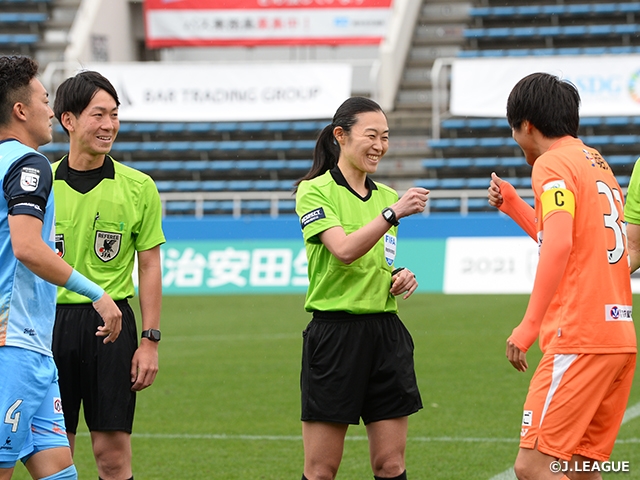 A fixture during Matchweek 8 of the J3 League "YSCC Yokohama vs Tegevajaro Miyazaki" held at NHK Spring Mitsuzawa Football Stadium in Yokohama on 16 May drew a lot of attention. It was because Ms. YAMASHITA Yoshimi became the first female referee to officiate a J. League match.
After a quiet first half, the match intensified towards the end of the second half, and it was Miyazaki who won the match 2-0, clinching their fifth win of the season that helped them move up the ranking to third place. On the other hand, YS Yokohama remained winless for the season, being put to the bottom of the table.
Despite the disparity between the two clubs, the match itself was very clean and pleasant. With Ms. Yamashita displaying sharp and decisive judgements, the players were focused on their own plays and there were almost no objectionable behaviours from either side throughout the 90 minutes, which is very rare in recent J. League matches.
"The players from both teams were focused on playing, so there were no difficult scenes at all."
At an online press conference held on the following afternoon, Ms. Yamashita said with a smile. It is unusual for Japan Football Association (JFA) to hold a press conference for a referee the day after a match, but it might have been held in response to the positive feedbacks from many people who watched the match, including those from both teams saying, "It was a completely stress-free match. Regardless of gender, she did a fantastic job to officiate the match."
This season, Ms. Yamashita became the first female referee in J. League history to be listed as "J3 referee." It was known that she was scheduled to make her debut in May, but the specific schedule of her debut match was not announced. However, nowadays J. League matches can be watched online even after the match was played. What I have noticed when I watched the match that night, was the wonderful attitude showcased by the two teams, YS Yokohama and Miyazaki.
There were scenes where players fiercely collided to win the ball, but once Ms. Yamashita blew the whistle, the players immediately obliged and return to their positions. Above all, I was surprised that there were almost no objections or frustrated gestures shown towards her judgments. There was a scene in the 74th minute when Miyazaki's SAMUEL looked confused and shrugged his shoulders, after being called for a foul when he made an attempt to enter the opposing penalty area to take a shot.
Samuel walked up to Ms. Yamashita with his arms stretched out, but after Ms. Yamashita gave him an explanation with a calm gesture, he looked convinced and returned to his position to face the opponent's free-kick.
Ms. Yamashita was promoted as a "Women's Class-1 referee" in 2012, before becoming a "FIFA international referee" in 2015. She became the first female referee in Asia to officiate a match between professional clubs in a men's club tournament (AFC Cup), before participating in the FIFA Women's World Cup France 2019™. Later that year, she passed a fitness test that are taken by J. League referees to become a "Class-1 referee" without the "Women's" classification. And last year, she served as the referee at the JFL and was highly evaluated for her performance. Regardless of gender, she won the position of a "J. League referee" with her abilities.
Therefore, it was expected that she would have no issues officiating a match in J3. And in reality, she was able to showcase her usual performance, in terms of endurance, speed, positioning, decision making, and timing of her whistles.
However, that alone would not have created such a pleasant match. To me, it also felt that the players from both teams were very considerate to Ms. Yamashita. Even in scenes where they usually yell at the referee, they might have thought, "We are not doing that today."
I am not saying that Ms. Yamashita was being treated differently. What the players showed was a natural form of respect for the referee and his/her decisions. And as a result, it was a match where everyone could concentrate on their own plays, and perform to their full potential, regardless of the outcome. The match reminded us that, regardless of the level of competition, respectful attitudes towards the referee can make football a better game.
Written by OSUMI Yoshiyuki (Football Journalist)
*This article was originally posted on the Japan Football Association Newsletter, "JFAnews," June 2021 edition.
Japan Football Association Newsletter "JFAnews"
The Japan Football Association Newsletter "JFAnews" contains all the information on the Japan National Team, and all the events hosted by the JFA. Tournament results and team information throughout the nation are also available. The official monthly magazine is a must read for coaches, referees, and all members of the football family.
For information on the newest edition (Japanese website)