NEWS
Respect Symposium held online during JFA Respect Fair-play Days 2020
07 September 2020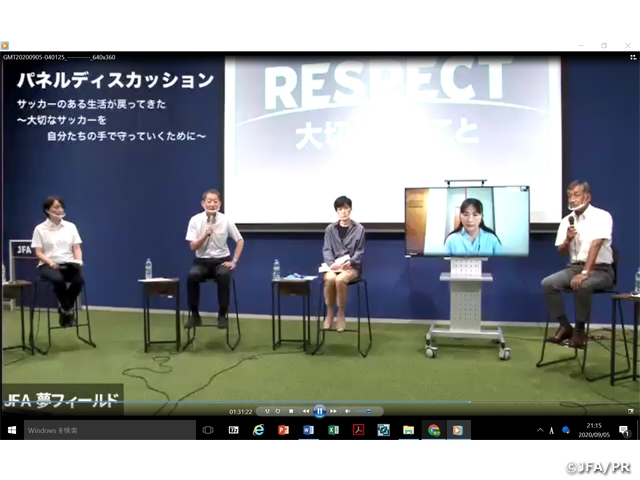 JFA's "Respect Fair-play Days 2020" has started on Saturday 5 September. On the first day of this 10 day event, an online symposium was held with the theme, "Football has returned to our daily lives – What we can do to protect the sport we cherish."
With the support of the J.League and various other federations, the "Respect Fair-play Days" has been carried out by JFA each year. The event is held to take a stand against any form of discrimination and violence in sports, while promoting the spirit of respect (to take care of others) and fair-play.
This year's symposium focused on the impacts of COVID-19 on football and the society as a whole. JFA President TASHIMA Kohzo made a keynote speech at the symposium, where he shared his own experience from when he was diagnosed with COVID-19. While mentioning that he received many supportive messages, he also revealed that he was slandered by many, as he stated, "We as a football community must follow the spirt of fair-play and fight against discrimination and slanders. Discrimination towards healthcare workers and their family should never be tolerated. We must eliminate these discriminative behaviours from football and from sports." Ms. TAKAHASHI Aiko, Public Relations/Advocacy Promotion Manager of Japan Committee for UNICEF, also took the podium to address children's rights in sports.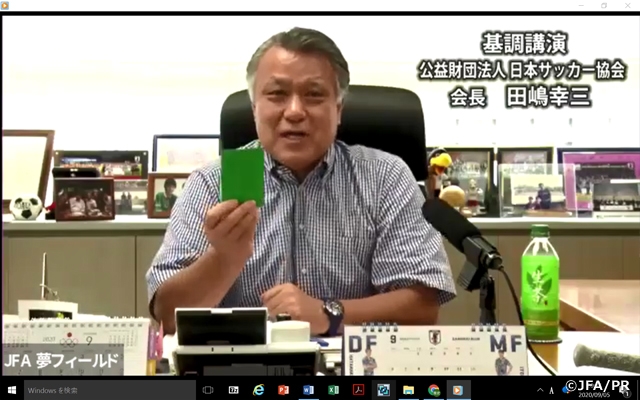 During the panel discussion session, JFA's Youth Development Director IKEUCHI Yutaka introduced new guidelines that comply with the "new ways of living," which outlined new ways to operate tournaments and how drawing lots should decide the winner of a match (instead of disqualifying the team) in cases where players opt-out from the match due to the risks of contracting the virus. Mr. UDAGAWA Takao, Chairman of the Referees Committee/Integrity Committee of the Japan Basketball Association, seemed impressed by the presentation, as he mentioned, "That is a fascinating idea." With COVID-19 impacting sports in different ways, he continued by stating, "It is particularly important that we broaden our perspectives. Now we must think of ways to implement these new values."
The "Respect Fair-play Days" will continue until Monday 14 September. Respect/Fair-play oaths and banners will be held at J.League matches and tournaments during this period.
Speakers' Comments
TASHIMA Kohzo, JFA President
COVID-19 has brought our society to unprecedented territories, and it has made us realise the importance of football and sports even more. Spreading the spirit of fair-pay and respect during these tough times should help us build a better society. Next year is the 100th anniversary of JFA. It is our responsibility to honour those who have contributed to develop and raise the level of football in Japan, build a sustainable future for the next 100 years, respect the children who are the future, and pass down the joy of playing sports to the next generations.
TAKAHASHI Aiko, Public Relations/Advocacy Promotion Manager of Japan Committee for UNICEF
After seeing schools and sports activities suddenly getting cancelled for a while, I feel that children are now embracing the return of their normal lives and cherishing the opportunity to play sports. Football is being played by children all over the world. If children and coaches can both cherish each other, there will be no slanders and discrimination, which would ultimately eliminate violence as well. We sincerely hope that we can spread these values from the football community to the sports community as a whole, and eventually to the entire society.
Participants' Comments
Mr. MEGURI Masakazu
I have joined this symposium a few times in the past, and each time it has allowed me to hear stories of people from different industries. It has provided me with a great learning experience, as I am given the opportunity to listen to different opinions and learn about activities from different fields, which may present similarities or add new perspectives to the football community. Today I heard the stories told by Ms. Takahashi from Japan Committee for UNICEF and learned about the reality of children living in poverty and inferior living conditions, which was something hard to imagine for someone living in Japan.
Mr. NARA Yutaka
It goes without saying that this symposium has given us a precious opportunity to hear about various opinions regarding the concept of "respect," but it has also given us new perspectives on different levels of equality, especially under the current COVID-19 pandemic. This symposium has made me revisit the importance to emphasise what these children need for their development, instead of just focusing on past coaching experience or to coach for coach's sake.