NEWS
The first ever "JFA Children's Conference" held to exchange ideas with children - Children's Conference U-12 DAY 1
25 November 2021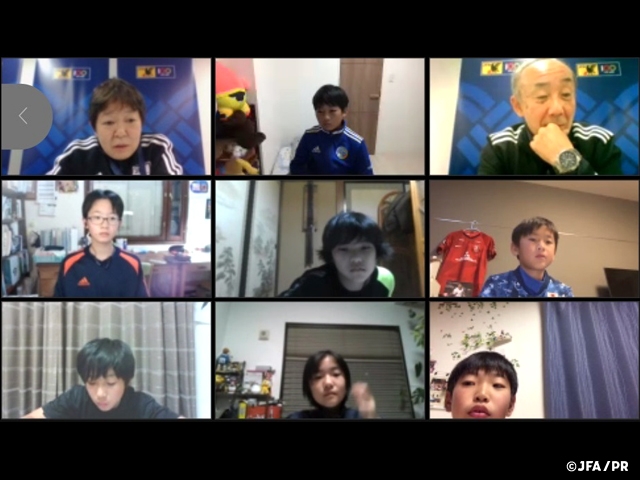 The "JFA Children's Conference" was held by Japan Football Association (JFA) to provide a platform where children involved in football can exchange opinions and talk about the future of football in Japan. On Tuesday 23 November 2021, Day 1 of the "Children's Conference U-12" was conducted online with the participation of fifth and sixth grade primary school students who are involved in football. Ms. Junko IMAI, a member of JFA Executive Committee, and Mr. Koichi KITANO, a member of the Kids Project, participated as facilitators.
The conference was attended by 17 participants from all over Japan, including Hokkaido, Aomori, Ibaraki, Chiba, Tochigi, Saitama, Tokyo, Kanagawa, Shizuoka, Shiga, Osaka, Miyazaki, and Kumamoto. JFA President TASHIMA Kohzo, who had just returned to Japan from overseas, also joined the meeting online from a hotel where he was quarantined, and said, "I want everyone to actively share their thoughts."
After each participant took turns to introduce themselves, they talked about their encounters with football and asked each other questions like, "What's your favourite team?" and "Who is your favourite player?" As they got used to each other, they started to ask specific questions, such as "What do you do for practice when it snows?" for kids who live in the snowy regions, and "Who is your favourite goalkeeper?" for those who play the goalkeeper position.
After a short break, the facilitator, Ms. Imai, asked questions such as "What do you like about football," "How did you feel when you couldn't play football during the Covid-19 pandemic," and "How did you feel when the restrictions were lifted, and you could play football again?" The participants actively answered the questions using the chat function.
To answer the question, "What do you think should be done to make football more enjoyable?," the participants were divided into groups of three or four to discuss and present their opinions.
After the discussion, participants expressed various opinions, such as "I want to change the rules to increase the number of players who can play in a match," "I want to play in a J-Club stadium," and "I want more environments where we can play football freely."
A group of girls commented, "We want an environment where boys and girls could play together in junior high school," and "We want more people to know that there are girls' teams," in which Ms. Imai responded, "We will try to create more environments where girls can play, so we would like you to continue playing and promote football to your peers."
Comments
IMAI Junko, Member of JFA Executive Committee
JFA has celebrated its 100th anniversary in September 2021. We would like to use this conference to look back on our history and discuss what kind of future we want to create, as these kids will be creating the future for the next 100 years. We have not had many opportunities to hear the voices of the children, so we decided to hold this Children's Conference for the first time in order to hear the voices of the those who will be involved in the future. We will be holding a total of three conferences to think about the future of Japanese football.
TASHIMA Kohzo, JFA President
(From the President's address at the beginning of the Children's Conference DAY1) JFA celebrated its 100th anniversary and started to look towards the next 100 years. You are the ones who will take the lead and create the next 100 years, and JFA would like to take everything that you are thinking right now very seriously. That is why we would like everyone to say what is on their mind right now, without thinking that it might offend someone or that it might cost a lot of money. You are the ones who will make the next breakthrough. I hope that you will follow the footsteps of our predecessors, who have achieved great things, and achieve even better results. Now that Japan has the J.League and the WE League, there is an environment for everyone to become a football player. We will continue to improve the environment, so please keep sharing your opinions with us.
NAKAJIMA Aoi (Sixth grade)
First of all, I would like to thank you for allowing me to participate in the JFA Children's Conference. I was a little nervous at first, but thanks to the conversation I had with Mr. Tashima, the President of JFA, and all the people involved, I was able to relax and participate in the discussion. At this conference. 17 football-loving friends selected from all over Japan discussed what we liked about football and what we thought could improve. We stared by introducing each other to start the conference, where I was able to learn everyone's personalities and characteristics, such as their names and nicknames, where they live, and their hobbies. We talked about how we started playing football and our current situation, and then we split into groups of three to discuss what changes we would like to see in football in the future, as well as what we like about football. I had so much fun getting to know and talk to other football-loving friends who live far away. I want to become a player who can convey the joy of football to more people. I am looking forward to our next meeting. Thank you very much for this wonderful opportunity.
OGATA Kotoha (Sixth grade)
I would like to thank all of you who have made this conference possible, despite the ongoing pandemic. Although the event was held remotely, I really enjoyed interacting with other football-loving friends from all over the country. Before we started, I was worried that I might not be able to speak properly, but since everyone was very friendly, I was able to have a lot of fun. Things that I thought were obvious were not to some people, and I was able to get in touch with opinions that I would never have thought of myself. In the remaining two sessions, I will do my best to come up with ideas that will improve Japanese football even more. I hope that in 100 years, there will be more people who love football.