NEWS
Osako's hat-trick propels SAMURAI BLUE in 14 goal-victory over Mongolia National Team
31 March 2021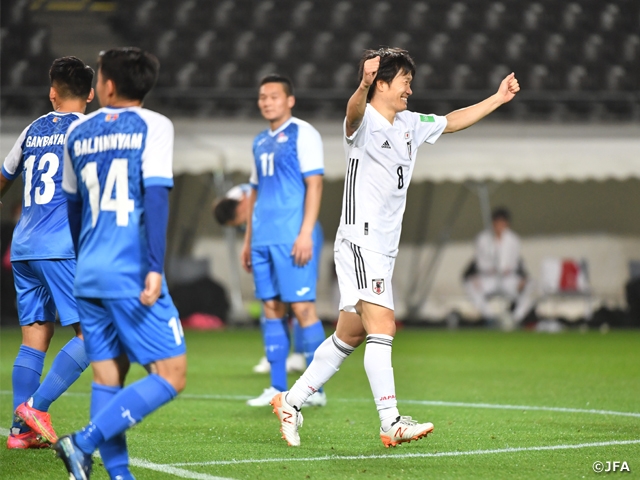 On Tuesday 30 March, the SAMURAI BLUE (Japan National Team) played in the second round fixture of the FIFA World Cup Qatar 2022™ Asian qualification against the Mongolia National Team at Fukuda Denshi Arena. Propelled by OSAKO Yuya's (Werder Bremen) hat-trick, and braces scored by three other players, the Japanese side kept their group lead with a 14-0 victory.
This was the most goals scored by the Japan National Team at the World Cup qualifiers, only second to the match played against the Philippines National Team in the 1968 Mexico Olympics qualifiers, where they scored 15 goals.
For the SAMURAI BLUE, this was their first Asian qualification match since November 2019, as the qualifier was suspended due to the worldwide spread of COVID-19. In this match, Japan started almost an identical line-up from their international friendly match against Korea Republic, which took place five days ago. The only changes were made in the fullback positions, as MATSUBARA Ken (Yokohama F. Marinos) and OGAWA Ryoya (FC Tokyo) were the ones named in the flanks.
After losing to Tajikistan on the 25th, Mongolia entered this match with a 4-1-4-1 formation in search for their second win of this round. However, the match started with Japan taking the initiative, as they effectively utilised the width of the field, while also sending long ball down the line to keep the Mongolian side guessing.
The opening goal came in the 13th minute, when MINAMINO Takumi (Southampton FC) converted the cut-back from Matsubara to mark a goal in five consecutive qualification matches.
Osako score his first goal of the match in the 23rd minute, when he received a pass from YOSHIDA Maya (U.C. Sampdoria). KAMADA Daichi (Eintracht Frankfurt) followed three minutes later, when he converted the cross sent by ITO Junya (KRC Genk).
In the 33rd minute, Ito assisted the goal of MORITA Hidemasa (CD Santa Clara), who scored his first ever national team goal, while Japan added another goal in the 39th minute from an own-goal.
After taking a five goal lead in the first half, Japan brought in ASANO Takuma (FK Partizan) to replace Morita and shifted their formation to a 4-1-4-1 formation, placing Kamada and Minamino in a more advance role to support Osako.
Osako scored his second goal in the 55th minute before marking an assist in the 68th minute, as he setup the goal of INAGAKI Sho (Nagoya Grampus), who earned his first national team goal.
Japan shifted their formation back to 4-2-3-1, as they introduced FURUHASHI Kyogo (Vissel Kobe) and HATANAKA Shinnosuke (Yokohama F. Marinos) in the 71st minute.
Japan went onto score three more goals within 10 minutes following the substitution, as Ito converted the deflection of Furuhashi's shot in the 73rd minute. The duo combined again in the 78th minute, when Furuhashi struck a header off Ito's cross. Just a minute later, Ito fired a left footed shot that found the back of the net to make it 10-0.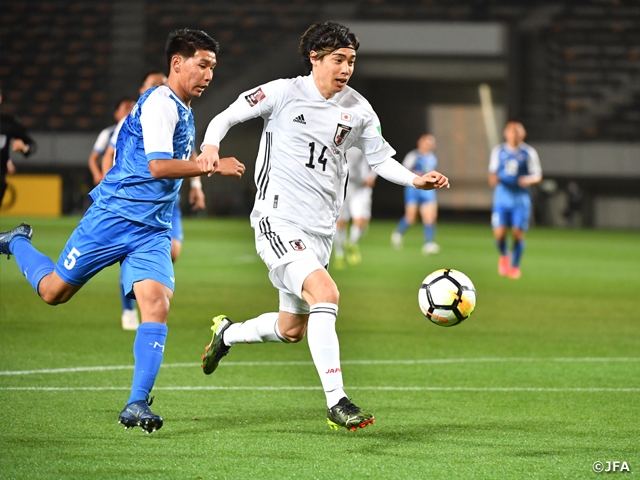 Despite taking a commanding lead, Japan continued to apply pressure upfront, as Furuhashi marked his second goal of the match in the 87th minute.
With Asano scoring his first goal since October 2019, Osako completing his hat-trick, and Inagaki scoring his second goal of the match during additional time, Japan went onto win the match 14-0.
Mongolia created opportunities in the first half, when Dulguun AMARAA delivered a cross from the left side, followed by a chance created by Gal-Erdene SOYOL-ERDENE and Naranbold NYAM-OSOR, but failed to threaten the Japanese goal. In the second half, Baljinnyam BATBOLD struck a shot in the 60th minute, but couldn't capture the target.
Although conceding a massive lead to Japan, the Mongolian side continued to make attempts to create chances from FK and CK, while their GK Munkh-Erdene ENKHTAIVAN made numerous saves throughout the match.
Japan has won all five matches in Group F, keeping the group lead with 15 points. Tajikistan, who has played six matches thus far, currently sits in second place with 10 points, while Kyrgyz Republic and Myanmar follow in third and fourth place with seven and six points, respectively. With three points, Mongolia remains in fifth place.
This match was supposed to be played in Mongolia, but with the travel limitation set by the Mongolian government to prevent the spread of COVID-19, the match was rearranged to be played in Japan as Mongolia's home match. In addition, there were no spectators allowed for this match.
The SAMURAI BLUE will now play their remaining matches of the second round against Myanmar, Tajikistan, and Kyrgyz Republic during 3-15 June in Japan.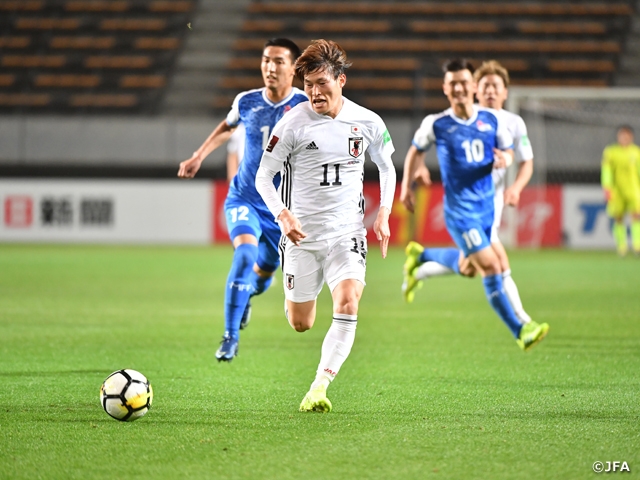 Coaches and Players' Comments
MORIYASU Hajime, Coach of SAMURAI BLUE (Japan National Team)
There were 10 players who I selected for the first time since I assumed this position, and I think we were able to improve the overall level of the team while building on our foundation. We changed our system during the match and the new players showcased their compatibility with the team, but the most important thing was that our players gave their best efforts to send courage to the fans watching from home. This match has given us wider options for the future, which is a huge step for us.
We were able to use all of our field players in these two matches, which broadened our foundation and raised the overall level of the team. There are many different scenarios that can take place throughout the World Cup qualifiers, so having a broader base of players who can execute the same game plan is very important for us. We have seen many players from the J.League raising the overall level of this team. I hope they can bring back this experience to their clubs to help vitalise and inspire the J.League and other players of the league.
By heightening the level of the national team, we are hoping to raise the overall level of Japanese football as a whole. We were able to conduct these matches with the support of our players and staffs. Many people have also made tireless efforts to make these matches possible, so we are truly grateful for their efforts. I was delighted to see our players give their best efforts on the pitch to showcase their gratitude towards the supporters.
DF #22 YOSHIDA Maya (U.C. Sampdoria)
It was great that many players were able to score today, including those who were making their national team debut. We managed to showcase a strong performance against Korea Republic, but we must be able to do the same when it matters the most. With this being our first match in 16 months, and after seeing the previous two squads mainly consisting of players from clubs overseas, the players from the J.League must have been highly motivated for this match. We have taken a big step forward, but we are just getting started. Once you seize an opportunity, you must not let it go. It is important that we continue to play at a high level after returning to our clubs.
MF #6 ENDO Wataru (VfB Stuttgart)
We focused on the quality of our plays while also focusing on playing at a high level for the entire match, and I feel like we were able to showcase a strong performance for the whole 90 minutes. In order to broaden our options, we shifted our formation with Minamino and Kamada playing a more advance role, which worked out very well, so that is another positive aspect we can take back from this match. The competition in the midfield has become pretty intense. If we can emphasise each other's strengths even while taking turns to play on the pitch, I think it can broaden the options for the team.
MF #8 INAGAKI Sho (Nagoya Grampus)
I am happy that I was able to score a brace in my national team debut. All the credit goals to my teammates, so I am thankful for their assists. I have been showing off my shooting techniques during our training sessions, so maybe it persuaded my teammates to pass the ball to me. Although there were many restrictions leading up to this match, I focused on communicating with my teammates as much as possible, and really tried to stay on the same page with the team. I feel like I was able to make a case for myself, so hopefully I can earn more playing time in the upcoming matches.
MF #14 ITO Junya (KRC Genk)
I feel like I was able to produce the minimum result, considering how many opportunities I had. I missed a one-on-one opportunity in the first half, and that was a play I had to convert. I entered the match with the intention to make runs until the very end and apply aggressive pressure to the opponent. Now I just need to maintain the quality of my plays throughout the match. As our opponents get stronger, there will be less opportunities, so I must continue to improve myself and be more accurate with each of my plays.
FW #15 OSAKO Yuya (Werder Bremen)
I was keen on scoring goals, so I am glad I was able to score some goals, and I am thankful to my teammates for the assists. Our goals came in timely fashion, and we kept the intensity level high even after taking the lead. Including our first match against Korea Republic, we were able to execute our game plan and showcase strong performances. If we can continue to get our jobs done with some of these younger players, we can build a strong team that can earn results at the World Cup. Each player must focus on improving themselves at their respective clubs. If we can continue to dominate the qualifiers, we will eventually become a force to be reckoned with at the World Cup.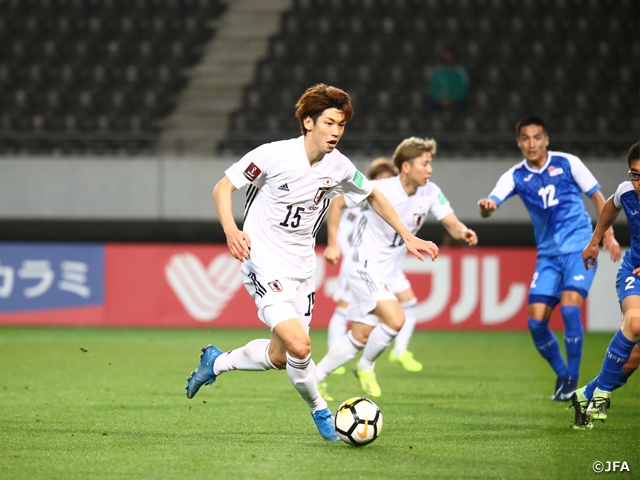 Rastislav BOZIK, Coach of Mongolia National Team
It is hard to take any positives out of matches like these, but our players fought hard until the very end. Ahead of the match, we were highly motivated to score a goal, but our opponent was way too strong. It felt like Japan was even more motivated compared to our last encounter. Our players are not used to playing on natural turf, so we wish we could have played on our home stadium, but it probably wouldn't have mattered anyways. We need to be more flexible to adjust to the given environment.

FIFA World Cup Qatar 2022™ / AFC Asian Cup China PR 2023™
Preliminary Joint Qualification Round 2
Tue. 30 March 2021 [19:30] vs Mongolia National Team
Venue: Fukuda Denshi Arena (Chiba) [Away Match]