NEWS
WE League kicks-off with heated matches played nationwide
13 September 2021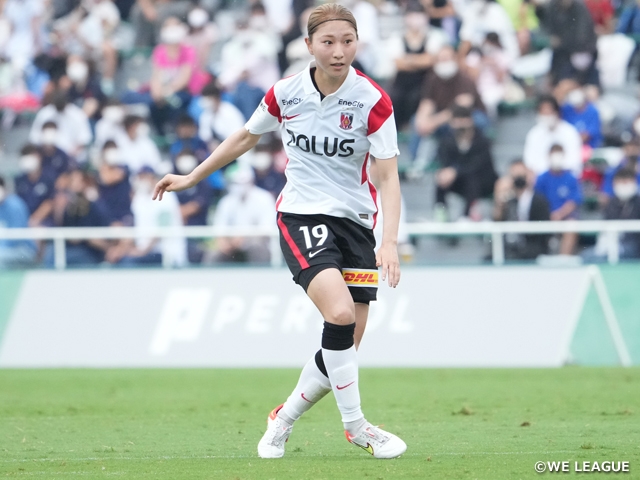 Japan's first professional women's football league "2021-22 Yogibo WE League" kicked-off on Sunday 12 September 12, and five matches were played in various places.
Ahead of each match, a video of WE League's Chair OKAJIMA Kikuko giving the opening declaration were shown, as she mentioned, "A new page of Japanese women's sports starts today. Under the name of Woman Empowerment, it is a league that is prepared to advance gender equality in Japan. The WE League will be the stage for everyone to become the main character of their own stories, with the aim of realising the world's best women's football league and women's community, while striving to create a society where diverse lifestyles and dreams are born. Today on 12 September 2021, I declare the opening of the WE League."
The first fixture kicked-off at 10 a.m., as INAC Kobe Leonessa faced Omiya Ardija VENTUS. It was Kobe's TAKASE Megumi who scored the first goal of the WE League, as the team went onto defeat Omiya 5-0.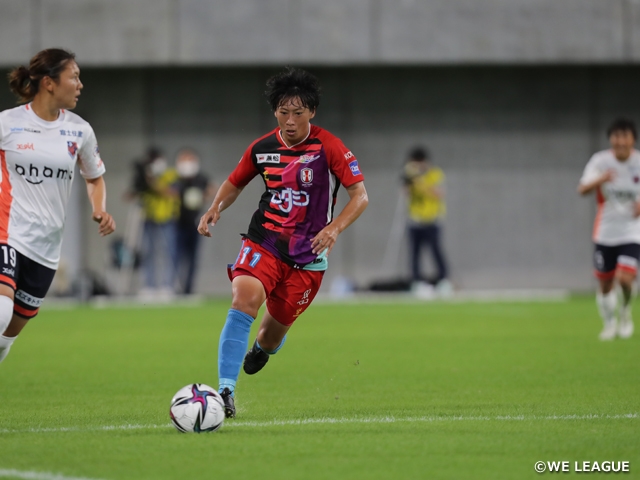 The match between Nippon TV Tokyo Verdy Beleza, who holds the record for winning the most Nadeshiko League titles; 17 times, and Mitsubishi Heavy Industries Urawa Reds Ladies, who won the Nadeshiko League last season, came down to the wire as Urawa earned a come from behind victory thanks to the goals of SUGASAWA Yuika and SHIOKOSHI Yuzuho.
Sanfrecce Hiroshima Regina started off the new season with a 3-0 victory over Chifure AS Elfen Saitama, while AC Nagano Parceiro Ladies won the "Shinetsu Derby," as they defeated Albirex Niigata Ladies 3-1. The match between Mynavi Sendai Ladies and Nojima Stella Kanagawa Sagamihara ended in a scoreless draw.
JEF United Ichihara Chiba Ladies, who had a bye week, took part an online panel discussion as part of the first day of the "WE ACTION DAY" where their players, HAYASHI Kanae and OTAKI Ami, discussed on the theme, "a society where each individual can shine" with Deputy Mayor KAWAGUCHI Mayumi of Chiba City.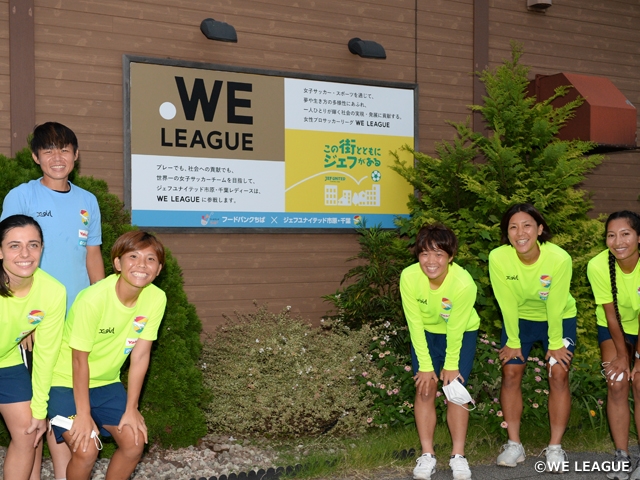 The second match-week of the WE League will take place on Saturday 18 and Monday 20 September.
Coaches and Players' Comments
HOSHIKAWA Kei, Coach (INAC Kobe Leonessa)
We are grateful to have fans coming to our match despite the current circumstance and we are pleased to be able to showcase a good match. Having 4,000 fans during this pandemic is almost as equivalent as the 20,000 people who watched the FIFA Women's World Cup final in 2011. We will be compared to the men's league down the road, so we hope to showcase our speed, accurate passes, and persistency to make the fans want to support both the men's and women's team.
TAKASE Megumi (INAC Kobe Leonessa)
While we spent most of our time constructing our defence through the preseason matches, we had time to work on our offence right before the season start. Despite not being able to score in our training matches, I reminded myself that it was important to play without hesitation, and I think that approach helped us score five goals in today's match. I was just overwhelmed and went blank when I scored the goal.
SAMESHIMA Aya (Omiya Ardija VENTUS)
I am grateful to all the people who has supported to allow us to welcome this day. I wish we could have showcased a better performance against Kobe in our first match. We needed to play more tenaciously and there are small adjustments we need to make down the road. However, the season is just getting started, so we don't need to be too pessimistic about this result.
TAKEMOTO Kazuhiko, Coach (Nippon TV Tokyo Verdy Beleza)
Knowing the significance of this match, we entered with the intention to leave a strong impression to our fans. Our player gave their best efforts, but with Urawa applying aggressive pressure, we struggled to connect passes in the midfield today. We will study what went right and wrong in this match and try to make the most of this experience so that we can make the necessary adjustments in our future matches.
SHIMIZU Risa (Nippon TV Tokyo Verdy Beleza)
We are satisfied with the way we entered the match, but the goal we conceded at the early minutes of the second half allowed our opponent to gain momentum and eventually score the second goal at the end. We were prepared for many different situations, but we were thrown off by the fact we conceded the equaliser. We must learn from this loss, try to reset our minds, and prepare ourselves both mentally and physically for the next match.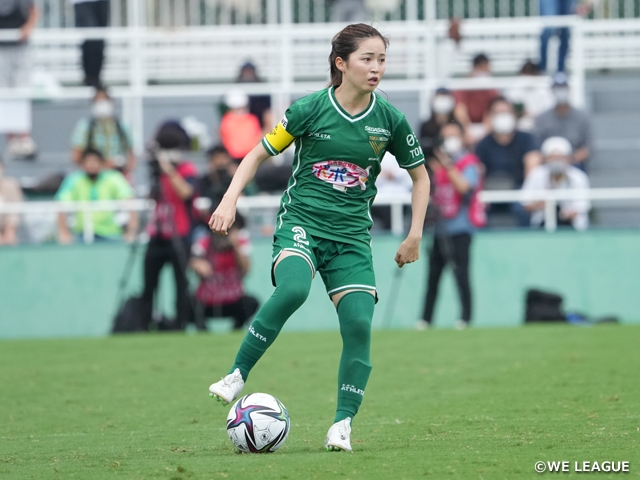 SHIOKOSHI Yuzuho (Mitsubishi Heavy Industries Urawa Reds Ladies)
I am glad that we were able to win against a wonderful opponent in front of so many people. (Reflecting on the goal) The ball deflected right towards me, so I just focused on swinging my leg as hard as I can. This win has given us great momentum, so we hope to win our first match at home and continue to ride this momentum.
MATSUDA Takeo, Coach (Mynavi Sendai Ladies)
Although we were able to possess the ball, the goal felt so far away. We couldn't find ways to carry the ball to the centre and struggled to break down the opposing defence in the final third, which is part of the reason we were kept scoreless today. This match reminded our players how hard it would be to win this league. I will continue to work with my players and try to stay on the same page with them so that we can win matches like these.
NAGANO Fuka (Mynavi Sendai Ladies)
With this being the start of a professional league, we entered the match with the intention and a sense of responsibility to showcase a strong performance that can heighten the value of women's football. While we had control over the ball possession, our opponent formed a solid block and dropped deep in their territory to defend their goal. We didn't show enough creativity nor aggression to score a goal, which is something we need to develop if we want to win this league.
MATSUBARA Arisa (Nojima Stella Kanagawa Sagamihara)
We wanted to start off the season with a win, but we should be happy that we were able to walk away with a point from this difficult match. Entering this match, we knew that our opponent would take the initiative in this match. We focused on communicating with each other so that we can maintain a solid defence line and make sure who is covering the opponent's point of attack. However, we saw plenty of room for improvements in our transition to offence, so we hope to improve ourselves in that aspect.